The Impressive Athletic Feat You Never Knew Jennifer Lopez Pulled Off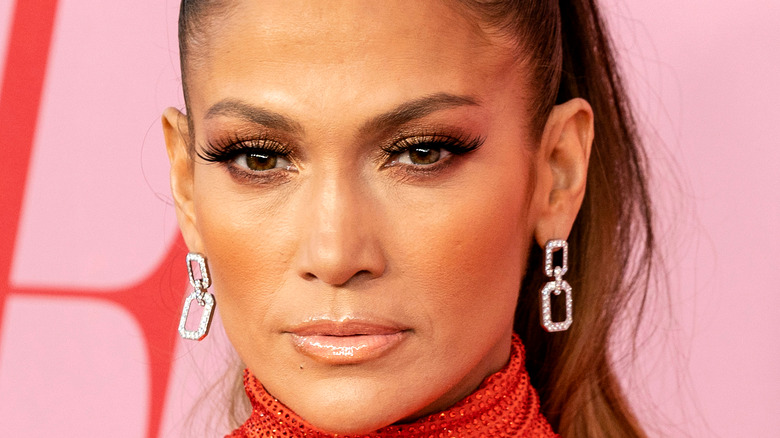 Ovidiu Hrubaru/Shutterstock
Jennifer Lopez is undoubtedly a woman of many talents. While the New York native is best known for being a talented singer and a skilled dancer, Lopez is also a prolific actress and businesswoman. From headlining the halftime show alongside Shakira to winning a Golden Globe for her leading role in "Selena," Lopez has an overwhelming number of career highlights (via The Things). Let's face it, this powerhouse performer gives a whole new meaning to the word "hustler."
The one thing that many of Lopez's talents have in common? Physical stamina and endurance. Whether performing aerobic dance numbers while singing or filming strenuous pole dancing scenes for a movie, J.Lo makes physically challenging tasks look easy. Unsurprisingly, the Latina artist abides by a pretty rigorous workout regime. "Very rarely will I skip my workout," the Bronx-born star shared with Us Weekly. The actress doesn't like to stick to one routine — she switches things up by incorporating "kickboxing, circuit training, lunges, burpees, and ab workouts" into her daily exercises (via Insider). Her inspiring physical feats don't end there, though. 
In 2008, Lopez took on one of her most impressive athletic feats to date, and most people are still unaware of this incredible accomplishment (via People).
J.Lo ran the Nautica Malibu Triathlon in a little over two hours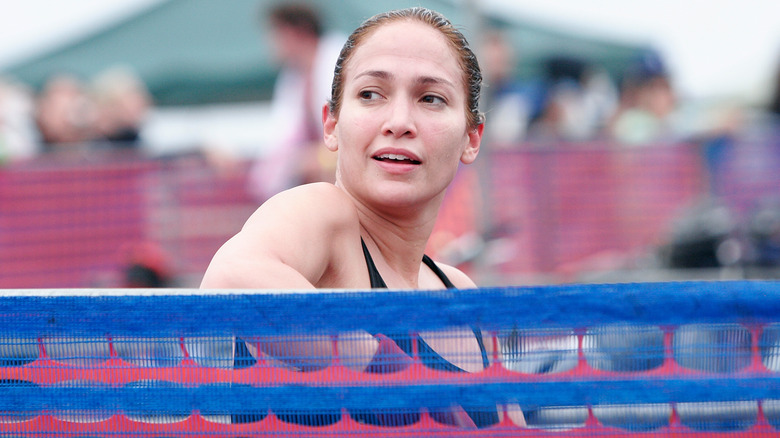 Tiffany Door/Getty
She may be one of the most famous performers in the world, but there's a lot you never knew about Jennifer Lopez. Case in point: In 2008, the singer added triathlete to her already impressive resume when she completed the Nautica Malibu Triathlon. According to The Daily Mail, the "Let's Get Loud" singer was first inspired to take on this task when she was pregnant with her twins, Max and Emme. "I was beached like a whale," Lopez shared on ABC's Good Morning America (via The Daily Mail). "I was watching TV, and I saw a triathlon, and I said, "You know what? I think I could do that, that would be great for me to do. Maybe I'll do it this year."'
In true J.Lo fashion, the "Anaconda" actress stuck to her word. She successfully completed the "1/2-mile swim, 18-mile bike ride, and 4-mile run," as noted by People. The final time for the impressive singer's total triathlon was "two hours, 23 minutes, and 28 seconds."
Not only is Lopez disciplined with her daily workouts, but she also holds herself accountable when it comes to her goals. In 2018, J.Lo took on a tour that involved 15 shows in the span of 27 days. The Latina singer reflected on the grueling experience on Instagram, using the hashtag "make promises to yourself and stick to them." We wouldn't be surprised if this is one of J.Lo's many motivating mantras!
The Hustlers star was joined by a solid support squad on race day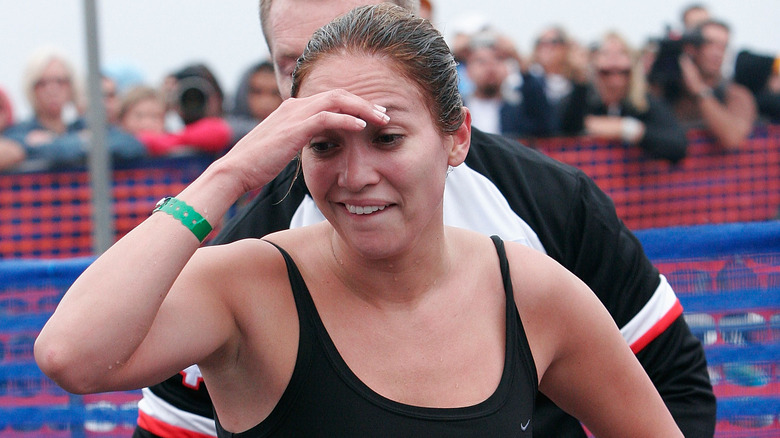 Tiffany Door/Getty
From her rigorous workout regime to what she typically eats in a day, Jennifer Lopez takes great care of her body. In fact, the reason she doesn't drink alcohol is to help preserve her overall health and wellness. However, that's not to say that completing a triathlon was an easy feat for the multitalented star. In fact, right before the "Hustlers" actress jumped in the water, she had a small moment of self-doubt. "Now, understand, I had never done a triathlon before," Lopez wrote in her memoir "True Love." She went on to write, "On the morning of the race, as I was standing there surrounded by a thousand paparazzi, about to jump into the ocean, I realized that this probably wasn't the best idea I ever had" (via Insider).
Fortunately, the superstar had a significant cheer squad by her side on race day. According to People, her trainer, Gunnar Peterson, her sister, fans, and her husband at the time, Marc Anthony, supported her from the sidelines. Anthony was even seen physically helping an exhausted Lopez after she crossed the finish line, tightly wrapping his arm around her in support. Matthew McConaughey, who was a participant in the race, also offered encouragement to his "Wedding Planner" costar. Both actors were seen greeting each other with a warm embrace in the VIP section.