The Famed Designer Who Made Cher A Fashion Icon
Tinseltown/Shutterstock
It's hard to imagine what pop culture would be like if Cher didn't find her perfect fashion match. The singer and actress has worked in the entertainment industry since 1965 when she first found fame with her husband, Sonny Bono. From there, the rest is history. The pair had a widely successful variety show and have released some of the most beloved songs in history, like "I Got You Babe" and "The Beat Goes On" (via Britannica).
Though Cher's marriage to Sonny ended, her time in the spotlight has never faded. She has done it all since her time with her ex-husband. She's starred in films like "Burlesque" and "Moonstruck," for which she won the Academy Award for Best Actress (via CNN). She's won Grammy Awards, reached the top of the Billboard chart, and had residencies in Los Vegas, amongst a slew of other accomplishments. She is truly a superstar.
One of her greatest contributions to pop culture has been her iconic fashion looks. All of that is thanks to the incredible fashion designer she has worked with for several decades.
Cher has been working with designer Bob Mackie for decades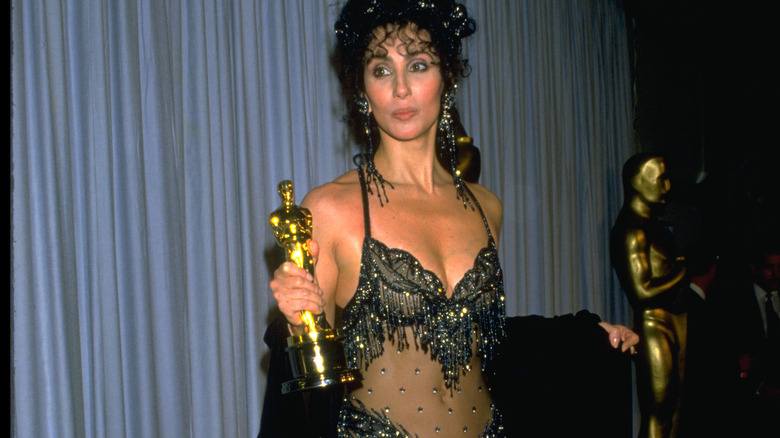 Darlene Hammond/Getty Images
There are few pop stars and actresses who have a more profound sense of style than Cher. The 75-year-old fashion icon has brought some incredible looks to red carpet appearances and that is all thanks to the mastermind behind her outfits (via Harper's Bazaar).
The man behind the magic is fashion designer Bob Mackie, who is responsible for creating all of your favorite Cher looks (via the New York Post). Together, Cher and Mackie made headlines in 1988 all because of one dress that has gone down in history as one of the best.
The dress was lovingly referred to as "the naked Cher dress," and if you find yourself picturing more than one dress when you hear that phrase, you're right. "The naked Cher dress" became synonymous with Cher's 1980s fashion, but the one that made headlines was the infamous black, see-through dress with feathers, beads, and sequence. While all of her looks are stunning, this one has stood above the rest.
While Mackie may have become a household name because of his work with Cher, he has been designing outfits for some of the most influential celebrities over the last several decades.
Bob Mackie is behind some of the most iconic dresses in pop culture history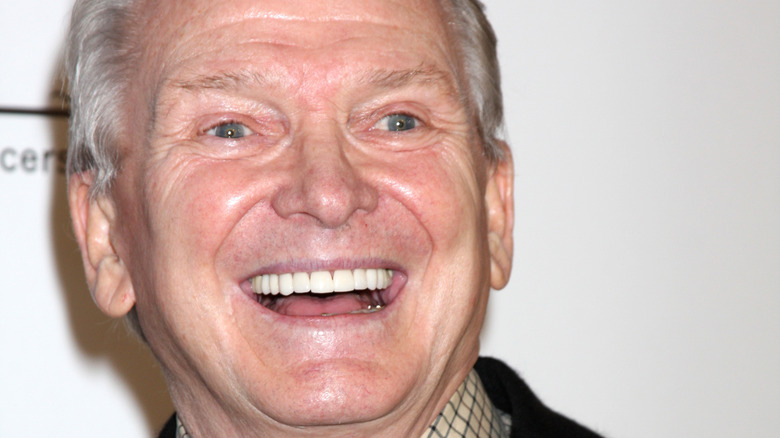 Joe Seer/Shutterstock
Recently, fashion designer Bob Mackie has had his name in the headlines for the commentary he has made about Kim Kardashian wearing that iconic Marilyn Monroe dress. While the gown was designed by Jean Louis, Mackie used to work as an assistant for the designer and drew the original sketch the dress was modeled after, and he was not happy to see Kardashian wearing it (via Entertainment Weekly).
He told the publication, "I thought it was a big mistake," adding, "[Marilyn] was a goddess. A crazy goddess, but a goddess. She was just fabulous. Nobody photographs like that. And it was done for her. It was designed for her. Nobody else should be seen in that dress."
Aside from working on the sketches for the original, the iconic fashion designer has dressed everyone from Judy Garland and Lucille Ball to Elton John and Diana Ross. He told The Toronto Star, "I realized early on that I should be working in show business doing theatrical things," continuing, "I've been lucky — for 60 years, I've been doing this."
While his work with Cher has produced some of his most iconic fashion moments, Mackie has been working in the industry for decades and has been creating looks for some of your favorite celebrities along the way.