Hallmark Star Jen Lilley Shares Her Makeup Routine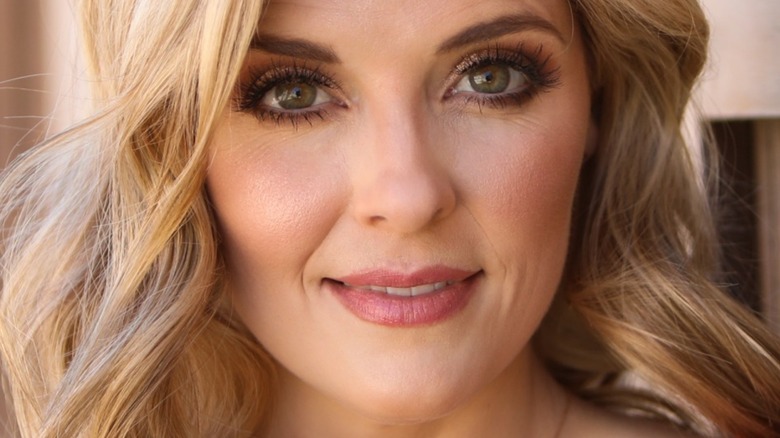 Paul Archuleta/Getty Images
Jen Lilley's Hallmark credits could wrap around the world. As a seasoned actress for the holiday channel, Lilley has played so many different roles and brought something new to each one. The "Where the Heart Belongs" star's closet and makeup looks in each Hallmark movie gave fans envy. Her turn as a strong, assertive dating app developer in "Mingle All the Way" was defined by her quips as much as her stylish wardrobe.
Lilley's exit from the Hallmark channel didn't affect her makeup style in any way. Her onscreen aesthetics translate to her personal beauty and style looks. The singer-songwriter experiments with bold makeup in her music videos. In her 2018 "King of Hearts" music video, she pays homage to the 1960s with mod shift dresses, Twiggy-inspired lashes, cateye liner, and the era-defining hair bump. In the music video description, makeup artist Dana Cummings is listed as the genius behind her vintage look.
Lilley's fans can rejoice because she turned to social media to break down her personal makeup routine.
Jen Lilley's makeup routine can be replicated with products you already have in your makeup bag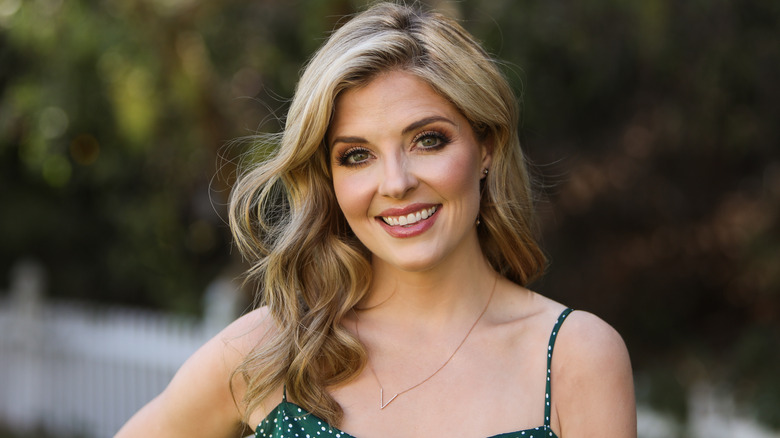 Paul Archuleta/Getty Images
In a May 2020 Facebook video, Jen Lilley walked fans through her morning makeup routine. Lilley opened up about the products typically she goes for, and she readily admitted that she gravitates towards whatever is on sale. To get ready for the day, she applied Nivea's body lotion on her face and arms. Beware, because of its thicker consistency, beauty experts generally don't recommend using body lotion on your face, reports Allure.
After moisturizing her skin, Lilley sprayed a splotch of liquid foundation onto the back of her hand — which she credited as a tip from makeup artists — before using a foundation brush to dab it onto her forehead, cheeks, under her eyes and beneath her chin. In her beauty tutorial, the "Snowkissed" star followed up her foundation by putting on her blush in a circular motion. Per Beauty/Crew, this technique promotes a fuller look and will give your cheeks a more noticeable rosy hue.
For her lips, Lilley chose a pale pink lipstick color that complemented her skin tone. To give her skin that movie star glow, she applied highlighter on her eyelids and cheeks. For the finishing touch, Lilley defined her natural brows with brow gel and emphasized her lashes with mascara.
These are some of Jen Lilley's favorite beauty products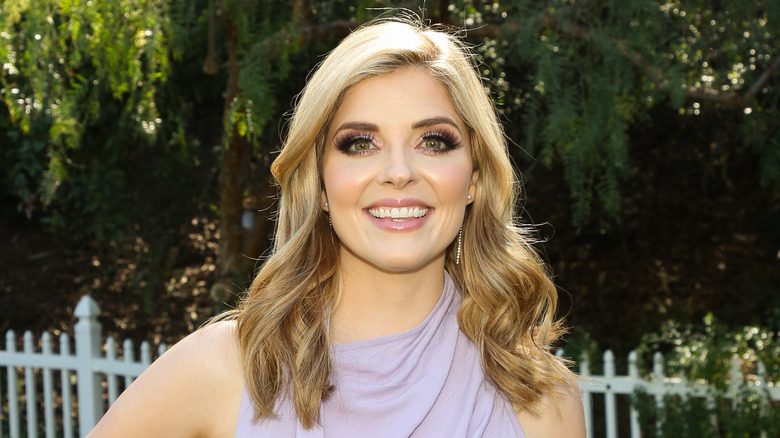 Paul Archuleta/Getty Images
Part of what makes Jen Lilley's everyday makeup routine so easily accessible is her openness to using inexpensive drugstore beauty products. Based on her Facebook beauty video, the former soap actress' beauty philosophy revolves around using tried and true products that don't break the bank, but also make your skin feel good. Caring for your skin doesn't have to equal splurging on luxury items. 
Lilley revealed the contents of her makeup bag to beauty blog 15 Minute Beauty. The "Days of Our Lives" alum does not leave her house without CoverGirl's Cheekers Blush in the shade Snow Plum. "This blush provides just the right natural glow for my skin tone," she explained. "I love understated elegance!" 
Lilley does not underestimate the power of sunscreen and told the beauty blog that she often applies RoC Retinol Correxion Deep Wrinkle Daily Moisturizer with SPF 30 as her base, followed by Maybelline's Perfect Concealer. The number one product that travels with her on film shoots is the makeup brand's Colossal Volume Express Mascara in the glam black shade. True to her word, the beauty icon can be seen defining her eyes with this mascara in her Facebook beauty tutorial.