Heather Rae And Tarek El Moussa Announce Huge Career News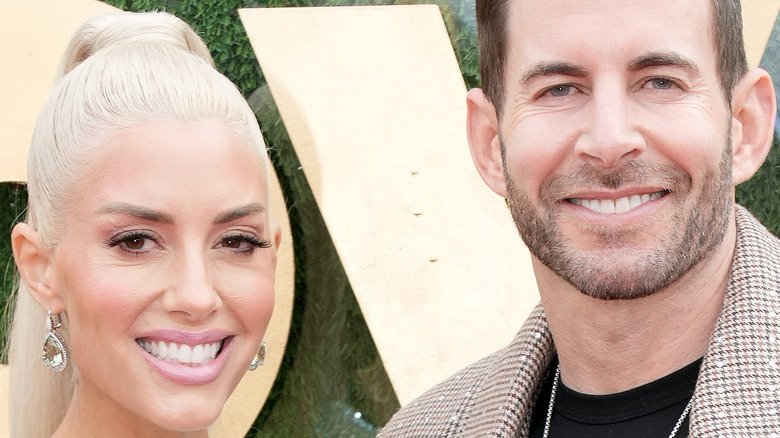 Jeff Kravitz/Getty Images
If you're like us, you've been wondering for a long time when Heather Rae and Tarek El Moussa will work together. Sure, we've seen the couple share a screen on a few episodes of her Netflix show "Selling Sunset." But the reality stars were yet to team up for a show in the vein of his collaboration with his ex-wife, Christina Hall.
When "Flip or Flop" ended, it was rumored that the series that paired the exes together was just "too intimate" now that they'd moved on with other spouses (via People). Of course, Tarek said "I do" to Heather Rae in October of last year. And Christina surprised fans by marrying realtor Joshua Hall at some point in 2022. Perhaps the former couple's HGTV show was really canceled because they were both ready to move on and film with their new significant others.
Case in point: The Halls announced they are cooking up a new show together called "Christina in the County" in addition to working on "Christina on the Coast" in cooperation with their new production company. And now, the El Moussas are sharing exciting news about their future plans to finally work together on a new series.
Heather Rae El Moussa spills all the details fans want to know
Taking to her Instagram, Heather Rae El Moussa shared a series of photos of herself with Tarek in spaces that clearly need some TLC. The Netflix star then made an announcement that is sure to get her fans majorly pumped up.
"After many conversations, we've finally made one of our goals a reality and are excited to announce our all new series," the realtor captioned the reel of images. Then, she bestowed upon fans the name of the highly-anticipated project: "The Flipping El Moussas." The show will air on HGTV in 2023, according to her post, which also disclosed the couple is both producing and starring in the show, with filming "already underway."
So what will "The Flipping El Moussas" be about? As El Moussa shared in her post, the series sees the two stars merging their expertise — and seemingly having a ball doing it!
The El Moussas will share more than just their flipping journey
Heather Rae El Moussa's announcement that she and her husband would be launching a new show together already has fans buzzing. In her Instagram post, the star shared more details about the HGTV project, which will follow the newlyweds as they flip houses "from multi-million dollar homes in Los Angeles to a tiny cabin in Big Bear, California, and everything in between."
And in case you're wondering, yes, viewers will also get to see inside the lives of the El Moussas, including their journey to have a baby together. Of course, the reality stars are already co-parents to Taylor and Brayden, whom Tarek shares with his ex-wife, Christina Hall. Meanwhile, the "Selling Sunset" alum has been candid about her desire to have a child with her husband, sharing her IVF experience with fans (via Us Weekly).
Commenters were quick to congratulate the couple on their exciting TV news, with some of her Netflix co-stars joining in, including Chelsea Lazkani. Over on his Instagram, Tarek also announced the big news.