The Other Soap Where Days Of Our Lives' Stephen Nichols And Mary Beth Evans Played Lovers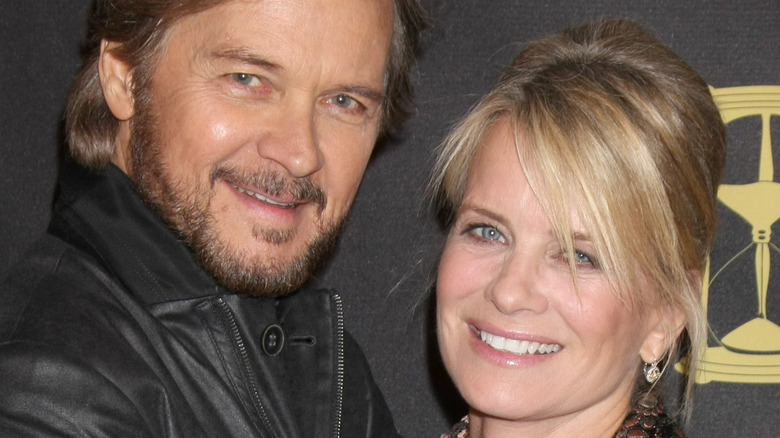 Kathy Hutchins/Shutterstock
Soap opera fans are very familiar with Mary Beth Evans and Stephen Nichols. The two have been acting on soaps for decades, and have portrayed some of the most beloved characters on daytime television. Evans made a name for herself when she debuted on "Days of Our Lives" in 1986 as Kayla Brady. Following her stint on the NBC sudser, Evans switched gears to appear on other soap operas. The actress stepped into the role of Katherine Bell on "General Hospital" in 1993. She later moved on to portray Sierra Esteban in "As The World Turns" in 2000. Over the years, she has also made appearances on shows such as "This Just In," "Chasing Life," "Murder, She Wrote," Nip/Tuck," and many more (via IMDb).
For his part, Nichols has also been a staple on soaps for the past five decades. The actor has held roles on "Dynasty," "Dallas," and even played Dr. Skyler Gates on "Santa Barbara," per Soap Central. He worked on "Melrose Place" in 1993 and portrayed Tucker McCall on "The Young and The Restless" from 2010 until 2013. Before that, he was well known for his role as Steve "Patch" Johnson on "Days of Our Lives" and Stefan Cassadine on "General Hospital."
While Evans and Nichols are known for their soap roles, they're also known for making a great on-screen couple.
The actors are best known for portraying Kayla Brady and Steve Johnson on Days of Our Lives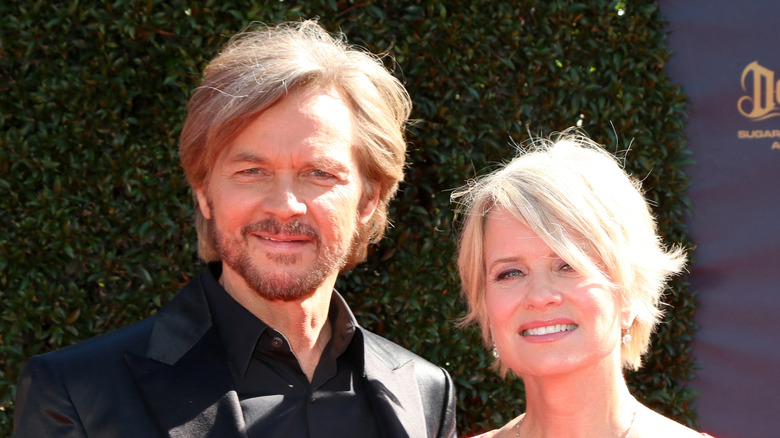 Kathy Hutchins/Shutterstock
Most fans know Mary Beth Evans and Stephen Nichols as Kayla Brady and Steve Johnson on "Days of Our Lives." The pairing became huge in the 80s and 90s when the characters got together. The characters had a rocky start, which included some trauma, betrayal, and Kayla's family not approving of her romance with Steve. However, the two continued to stand by each other's sides, and Steve was there for Kayla when she got caught in an explosion which caused her to lose her hearing and her voice (via Soaps).
Over the years, Steve and Kayla have seen it all. They've also built a family together, welcoming two children Stephanie and Joey, per TV Fanatic. They've also welcomed Steve's long-lost son, Tripp, whom he shares with former fling Ava Vitali (Tamara Braun) into their family. Things haven't been easy for the pair, but they've seemed to come out of every situation stronger than before, making them one of the most popular and beloved couples to ever appear on "Days of Our Lives."
However, some soap fans may remember that Evans and Nichols have also played lovers in other popular soap operas in the past.
Nichols and Evans previously played lovers Stefan and Katherine on General Hospital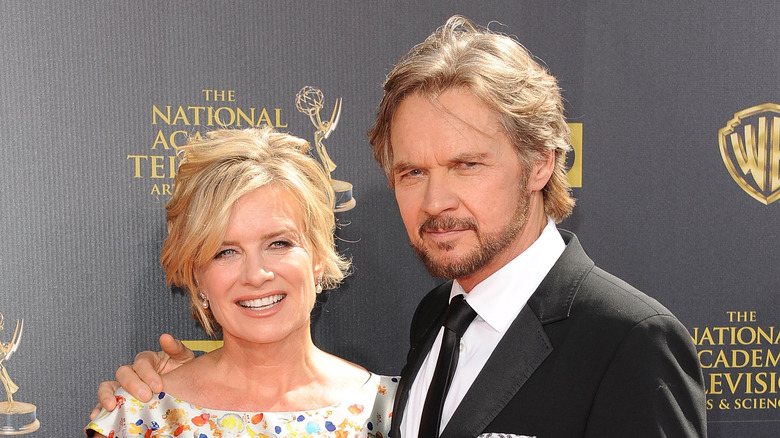 Angela Weiss/Getty Images
In addition to their beloved roles as Kayla Brady and Steve "Patch" Johnson on "Days of Our Lives," Mary Beth Evans and Stephen Nichols also worked closely together on another soap opera. Nichols previously held the role of Stefan Cassadine on "General Hospital from 1996 until 2003. When he first appeared on the canvas in Port Charles Evans was already in the role of Katherine Bell, per Daytime Confidential.
Stefan and Katherine had a very interesting love story that basically started when Stefan accidentally shot Katherine during a confrontation with Luke Spencer. Stefan eventually ended up marrying Luke's sister, Bobbie Spencer, but that marriage fell apart when he discovered Bobie was helping her brother destroy him. Finally, Stefan fell head over heels for Katherine and they got engaged. During their engagement party, Alexis and Luke set a trap that made Stefan believe Katherine had died, per Soaps in Depth.
Stefan was charged with Katherine's murder, but all was made right when Katherine returned and revealed that she had been saved by a miracle drug. Sadly, Stefan and Katherine never got their happily ever after as Katherine was killed when she was pushed from a building in 1999. Stefan later suffered a similar fate when he was stabbed and thrown over a cliff (via Soap Central).
Thankfully, Evans and Nichols eventually found their way back to "Days of Our Lives," where their fans can watch them interact as happily married duo, Steve and Kayla.