Here's Who Stacy Haiduk Is Married To In Real Life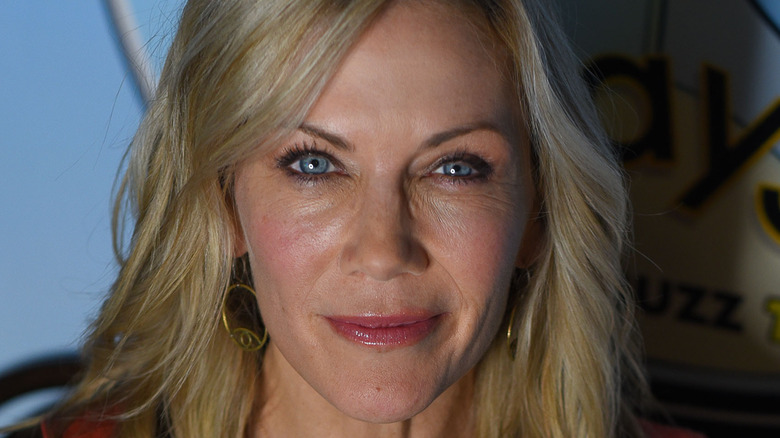 Michael Mattes/Shutterstock
Stacy Haiduk is no stranger to on-screen drama — she's a seasoned vet when it comes to soap opera roles. The actress is well known for portraying the character of Hannah Nichols in "All My Children," as well as the characters Mary Ben Benson and Emily Peterson in "The Young and the Restless" (via Soaps). However, most recently, Haiduk has been pulling double duty at "Days Of Our Lives" as both Kristen DiMera and her wacky doppelganger Susan Banks – roles previously held by actress Eileen Davidson.
Of course, Haiduk has also held noteworthy roles on shows such as "Melrose Place," "Prison Break," "The Adventures of Superboy," and "Seaquest 2032, per IMDb. During her time on television, the actress has gravitated toward playing the role of the bad girl. "I gotta tell you, when you play a villain, you get into a headspace that's very different than when you're just playing flowers and sweetness. I've played many, many roles and some are much darker than others," Haiduk previously told Soap Opera Digest.
Many of Haiduk's characters have not only suffered heartbreak in their relationships, but also caused heartache for other characters as well. While her career has been full of chaotic characters and drama, her personal relationship with her husband Bradford Tatum seems to be the opposite.
Stacy Haiduk married Bradford Tatum in 1997
According to Soaps, Stacy Haiduk and her husband Bradford Tatum met on the set of "SeaQuest," a series in which the actress portrayed the role of Katherine Hitchcock. The pair hit it off and began dating. A few years later they made it official when they tied the knot on November 11, 1997 (via All Star Bio). While Haiduk is known for her roles on daytime television shows like "Days of Our Lives," Tatum is both an author and an actor, whose most well-known role came in the cult classic film "The Stoned Age."
The actor has also had roles in films such as "Powder" in 1995. In 1999, he wrote, directed, and starred in an independent film titled "Standing on Fishes." In 2006 he released another indie film called "Salt: A Fatal Attraction," where he co-starred with Haiduk. In 2016, Tatum joined the cast of the HBO hit series "Westworld" (via IMDb). Over the years, the actor has also been seen in "Criminal Minds," "The Lone Ranger," "Fastlane," "Charmed," and "Melrose Place."
Since the early days of their relationship, Haiduk and Tatum have also built a family together.
The couple's daughter is also an actor
Stacy Haiduk and Bradford Tatum share one child together, a daughter named Sophia Tatum (via All Star Bio). The couple has seemingly passed their love of acting down to their daughter as she has appeared in films such as "F9: The Fast Saga," "I Am Not Okay with This," and "Salt." She's also been seen on television shows like "Riverdale" and "The Brides," per IMDb.
Over the years, Haiduk and Bradford have appeared to keep their marriage strong. In November 2021, the "Days of Our Lives" star even shared a very sweet and heartfelt message to her longtime love for their 26th wedding anniversary, per Soaps.
"I will never forget the first moment I met you," Haiduk wrote of the special day. "You came into the makeup trailer on the set of SeaQuest, and I was smitten. It took the 1994 earthquake to shake things up for me to get the courage to call you! And now here we are many years later!" she continued. "Our world is a unique one, and I wouldn't have it any other way! I am grateful to walk through this world with you and see things through your eyes! I love you, sweetie, so very much! To the next 100 years!" she added.
While Haiduk's soap opera characters may go through relationships quickly, it appears that the actress has found lasting love in Tatum.