Kate And William's Friend Sets The Record Straight About Their Rumored Marital Issues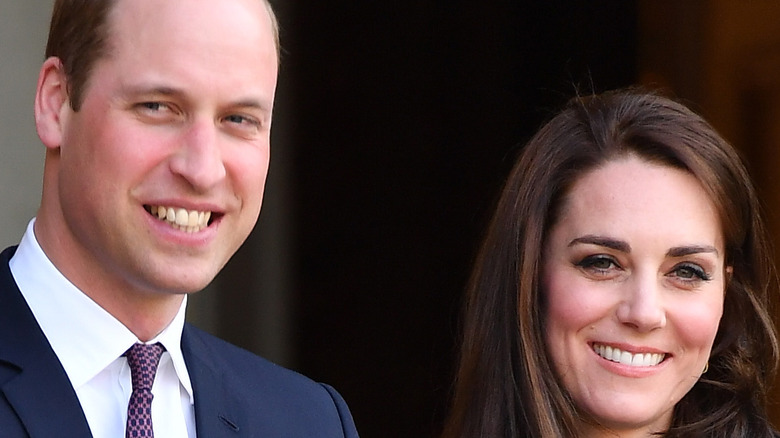 Pascal Le Segretain/Getty Images
Kate Middleton and Prince William have been dogged by split rumors ever since they first emerged as a couple, particularly following the Rose Hanbury scandal. After William was accused of cheating on his wife with her former best friend, royal expert Angela Mollard went on the "Royals" podcast to admit there may have been something "slightly inappropriate" going on between them. "There was all sorts of gossip at the time that William had grown close to Rose Hanbury and they were slightly improper, that Kate had frozen her out," Mollard revealed.
However, Mollard maintained no cheating occurred, not least because William already endured a very public infidelity scandal with his father, Prince Charles, and his now-wife Camilla Parker Bowles. "Do we think this is true? I suspect that they were just good mates, they got on well," she argued. "I don't think William is the sort that would ever, ever, put either his marriage or the monarchy in jeopardy." Besides, as Mollard acknowledged, it was the only major scandal to plague the couple's otherwise solid marriage. 
But, earlier this year, a story emerged that Kate had moved out of the family home. Newsweek clarified that the report, published by MSN alongside a French website, was confirmed to be false with a spokesman for the website's publisher stating it had been "published by accident" and would be removed "momentarily." The story reportedly described a "heated discussion" between the Cambridges. Unsurprisingly, their nearest and dearest are tired of people trying to tear them down.
The Cambridges are reportedly closer than they've ever been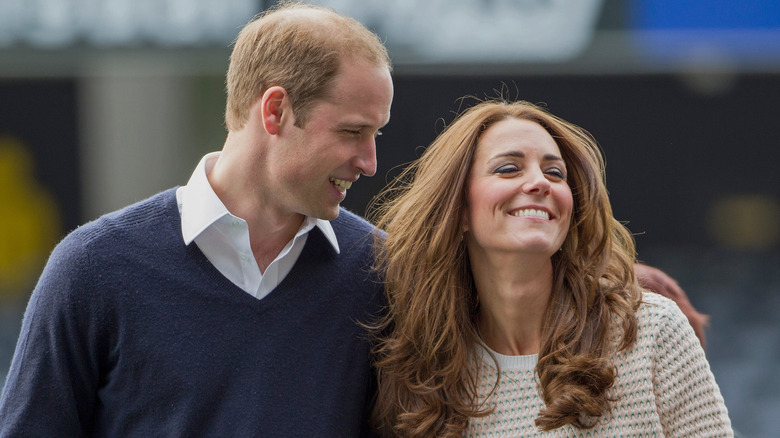 Pool/Getty Images
Prince William and Kate Middleton's friends are sick of hearing their marriage is in trouble, with one of the prince's confidantes telling the Daily Mail in no uncertain terms, "It's just b******t." The insider added, "They honestly couldn't be happier as a couple. You can't get a cigarette paper between them. They are so tight, just inseparable." The Cambridges have been close since meeting at university, where they quickly became friends before things turned romantic. And, evidently, William and Kate still love spending as much time together as possible, with friends sharing that they have lunch every day before relaxing with some TV in the evenings.
Moreover, despite being literal royals, the couple remains surprisingly down to earth. Whenever the Cambridges get time off from their demanding schedules, they love being outside and taking care of their children. William learned a lot from what went wrong with his own parents' marriage, which led the prince to take his time and ensure he was with the right person, for the right reasons.
As royal expert Richard Kay, who took Diana's final phone call before her death, argued in the documentary "William & Kate: Into The Future" that "Everything about William you can trace back to what happened to his parents — he lived through the bitter breakup of their marriage" (via Express). Kay asserted, "He knows how much what happened to them destroyed their marriage. He's very concerned not to make the same mistakes."
Prince William and Kate Middleton fought hard for their relationship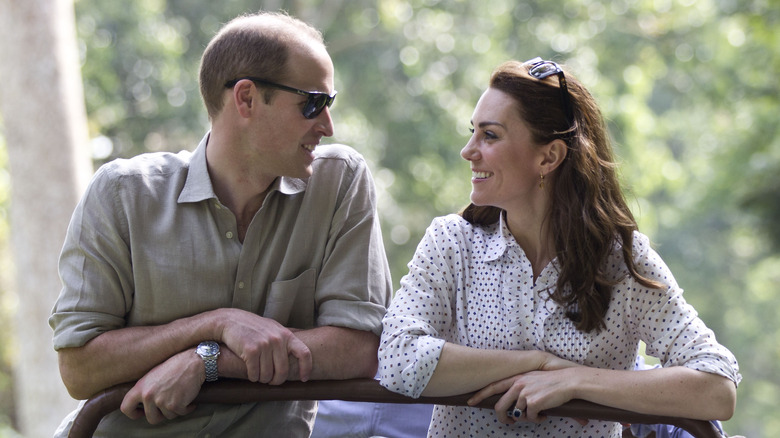 Wpa Pool/Getty Images
The Cambridges are so enamored with their low-key family idyll that they're prepared to uproot themselves to ensure it remains intact. Kate and William's reported move to Windsor has been in the works for a while, with The Mirror confirming they'll be closer not just to the queen, who now lives in Windsor Castle, but also Kate's parents, who currently reside in Bucklebury. It's worth noting, though, that if things had gone differently, the duo might not have made it to this point. 
As The Irish Mirror details, when William chose to wed Kate, he made her the first "regular" person to marry a royal in 400 years. Back in 2007, the couple briefly split after the prince apparently got cold feet following intense media attention. Kate revealed, "At the time, I wasn't very happy about it, but it made me a stronger person." As she contended, "I think you can get quite consumed by a relationship when you're younger. I really valued that time for me as well, although I didn't think it at the time." 
William agreed, acknowledging they were still figuring out who they were as people and, in the end, everything worked out for the best. As royal author Robert Lacey told People, "It's a relationship based on friendship," which is predominantly what's kept the Cambridges together all these years. No matter what the world throws at them, William and Kate are always firmly in each other's corners.