Hero Fiennes Tiffin On His Early Experiences As Young Voldemort In Harry Potter - Exclusive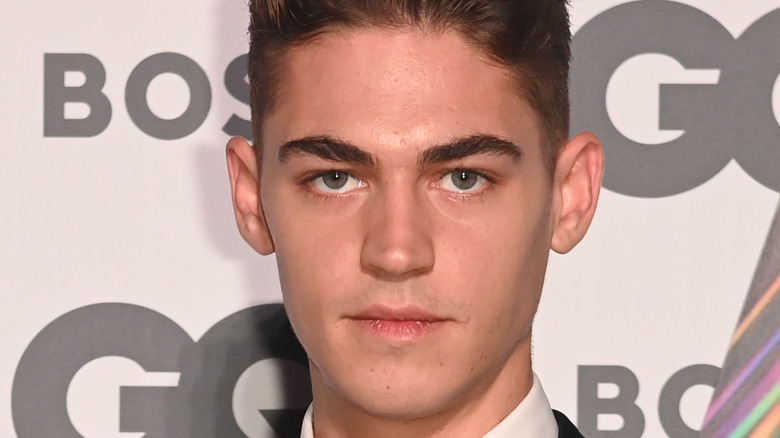 David M. Benett/Getty Images
Few film series have the lasting impact of "Harry Potter." The franchise initially hit theaters in 2001 with "Harry Potter and the Sorcerer's Stone," attracting audiences  to the boy wizard and his mates as they battle dark forces, stuttering Professor Quirrell, and the normal challenges of school bullies (we're looking at you, Malfoy). The series went on to release seven more films, all capturing the stories of their source material while splitting the last book into a two-part cinematic event. By the time Harry and Voldemort battled it out one last time in the courtyard of Hogwarts, generations of fans were hooked — it was the film experience of a lifetime.
To say that Voldemort was an evil character is a significant understatement, but the dark wizard wasn't always the nose-less, snake-like creature that so many of us came to despise. He was, at one point, a sad little boy who was largely kept from the outside world. When "Harry Potter and the Half-Blood Prince" hit theaters, audiences were whisked back to Tom Riddle's early days, with actor Hero Fiennes Tiffin bringing the twisted little kid to life on screen. Tiffin, who happens to be Ralph Fiennes' (Voldemort) nephew, is all grown up now and taking the film world by storm. When we sat down with Tiffin ahead of the premiere of his film, "First Love," we couldn't help but ask him about his "Harry Potter" days.
Harry Potter was initially a chance for Hero Fiennes Tiffin to take a day off school
There's nothing like playing hooky in elementary school — the thrill of skipping class for the day is the closest a lot of us get to a rebellious streak in those early days, and for Hero Fiennes Tiffin, the audition process for "Harry Potter" was initially a chance for him to get out of class for the day. During our exclusive sit-down with the actor, Tiffin told us that after he had landed a small job, the audition for the storied franchise presented itself. Despite going up against very accomplished young actors, Tiffin's mom told him he could get out of school for the day — he was in.
"The next audition, call back another weekday, another day off school. My incentive for the 'Harry Potter' films was genuinely days off school, to go do the auditions," Tiffin told us. "When I got the role, I remember jumping onto the sofa and burying my head in it and screaming and then sitting up and being like, 'Oh, now I'm really nervous. Now I actually have to do it.'"
Hero Fiennes Tiffin recalls an 'emotional roller coaster' experience on-set
We've all taken a stick from the sidewalk and waved it like a wand, hoping that something amazing would occur. Hero Fiennes Tiffin got as close as a kid could get to the wizarding world. Telling us that the filming experience was an "emotional roller coaster," Tiffin recalled that the cast and crew did everything they could to make him as comfortable as possible.
"Michael Gambon [Albus Dumbledore] is a kid at heart and was so accommodating and would talk about sports cars with me in between takes and undermined the seriousness of it to make me feel so comfortable," Tiffin told us of the experience. "[Director] David Yates did the same thing. He was like a peer."
Of his career since "Harry Potter," Tiffin revealed that having scored such an intense role at an early age, everything that's come since has felt a little bit more manageable.
"I had such a rich experience at the highest end at the very start." Tiffin said. "Everything else was like, 'Oh, it's all right if I don't get that. It's all right if that doesn't work out.' [I'm] totally grateful for that experience."
"First Love" is now playing in select theaters and is available for rental and purchase on demand.