Are The Huda Beauty Color Block Obsessions Eyeshadow Palettes Worth The Investment?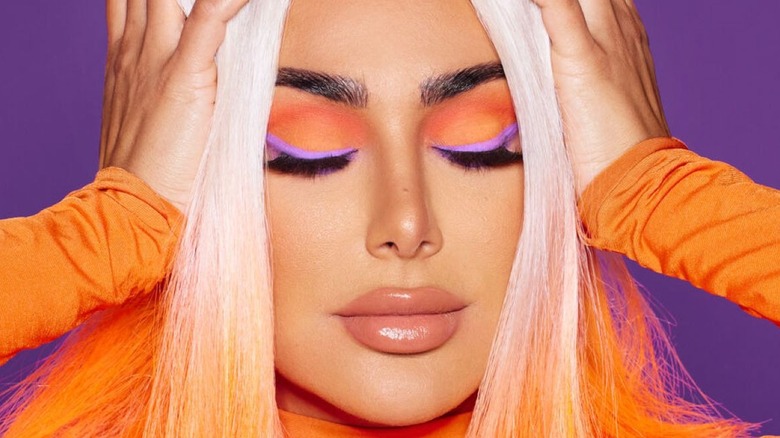 Huda Beauty
We may receive a commission on purchases made from links.
Since Huda Kattan launched her own beauty brand, Huda Beauty, back in 2013, the brand has focused on creating innovative and inclusive beauty products. From liquid lipsticks to textured eye shadows, the Huda Beauty empire has created successful products in all categories. One of the newest additions to the Huda Beauty eyeshadow line are the brand's much anticipated Color Block palettes.
A fun twist on their traditional full-size palettes, the Color Block collection was created to provide color beauty enthusiasts with an "insanely pigmented mini eyeshadow palette," per Sephora. The collection is offered in two iterations. The first is the analogous color combo of blue and green, and an opposites attract situation that features an orange and purple pairing. Both palettes consist of a combination of matte and metallic eyeshadows in a variety of tones within a specific color story. Each collection also features a water-activated "cake liner" in a complementary color. Additionally, some shadows are categorized as "duo metallics" and "baked flakes."
Not a top performer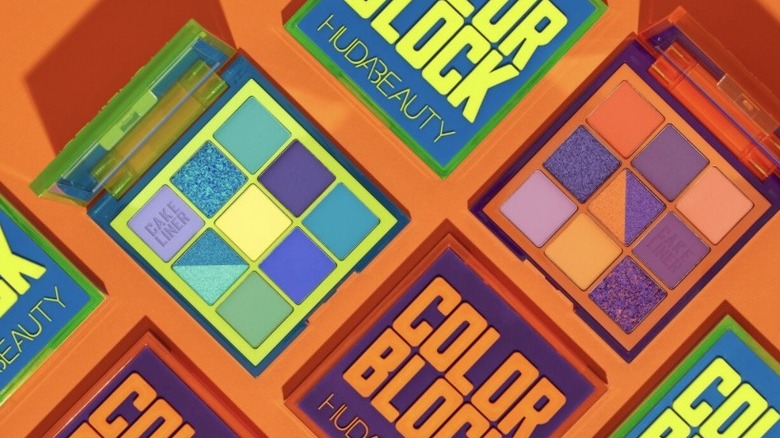 Huda Beauty
As it often goes in the world of beauty, the launch was met with much commentary from the influencer community. YouTubers Morgan Turner and Angelica Nyqvist had much to say about the palettes, and not all of it was good. Using her palette, Turner created a colorful ombré look and admitted, "I like these way more than I thought that I was going to." However, she also shared that she preferred the blue and green palette over the orange and purple one, because it provided an easier application. Turner also lamented that the orange and purple palette left a lot to be desired, and the deepest purple shade was underwhelming while sharing the shimmers "aren't giving."
Unfortunately, Nyqvist gave a similar review on the palettes. She described the palettes as "dry" and "not amazing." She goes on to say that "they're nice," but not something you need to "run out and buy." The guru also expressed her preference for the blue and green palette over the orange and purple, like Turner. Also, both women felt that there was a fairly significant difference between the formulation of each palette and that the blue and green combo was easier to work with and applied much more evenly than the orange and purple palette.
Use some imagination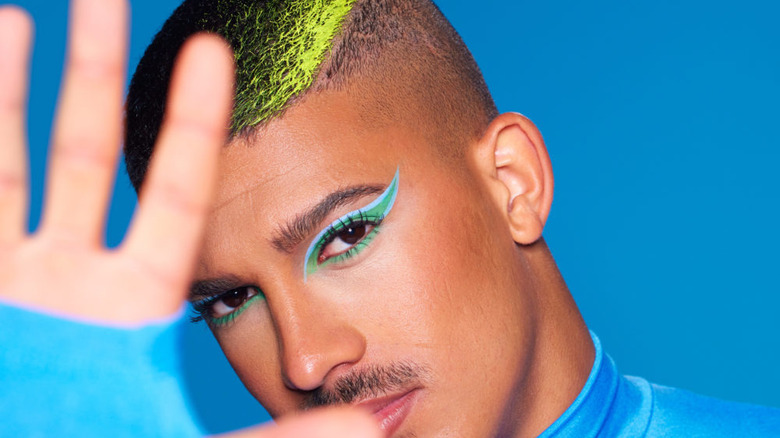 Huda Beauty
While neither influencer was blown away by this collection, both Morgan Turner and Angelica Nyqvist believe that for the price of $29, these may be worth the investment. Overall the sentiment was that they will deliver on what is promised if you're willing to use some imagination and have some patience. Per Nyqvist, "[T]here's nothing wrong with them." 
Huda Beauty is known for creating beauty products that are generally met with high praise, so this feels like a miss for the brand. According to Sephora, the palettes are meant to be versatile and used to create "playfully vibrant glam or a subtle pop of color." Creating beautiful, colorful looks with these palettes is certainly achievable, but they don't seem to be the most user friendly of all the Huda Beauty shadow palettes.
There are some standouts, however. The "cake liners" were well pigmented and applied like a dream. Both formulations truly earned the designation as a "liner." Nyqvist used the shade in the orange and purple palette to create a graphic liner moment. Turner went more traditional while opting for the blue and green combo liner, calling it a "really good quality cake liner." It's clear that some of the shadows in this collection fell just short of greatness, but both palettes are full of bold and interesting colors that are sure to add some intensity to your look. For the comparatively affordable price of $29, these mini palettes may be exactly what you're looking for this summer.