Queen Elizabeth Is Back To One Of Her Favorite Pastimes Despite Being Advised Against It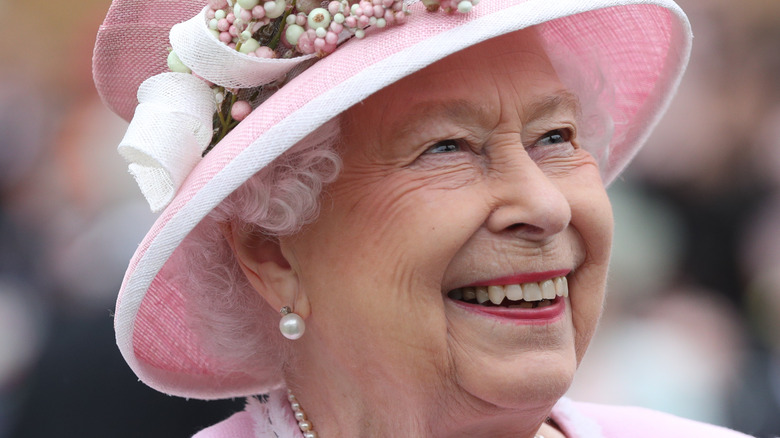 Wpa Pool/Getty Images
At 96, Queen Elizabeth is setting records and shattering expectations of what life as a nonagenarian looks like. Not only is she Britain's longest-reigning monarch, per NPR, but the queen has also attained the milestone of second-longest reigning ruler in the history of the world. At an age well-beyond when most people have retired, Elizabeth stated on her 70th anniversary as queen, "my life will always be devoted to your service" (via Royal UK).
However, the queen is not one to over-emphasize numbers. Back in August 2021, the then-95-year-old ruler declined an award for "Oldie of the Year." Elizabeth's response, written by her assistant private secretary, Tom Laing-Baker, contained insightful words about her approach to aging saying, "Her Majesty believes you are as old as you feel, as such The Queen does not believe she meets the relevant criteria to be able to accept, and hopes you will find a more worthy recipient" (via BBC).
Even so, Elizabeth does have to deal with the realities of aging, including "episodic mobility problems," per NBC News. In early June, these issues led the monarch to step back from some Platinum Jubilee events. Back in March, Metro UK noted that palace sources said the queen was "too frail to walk her corgis."
But don't count her out yet. When it comes to her favorite activities, Elizabeth has recently demonstrated that some of these setbacks are only temporary.
Queen Elizabeth is back riding horses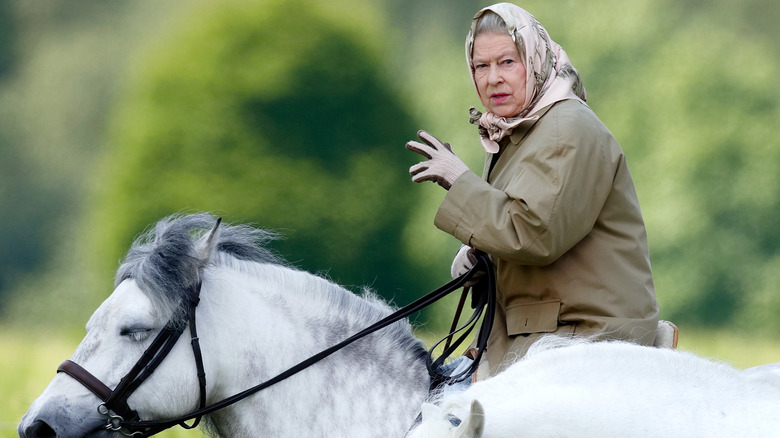 Max Mumby/indigo/Getty Images
According to The Sun, Queen Elizabeth has been spotted riding a horse. Previously, the outlet reported that she had not ridden since September 2021. "She was in quite a bit of discomfort. She adores riding and it has been part of her ritual for most of her life," a source from Balmoral said.
Despite the set-back, the queen planned to get back in the saddle. "She is resting and taking every precaution to get back to full fitness," a royal source said, per MSN. "She is very determined to be back riding as soon as possible and in no way does she feel her riding days are behind her."
Health-wise, fall 2021 was challenging for Elizabeth. The queen was observed using a walking stick in October for the first time since her 2003 and 2004 knee operations, per Reuters. Soon after she spent the night in a hospital. At the time, a palace statement noted, "The Queen has reluctantly accepted medical advice to rest for the next few days" (via People). Prior to 2021, the queen's last hospital visit was in 2013, per Hello! Magazine.
Now Her Majesty has decided to forego her doctors' advice when it comes to her beloved hobby. "The Queen has enjoyed being on her horse again," a source told The Sun. "Riding again is a wonderful sign after those worries about her health. To do so at 96 is pretty remarkable."
Queen Elizabeth's love of horses goes back 93 years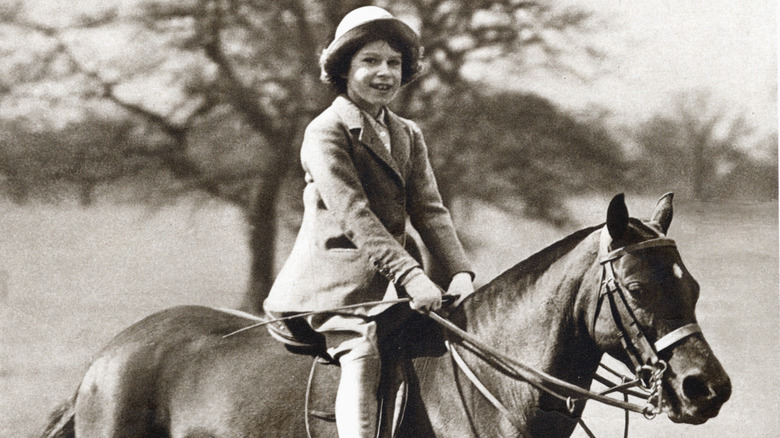 Print Collector/Getty Images
Queen Elizabeth fell in love with horses when she got a pony in 1929, per Daily Mail. From there she expanded her interests into racehorses and breeding. Her skillful knowledge has paid off, with her thoroughbreds winning prominent races, including the 1,000 Guineas and 2,000 Guineas (via Metro UK). "She could tell you every horse she's bred and owned from the very beginning — she doesn't forget anything," Camilla Parker-Bowles told ITV, per Express.
Speaking in a BBC documentary, Margaret Rhodes, Elizabeth's cousin, shared her theory about the queen's passion for horses. "With horses it's another world in that it reduces you to just the person in relation to the animal, and you're not a Queen, you're just a human being," she said, per Metro UK.
Despite the events she's had to miss due to mobility challenges, the queen was spotted looking happier than ever at May's Royal Windsor Horse Show. Besides watching her horses compete, People reported that equine visitors came to Her Majesty's car window to greet her.
A devoted rider, the queen curiously doesn't wear a safety helmet. Ian Balding, the queen's trainer, explained her reasoning to author Sally Bedell Smith. "I never have," the monarch told Balding, "and you don't have to have your hair done like I do" (via The Telegraph). If she had an engagement after a ride, Elizabeth apparently didn't want to have to take extra time to deal with helmet-mussed hair.