Royal Source Explains Why The Queen Stepped Back From Some Events During The Platinum Jubilee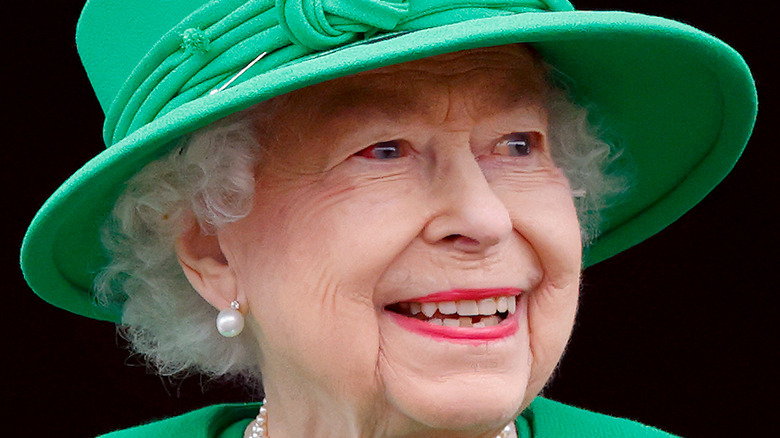 Max Mumby/indigo/Getty Images
At 96, Queen Elizabeth is a true role model. With 70 years on the throne and counting, she's been on the job as British monarch longer than anyone else in history. "They've never reached a Platinum Jubilee in Britain before," says Dr. Cindy McCreery, a historian at The University of Sydney. "The Queen has done so much to instill a sense of respect and confidence in not just the Royal Family and the role of the monarch but in Britain as a nation."
Queen Elizabeth puts a lot of thought into her participation in events. "I have to be seen to be believed," the monarch has famously said, according to biographer Sally Bedell Smith (via The New York Times). On the first day of her Platinum Jubilee celebration, the queen appeared on the royal balcony during Trooping the Colour, although she did not participate in the parade, per People. That evening the monarch also appeared to light up the first of 3,500 beacons in a global ceremony (via BBC). At the conclusion of the festivities on Sunday, Elizabeth delighted fans with an encore balcony appearance.
However, on the second and third days, the monarch sent her regrets that she would not be attending two key Jubilee events: the Service of Thanksgiving and the Epsom Derby. While Kate Middleton gave an encouraging health update about the queen, fans were still wondering about the reasons for the monarch's absence.
Queen Elizabeth's mobility issues continued to be a difficulty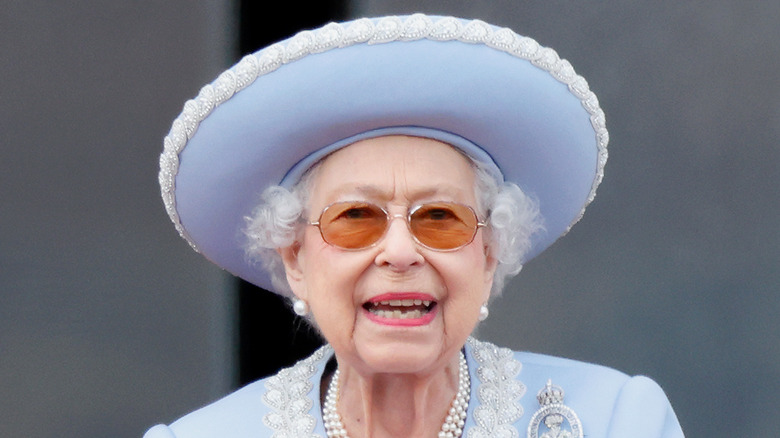 Max Mumby/indigo/Getty Images
While Queen Elizabeth continues to be a constant, larger-than-life presence, she is also a person who is dealing with the process of aging. Before the Jubilee weekend began, Buckingham Palace made it clear that decisions about Her Majesty's attendance would "not be confirmed until much nearer the time or even on the day itself," per Independent.
The high-profile nature of the Platinum Jubilee events caused Queen Elizabeth to carefully consider which events she would attend. "She would not want to stumble," Robert Lacey, a royal historian, told People. "Not for her own sake but for the distress it would cause other people."
When Queen Elizabeth was unable to attend May's opening of Parliament, Buckingham Palace issued a statement saying, "The Queen continues to experience episodic mobility problems," per NBC News.
Due to the rigors of being on her feet for extended periods of time during Thursday's Jubilee events, Elizabeth's mobility challenges caused her difficulties again. A royal source told Harper's Bazaar, "Her Majesty enjoyed today immensely, but episodic mobility issues were experienced during the course of the day." The source explained the queen's decision not to attend the Friday Service of Thanksgiving, saying, "A regrettable but sensible decision based on the journey, length of time involved and the physical demands a service at St Paul's inevitably involve."
Queen Elizabeth approaches aging with humor and sensible decisions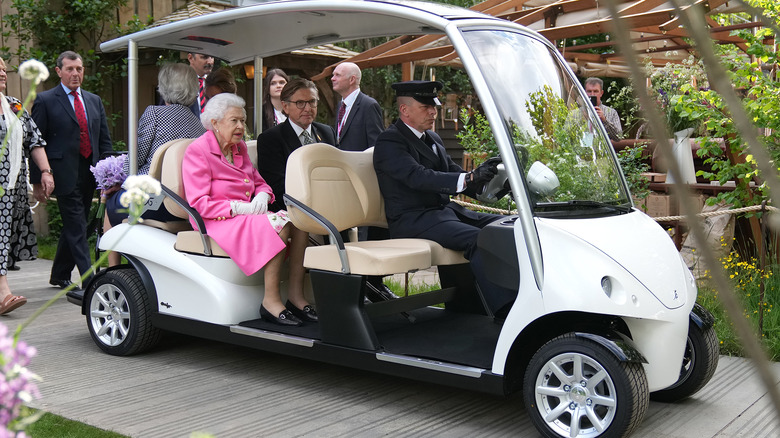 Wpa Pool/Getty Images
Besides being a leader for her countrymen, Queen Elizabeth is a role model for successful aging. Earlier in February, the queen approached her health challenges with a sense of humor. When the monarch arrived at a meeting using a walking stick, she said, "Well, as you can see, I can't move" (via Reuters).
According to the Mirror, the queen's walking stick was first spotted in October 2021. Prior to that, she hadn't relied on this type of mobility aid since her 2003 knee surgery. Elizabeth also has another flashy mobility tool at her disposal: a  custom-designed Garia electric golf cart, known as the Queen Mobile, per Auto Evolution. Besides using it to go for a spin with her beloved corgis, the queen took the golf cart out for a public appearance, making a splash at the Chelsea Flower Show.
When it comes to her appearances at events, Elizabeth appears to be taking her absences in stride. "While I may not have attended every event in person, my heart has been with you all," the queen said in a statement following the four-day Platinum Jubilee celebration, per USA Today. "I remain committed to serving you to the best of my ability, supported by my family."
Fortunately, royal fans don't seem to have to worry too much about Queen Elizabeth's health as she is doing remarkably well. "Her mind is razor sharp," Dickie Arbiter, the queen's former press secretary, told the Los Angeles Times. "Yes, she has had some mobility problems, primarily with her knees. ... But she is stoic and robust."