The Classic TV Show You Probably Forgot James Patrick Stuart Was On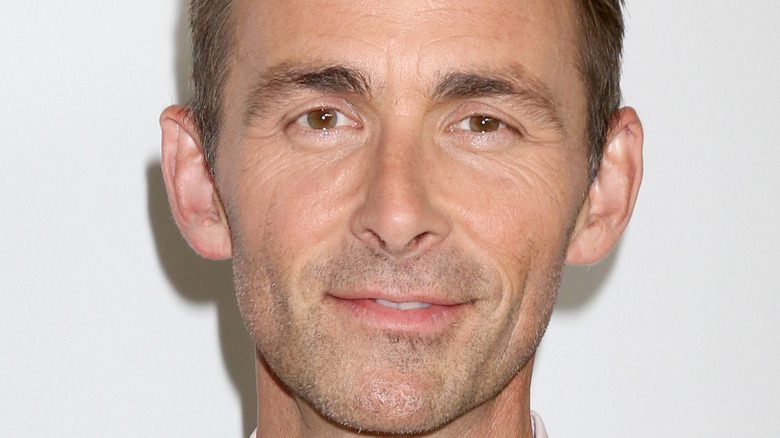 Kathy Hutchins/Shutterstock
James Patrick Stuart is a prolific actor who began his career in 1980 as a child actor and has close to 160 TV and film credits to his name. He is known for his recurring roles on the shows on "CSI," "Still Standing," "Emily's Reasons Why Not," "The Closer," "90210," "Supernatural," and the new Disney Channel sitcom "Villains of Valley View," in addition to many other guest-starring roles.
In addition to traditional acting roles, Stuart also voices several characters in animated series' like "Amphibia," "Blaze and the Monster Machines," "Spirit Riding Free," and "The Penguins of Madagascar," and in video games such as "Kingdom Hearts," "Disney Magic Kingdoms," and "Call of Duty: Ghosts," among others.
However, Stuart's first acting role as an adult was on the soap opera "All My Children," in which he played the sinister William Cortlandt from 1990 until his character was hit over the head with a crowbar and died in 1994. Stuart returned to his daytime roots in 2016 when he joined the cast of "General Hospital" as Valentin Cassadine — a long-lost relative of the notoriously nefarious royal family. He has remained in the role ever since.
Though Stuart has appeared on the big and small screens for many years, there is one beloved episode of a classic TV show that he guest-starred on that fans still talk about to this day.
James Patrick Stuart appeared on Season 5 of Frasier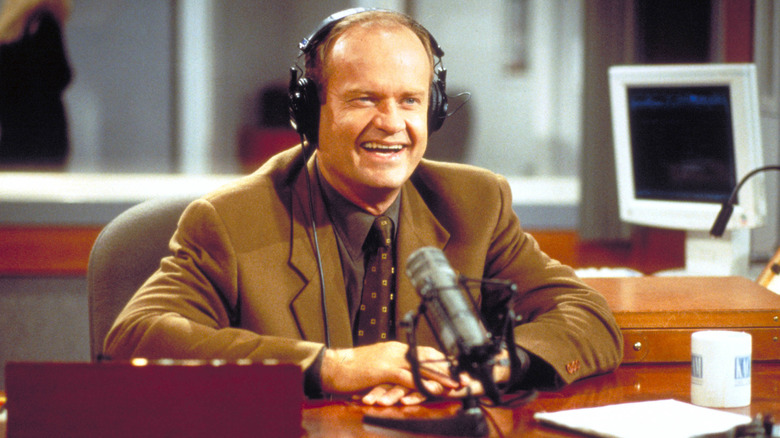 Gale Adler/Paramount
"Frasier" is one of the most popular sitcoms in television history and holds the record for most Emmy wins at 37 — and has a reboot in the works! In 1998, James Patrick Stuart found himself cast on the legendary show as a French ski instructor named Guy in an episode called "The Ski Lodge," which IMDb ranked as the funniest of the whole series (via ScreenRant).
The episode differs from most in that it takes place outside the typical Seattle sets of the show, but rather in a remote cabin in the snow-covered mountains. It follows Frasier (Kelsey Grammar), Niles (David Hyde Pierce), Daphne (Jane Leeves), a guest-star named Annie (Cynthia Lamontague), and Stuart's Guy in a classic tale of romantic misadventure (via Soaps in Depth). The "bedroom farce" consisted of each character chasing after the next, leading to an iconic bed-hopping sequence. The hilarity of the scenes in which Guy blatantly misunderstood the relationships of the other characters were so intense that the recording of the live studio audience had to be cut-down because it was too loud and too long to be used on TV.
For a young actor, a small role on a widely-loved show is a terrific feat, but it became even more life-changing for Stuart when the episode became one of the most popular in the show's history. In a conversation with Yahoo TV, the actor said of the iconic scene, "I was waiting to make my entrance ... I'm hearing Kelsey and Jane killing it. The laughs were so huge. I remember looking down at my feet and thinking 'I'm gonna remember this moment for the rest of my life,' because I can tell what is about to happen."
James Patrick Stuart's French accent helped him land the part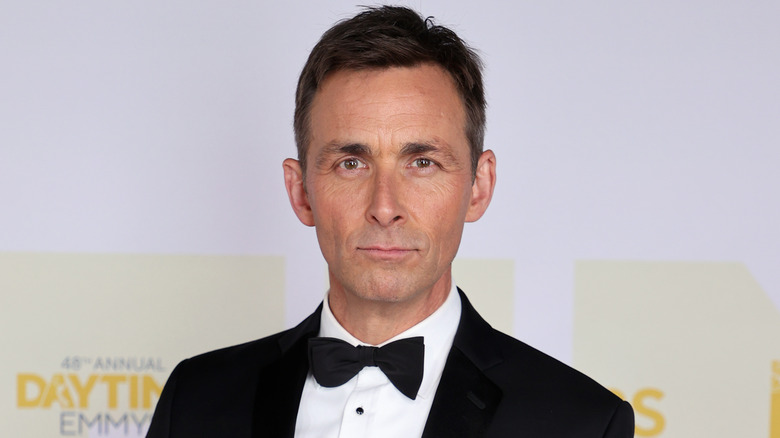 Kevin Winter/Getty Images
When speaking with Yahoo TV, "Frasier" director and co-creator David Lee credited James Patrick Stuart's French accent as one of the reasons he was ultimately chosen for this coveted guest spot. When entering the audition room Stuart was wearing a fake mustache which casting director Jeff Greenberg promptly told him to remove. Luckily, Lee found him "attractive and extremely charming," and said "he had a great French accent and he played it for real. That makes the whole situation funnier."
Stuart himself credits his British parents and their interests in his ability to slip easily into the accent. He explained, "I was raised on 'The Goon Show,' the radio show that inspired 'Monty Python.' Peter Sellers would always do this French voice. There was something my father used to sing for me growing up, ['Jacques, a Penniless French Mouse'], so the French thing was always easy for me to drift into."
The success of Stuart's performance and the episode itself sent his career on an upward trajectory that has yet to fall. To this day he credits much of his career to that one experience. Stuart said, "As an actor, you are so blessed when there is that lightning in a bottle. And I was also blessed that I was aware of it that night, and I just savored every moment."