Why Twitter Can't Stop Talking About Nancy Lee Grahn's 2022 Daytime Emmys Look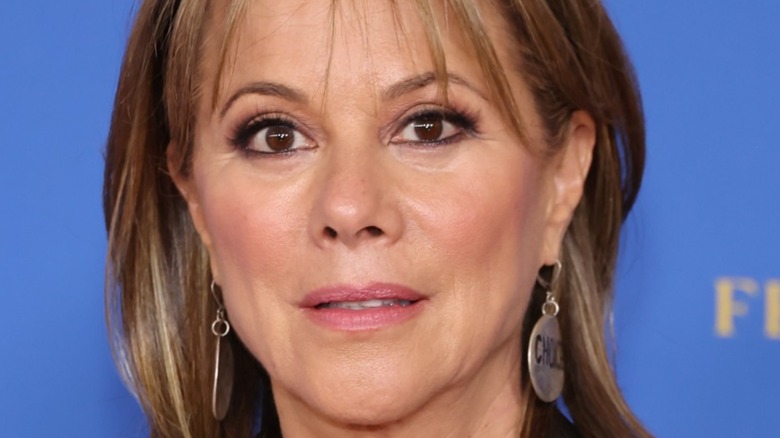 Amy Sussman/Getty Images
Soap opera star Nancy Lee Grahn is never one to mince words. She is a fierce advocate for women's health and reproductive rights, and regularly uses her platform to raise awareness. In a March 2016 Facebook post, Grahn shared her support of Planned Parenthood and opened up about her personal experience with abortion. The "General Hospital" star vulnerably revealed her decision to have an abortion at 25, and why it was the right choice for her.
After the Supreme Court overturned Roe v. Wade, Grahn immediately took to Twitter to share her outrage at the decision. In one tweet, she accused the ruling of being misogynistic, writing, "Our highest court and the Republican Party loves guns and hates women. The ONLY way to fight back is to overwhelm them in Nov with out votes. It's the only way." Her replies were filled with fans echoing her sentiments. In another tweet, she questioned the impact on women's agency, writing, "Unimaginable in 2022 this has happened. Women are going to die."
But Grahn isn't only using Twitter to send a message.
Nancy Lee Grahn's outfit choice at the 2022 Daytime Emmy Awards made a bold statement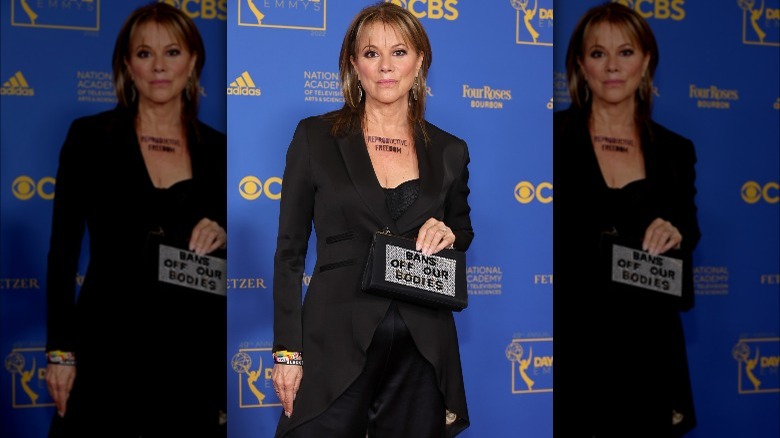 Amy Sussman/Getty Images
Nancy Lee Grahn made a literal "fashion statement" at the 2022 Daytime Emmy Awards. Grahn accessorized her sleek, black pantsuit with various messages of support for the causes close to her heart. Emblazoned on her chest was the phrase "Reproductive Freedom," and a bag with the words "bans off our bodies" hung off her wrist (pictured above) in response to the Roe v. Wade reversal. 
Grahn also gave a subtle nod to the Black Lives Matter movement, Ukraine, and LGBTQ+ pride in her choice of bracelets, per Variety. She finished off her look with earrings simply labeled with the word "choice" on them. Before the night started, viewers were hopeful Grahn would grace the stage and voice her thoughts on the Supreme Court decision. One user tweeted about her penchant for speaking out, writing, "I hope she does win and I don't even watch ['General Hospital']; I'm a ['Young and the Restless'] fan. But I want to hear Nancy Lee Grahn go off tonight."
Twitter exploded at her outfit choice. One user tweeted their approval of her silent statements, writing, "You can always count on NLG. I mean that in a positive way." In another tweet, a fan followed up with a simple "I respect it."