The Best Silhouettes For A Pear-Shaped Body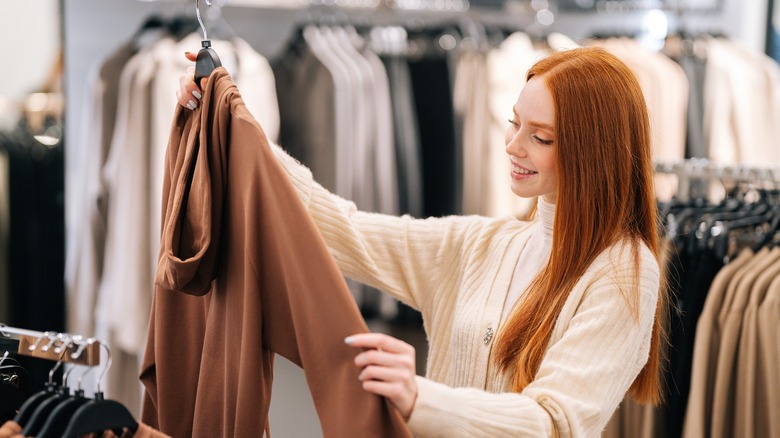 Dikushin Dmitry/Shutterstock
The most accurate way to determine if you're a pear shape is by paying attention to the points made by a styling service like Stitch Fix. If you have always had fuller hips but smaller shoulders, you have a rear that is more noticeable, and your waist is bigger than your bust, then you are probably a pear shape. However, keep in mind that not all pear shapes will have a huge difference in body measurements — it's more important to pay attention to the silhouette your body creates without clothes. Additionally, your weight does not determine your body shape. Slim shapes can be pears, whereas larger women can be inverted triangles.
As outlined in another shopping service, Nordstrom Trunk Club, some good examples of celebrities with pear-shaped bodies are Jennifer Lopez and Rihanna. Both of these celebrities have hips and thighs that are naturally wider than their waist and shoulders, hence creating a curvier shape. It can be tricky figuring out what your body shape is, and once you've discovered you're a pear you may feel overwhelmed with what suits you best. We've put together a little guide so you can start shopping with more confidence.
These are the most flattering options if you have a pear-shaped body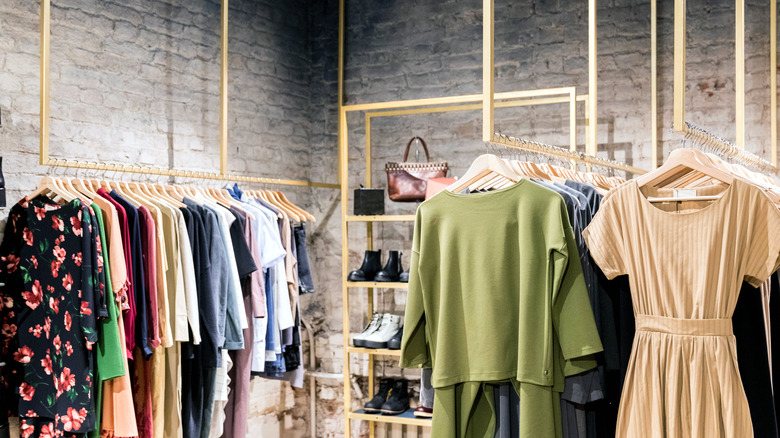 tartanparty/Shutterstock
If you want to look more in proportion, opt for clothes that will balance out your body. Even things like haircuts can alter the shape of your face and body, meaning it's key to find out what suits you. StyleCraze recommends wide-legged pants or A-line dresses and skirts for our pear-shaped friends. The advantage of wider trousers is that your waist will look smaller. If you don't like flowy trousers, opt for tighter pants with a loose top. This pairing will still bring some balance to your body.
For more specific clothing types, Nordstrom Trunk Club highlights peplum and square neck tops as particularly flattering for pear shapes. In terms of trousers, bootcut and high-waisted are the way to go alongside straight-leg jeans. For a non-jean option, pear shapes will look stunning in tailored and flat-front trousers. Nordstrom Trunk Club also states that a fail-safe outfit for pear shapes is a peplum top, bootcut jeans, and shoes with pointed toes. All three of these components work together to lengthen and even out your proportions. For a special occasion, a fit-and-flare style dress will always look amazing on pear shapes, once again with pointed-toe heels to elongate your legs. 
You may want to avoid these silhouettes if you're a pear shape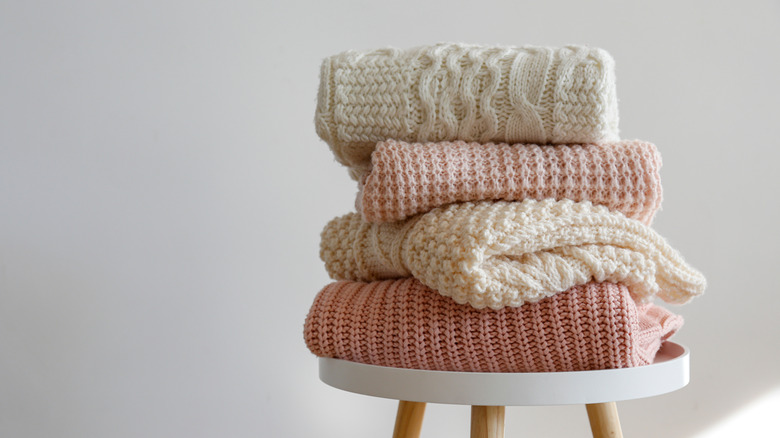 evrymmnt/Shutterstock
So, is there anything you should avoid if you're a pear shape? You don't have to pay attention to rules, but, as outlined by The Concept Wardrobe, some silhouettes are more flattering than others. If your main aim is balance, avoid lighter colors on your bottom half and stick to dark washes in jeans. Though slim straight leg jeans are super flattering, extra-tight bottoms will have the opposite effect due and emphasize your wide hips — though they can look amazing if you want to show off your natural shape!
Moreover, keep things plain around your thighs and hips and stick to belts that sit on your waist rather than your hips. As for tops, you'll want to go for pieces that are either cropped or can be tucked in. Any top below the hips will once again add width.
In conclusion, pear shapes should opt for simple and flared silhouettes. Though you can go for bright colors on top, darker shades will be more flattering on your bottom half. Of course, always remember to wear what you feel comfortable and confident in. Styles come and go, but wearing clothes you love will help you shine your brightest.