How To Get An Elvis Presley-Inspired Hairstyle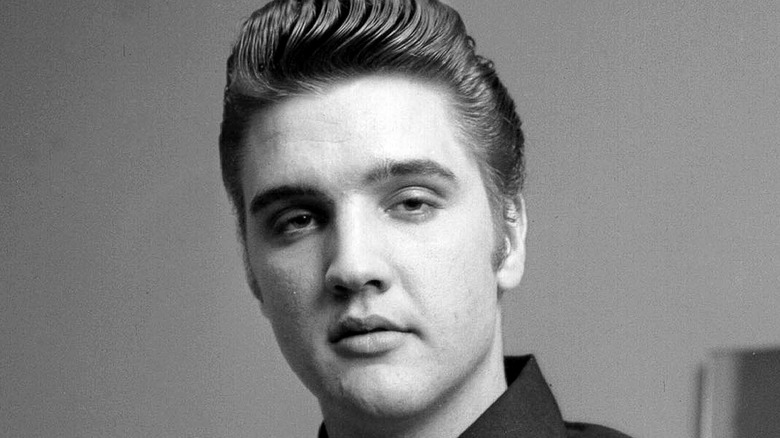 Michael Ochs Archives/Getty Images
With the recent release of the biopic "Elvis," described as "a kaleidoscopic portrait of the king of rock'n'roll" (via The Guardian), we all want to know how to achieve Elvis Presley's famous hair. Presley was known for his style as much as he was for his music. He defied boundaries with his hip-thrusting stage performances and confident swagger, making women fall for him and men left wanting to emulate his style. Starting out in the 1950s, the Graceland website states that Presley became an "international sensation" by 1956, and continued to stay in the public eye until his career ended in 1977 due to his untimely death.
There are a few mysteries surrounding Presley, otherwise known as "the king" due to his huge success. His relationship with Priscilla Presley — as well as his musical inspirations — are still talked about to this day, showing his enduring popularity. However, one thing that isn't a mystery is finding out how to get your very own Presley-inspired quiff. Grab the pomade and learn how to recreate his look just in time to watch Austin Butler — who has some pretty iconic hair looks himself — play Presley in all his glory in the "Elvis" movie.
The Elvis Presley pompadour was one of his most iconic hairstyles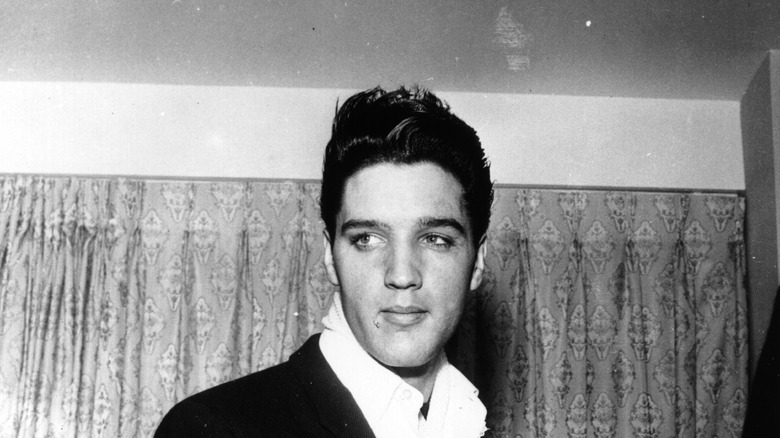 Avalon/Getty Images
Beauty LaunchPad has helpfully detailed how to achieve one of Elvis Presley's most iconic hairstyles. The pompadour style Presley was seen sporting on many occasions looks great on most people, as hair texture doesn't matter as much. To recreate it, you'll need to make sure your hair is freshly washed and conditioned properly. Stylist Patti Davenport states that conditioning is vital, as your hair won't react well to products otherwise.
Next, you'll need some holding product. Depending on your hair density, opt for medium or heavy-hold gel. Once you have dispersed the gel, shape your hair up towards the crown of your head and use a comb to create a final pompadour in the front. Keep in mind that your pompadour should look a little messy — the aim is not to look perfectly polished but rather laidback and casual.
Finally, let the style dry in place. If you're on the impatient side you can use a hairdryer, but make sure you're not blowing too close to your hair. Once your hair is dry to the touch, brush through it for slightly more texture. For the finishing touch, you'll need a pomade. The thickness of the pomade you need depends on the texture of your hair, so make sure to research properly. Use a small amount to add extra volume, and that's it! You have your Presley pompadour.
Presley was known to experiment with style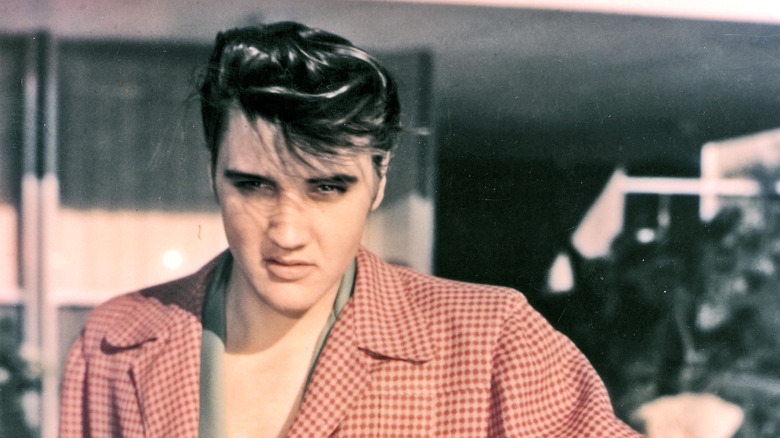 Michael Ochs Archives/Getty Images
It wasn't just his hair that made waves — Elvis Presley was a fashion pioneer, too. Hal Lansky, son of Presley's original 1950s stylist Bernard Lansky, spoke to NME about some of Presley's most emulated looks. He revealed that Presley wasn't afraid of wearing less masculine colors, and that their family business was the first to put him in bubblegum pink. Later on in his career, Presley may not have had his trim figure, but he still dressed in fashion-forward styles. Hal shared an anecdote about one of Presley's 1976 looks, in which the singer wore a leather coat with a cape attached, a look that the singer became known for. He stated that the Lansky family, "introduced Elvis to caped shirts early on – we called them out Batman shirts." 
Moreover, Esquire points out that a lot of Presley's outfits paved the way for those who experiment with their style today, like Harry Styles. Presley was also fond of makeup due to the way it accentuated his eyes — he even helped his girlfriends apply mascara. Whether it was wide-collar suits, floral shirts in the film "Blue Hawaii," or full-leather looks, Presley constantly reinvented both his hair and his outfits throughout his 25-year career.
Now you know how to achieve some of Presley's most iconic looks, start warming up your hips and get ready to channel your inner Elvis.