Stars Rachel Blanchard And Jackie Chung Talk The Summer I Turned Pretty - Exclusive Interview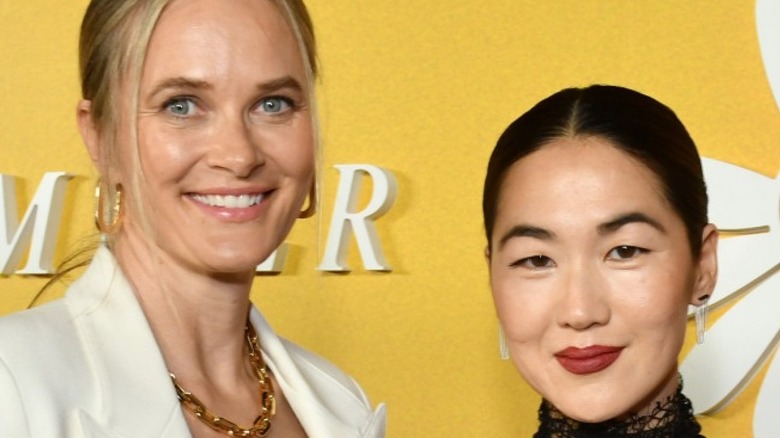 Amazon Studios
If you're a big fan of the trilogy "The Summer I Turned Pretty," chances are you've already binged the brand new series. It's been a long wait to see our favorite characters on the small screens, and a lot has changed since we were first introduced to Belly all the way back in 2009.
A modern reimagining shows many of the people spending the summer in Cousins in a whole new light. Along with Conrad and Jeremiah, viewers are now introduced to Cleveland and shown a completely new side of Steven that isn't seen in the books. But the season wouldn't be as special as it if it weren't for the teenagers' mothers we know and love: Susannah, played by Rachel Blanchard, and Laurel, played by Jackie Chung.
We had the opportunity to sit down with the two actresses for a behind-the-scenes look at the new series. In an exclusive interview with The List, Blanchard and Chung shared what it was like working with powerhouse writer Jenny Han, the motherly guidance they offered for the actress who plays Belly, and what they hope fans of the original trilogy take away from watching the series.
Here's what made them fall in love with the script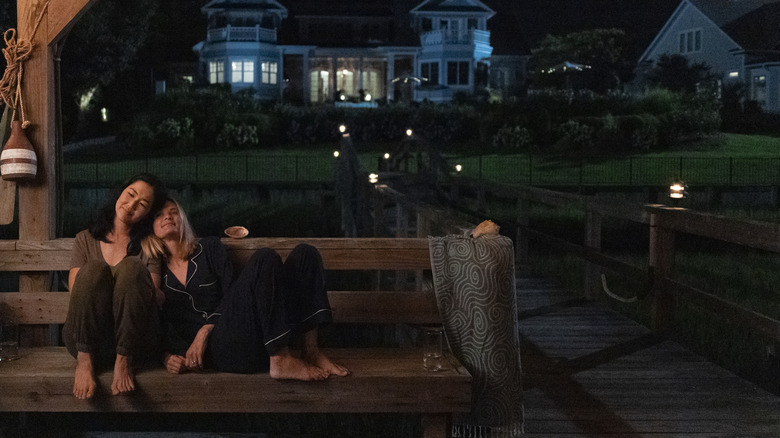 Amazon Studios
What was it about this story that made each of you want to be involved?
Rachel Blanchard: Jackie.
Jackie Chung: Definitely Rachel.
Blanchard: There's actually some truth to that a little bit. No, there's more than a little bit. After the test, we spoke on FaceTime, and ... I don't know. I felt an instant chemistry with you, Jackie, and it's always exciting to be a part of a show and play a relationship when the chemistry is a given.
What about you, Jackie?
Chung: Well, when I got the script ... I have a mutual friend with [the author of the books] Jenny Han, and she was like, "You will love Jenny," so I was super excited to work with her.
Then when I saw what it was going to be about, that it was based on the books, and it was a YA story but that they were going to look at the friendship between two women who have lived lives, it was really exciting. It's exciting to me to see an Asian American family on the screen, and then to see the Asian American mother having her own life was very exciting to me.
What it was like working with the woman who wrote To All The Boys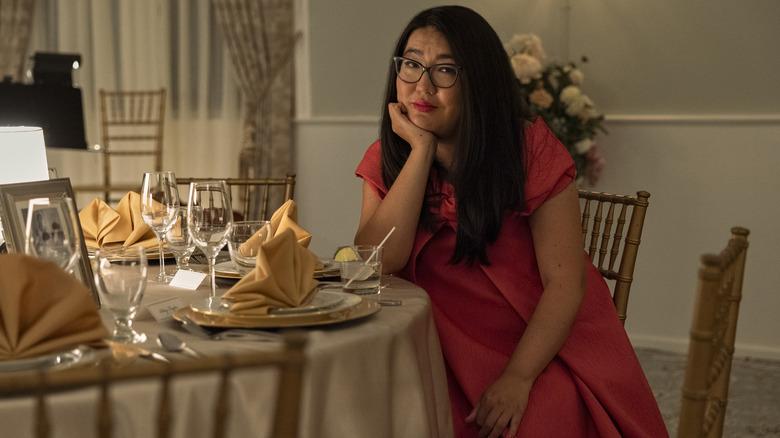 Amazon Studios
The author of the books, Jenny Han, has a fun cameo in the series. What was it like for you to have her on set, and what kind of direction did she give you when it came to your characters?
Blanchard: It was invaluable to have her on set, because obviously, she knows the stories inside and out, and if you ever had any questions you could go directly to the source. She's a very giving collaborator and producer and creator, so if you had any questions, you could ask her. She helped inform the character and helped flesh out the world even more than it already was on the page.
Chung: We were so lucky to have Jenny around because beyond being a resource for the story and for characters, she has a wonderful, generous, and open energy, and it's so nice to have that at the leadership level for your crew and cast. She took very good care of some of the younger actors as well. We're all really lucky to have her around.
Blanchard: She really set the tone for an incredible work experience.
On the pressure to impress fans of the book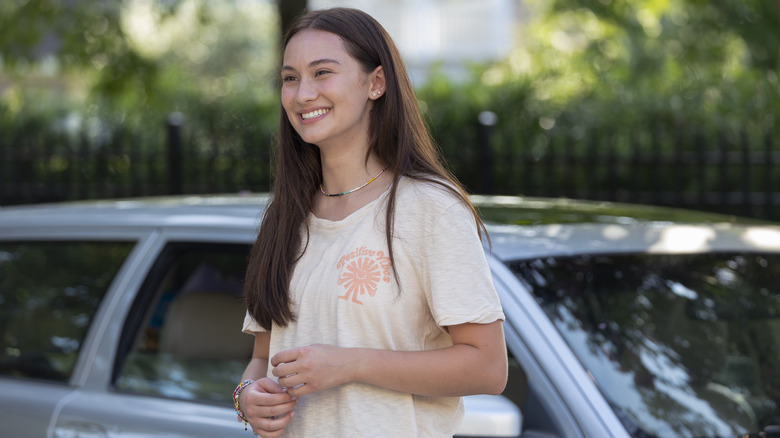 Amazon Studios
Did either of you feel any added pressure knowing that there is a fanbase around the book already?
Chung: I don't think I felt it when we were shooting, because this is just one version of what the story is. Every reader is going to picture it differently, and you want them to be happy with the result that we're presenting, but it wasn't until after [that] I'd be like, "Rachel, what do you think? Are the readers going to like it?" But at the time, we were making our version and having a wonderful time doing it.
Blanchard: Also, seeing the young cast, especially Lola [Tung] bring Belly alive, I could stare at Lola all day and watch her do her thing, and that gave me so much confidence. I was like, "She is Belly." She's an incredible actress, and you could see the world that Jenny [Han] had been creating jump from the page in large part because of the younger cast.
This was Lola Tung's television debut as Belly. Was there any advice that you guys gave her going into it?
Chung: Rachel and I both were like, "If you ever have any questions or if there's ever anything you need, don't hesitate to ask. And if you don't feel comfortable, you can always ask us. We'll always be here for you." But she doesn't need advice. [laughs]
Blanchard: Yeah, no. She doesn't.
Chung: She instinctively knows what to do. She's so present. She's such an incredible actor, and she's so composed and sure of herself, and she didn't need any advice from us.
Blanchard: She seems to have a really good sense of self, which isn't always the case with actors, especially at that age. That doesn't apply to her. She's so composed and really knows who she is, so she was ready.
Things fans of the trilogy should know before bingeing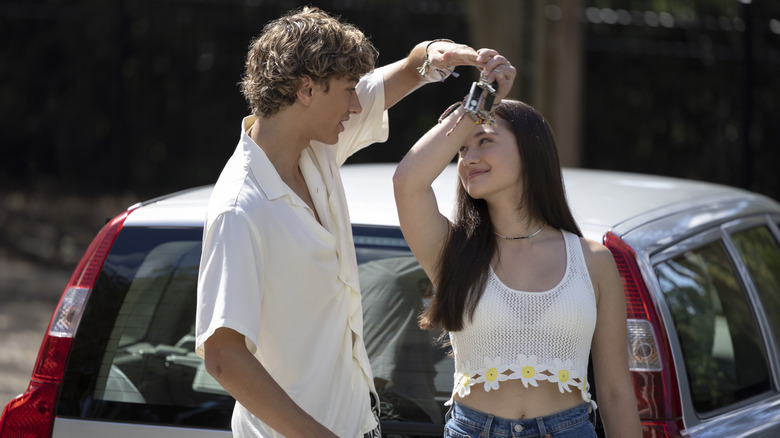 Amazon Studios
What do you want fans of the book to know before watching the series?
Blanchard: That's a good question. It really is a multi-generational drama and not just for [teenagers]. Even though it is a YA show, honestly, any age can enjoy it.
Chung: I want them to know it was made with a lot of love, and Jenny [Han] did it with a lot of care knowing that her fans were looking out for this for a long time, so if some things aren't how they pictured, to know that we lovingly brought it to life for them.
Blanchard: Jenny really cares about her fans. It's impressive.
Was there a theme or a message that resonated with each of you the most once you completed Season 1?
Chung: The message is the importance of friendship, particularly with our characters. But you can already see the seeds of it with Belly and Taylor, that they could end up being what Susannah and Laurel have become: long-term friends who are there for each other through the low points and the high points, [who] have fights and get through them, and support each other throughout their lives.
Blanchard: Piggybacking on Jackie's answer, it's also that your greatest love story may not necessarily be a romantic one.
The series was renewed for Season 2 before the first season was even released. Is there anything that you guys have been told about the upcoming season? The book and the series are a little bit different, so we don't know where exactly it's headed next.
Blanchard: We're just starting to find some things out, and I don't know what we can talk about yet.
Chung: We don't really know much.
Blanchard: We're just getting bits and pieces.
Season 1 of "The Summer I Turned Pretty" is available to stream now exclusively on Prime Video.
This interview has been edited for clarity.