How Leo's Autism Hits Close To Home For General Hospital's Wally Kurth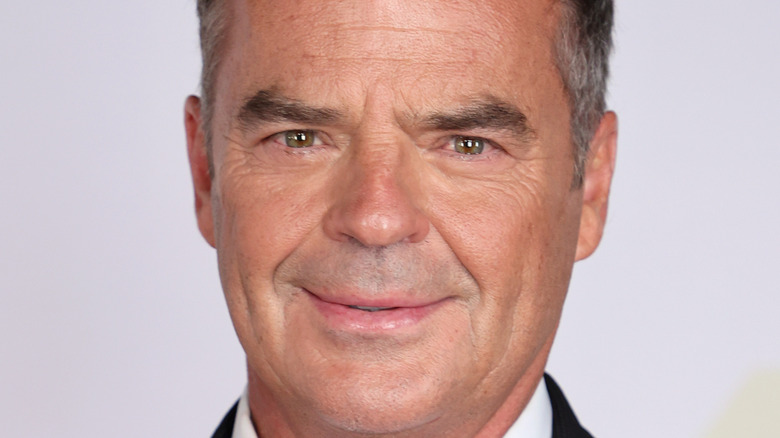 Kevin Winter/Getty Images
Actor Wally Kurth who plays Ned Quartermaine on "General Hospital" has had a heartwarming storyline on the show over the past year. He and his wife Olivia Quartermaine (Lisa LoCicero) renewed their wedding vows in February 2022 after overcoming infidelity in their marriage (via Soaps). Part of their ability to reconnect was due to Ned's support of Olivia as she adjusted to her son Leo's (Easton Rocket Sweda) autism spectrum disorder diagnosis.
When Dr. Austin Gatlin-Holt (Roger Howarth) observed some of Leo's behaviors and that he often had trouble communicating with others, he suggested that the boy be evaluated by an autism specialist (via Soaps in Depth). This was difficult for Olivia to accept and she quickly rejected the idea and anyone who supported it. Over time, Ned was able to help Olivia understand that a potential autism diagnosis was nothing to be afraid of and that having Leo evaluated would allow them to learn how to better support their son. And it would allow Leo himself to become more comfortable in the world around him.
After Leo's diagnosis, Olivia realized how Ned had put Leo's needs in front of himself and was touched that he made the boy's welfare his top priority (via SoapHub). Leo's biological father is mobster Julian Jerome (William DeVry) who had little involvement in Leo's life before he passed away in 2020. Ned had been the only stable father figure that the little boy had ever known and, with Leo's blessing, the family wanted to make it official. In April 2022 Ned finally adopted Leo.
Wally Kurth has a son with autism
Part of the inspiration behind "General Hospital" deciding to make Leo autistic came from Wally Kurth's own experience as a father to a son with autism (via TV Insider). Kurth's son Brogan, born in 2004, is also on the spectrum and that has allowed Kurth to bring authenticity to the storyline, not only in his interaction with Leo but also with Olivia. Kurth told TV Insider, "I think it's not uncommon to have one parent be at a different place when they have a child who's different — in this case, on the autism spectrum. There was a hesitation to realize this child will have different needs. Olivia became aware of Leo's situation a little later than Ned did."
Kurth also explained the character Leo has similar traits to his own son Brogan, including a fascination with water and ocean life, which is common in the autism community, and a tendency to "elope" — a term used to describe how children on the spectrum often wander off or run away from their caregivers (via Organization for Autism Research). However, Kurth also praised the show for portraying Leo's individuality. He also told TV Insider, "There are certain behaviors that Leo exhibits that are different from other kids with autism. I was very pleased with how the writers had done their research and have done a good job of looking at Leo's past, present, and future and designed, I think, a very accurate and truthful telling of a child who's having to deal with [autism]."
Other General Hospital stars also have a personal connection to autism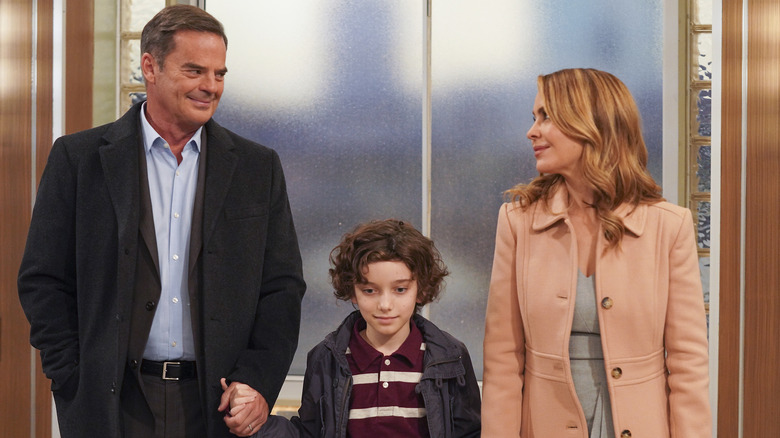 ABC/Valerie Durant
In August 2021, child actor Easton Rocket Sweda took over the role of Leo Quartermaine. The boy loves being able to portray a character with autism spectrum disorder because he's autistic himself (via Soaps). Sweda shared a video on Twitter after his character's diagnosis to share his thoughts with fans and other children on the spectrum. He said, "[Leo] got diagnosed with autism, but you know what's cool? I have autism too. I was diagnosed when I was very young and I couldn't speak until I was four. Now, look at me. I have a cool life. Kids with autism are cool. You'll have a good life, too."
Kurth celebrated Sweda in a conversation with TV Insider, saying "He's a terrific kid who knows his lines and is quite professional. He practices. We run lines together. He's there and he takes it seriously. He's a lovely boy and I'm so excited that he seems to be really thriving."
In addition to Kurth, "General Hospital" star Maura West (who plays Ava Jerome, Leo's aunt) also has a son with autism (via SoapHub). LoCicero described how West has been extremely helpful to her in understanding how to talk about autism and laughed about the role reversal in the conversation between their characters when Olivia is explaining the disorder to Ava. She said, "Maura has a wealth of information. She explained to me that you would say this [term], but you wouldn't say [this one]. I was grateful because this story is touching a lot of people's lives. It's important to all of us that we make it both relevant and realistic."