Wife Of Prince Harry's Pal Discusses Her Budding Friendship With Meghan Markle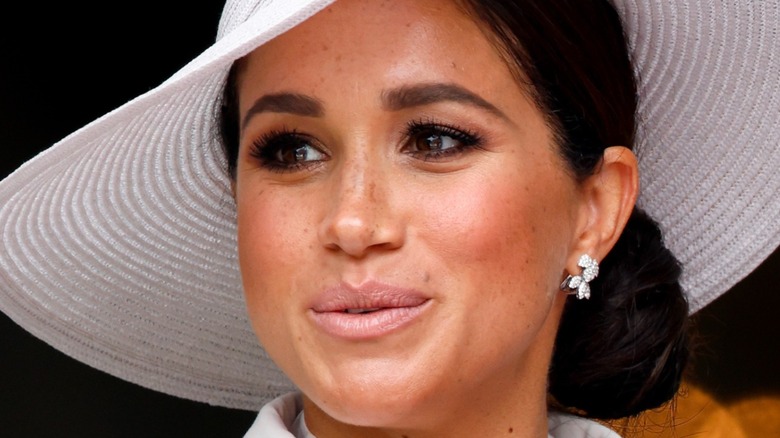 Max Mumby/indigo
Since stepping away from their senior royal duties, Meghan Markle and Prince Harry have lived a relatively quiet life stateside. Outside of their single interview with a news network and major life announcements — including baby Lilibet's first birthday celebration — the couple generally stays behind cameras. It therefore makes sense that their unexpected appearance at Queen Elizabeth's Platinum Jubilee in support of her 70-year-reign attracted so much attention and drew mixed reactions.
Their decision to remain low-key in their day-to-day lives creates even more buzz. It also means that people what to know what they are doing, even if it's just Meghan leaving an encouraging message to Hobb Community Kitchen on the Grenfell Tower fire's fifth anniversary (via People) or sending sweets, bagels, and coffee to the anti-gun violence activist organization Moms Demand Actions (via Vanity Fair).
Per Newsweek, Prince Harry and Meghan's two-year social media exit has left fans wondering how the couple has been adjusting to life in southern California. People reports that Prince Harry has a renewed interest in polo as he participated alongside pal and polo player Ignacio Figueras. Meghan, who has kept her friendships out of the spotlight, joined Figueras' wife in supporting their husbands throughout the season, per Access.
In a loving message to Meghan, Delfina Balquier thanked her for their close friendship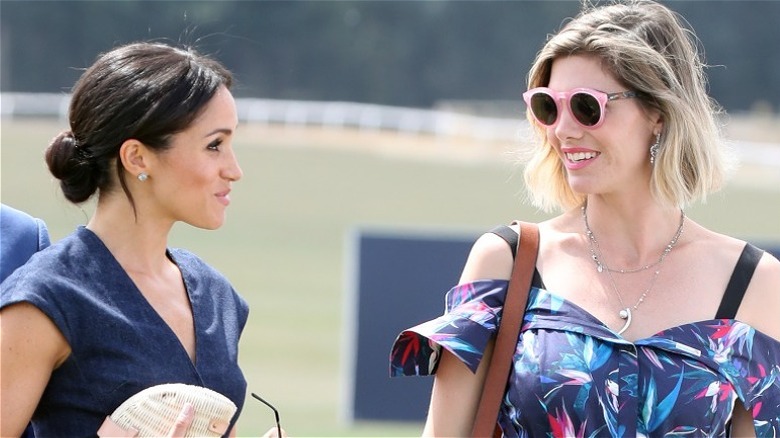 Chris Jackson/Getty Images
Meghan Markle's friendship with Delfina Blaquier goes back a few years. Aside from attending their royal wedding, Meghan and Blaquier were spotted laughing and cheering on their respective partners at the 2018 Sentebale Polo Cup, per Marie Claire. Fast forward four years later, and Meghan and Blaquier found themselves crossing paths again, reports People.
Blaquier turned to Instagram to post a sweet tribute to the Duchess of Sussex. In a June 27, 2022 Instagram post, she revealed that she has spent a lot of time with Meghan over the past two months. "M – looking forward to many more of these times with you and H," her message read in part. "Getting to spend time together over these 2 months was so special. I wish everyone [k]new you the way you are."
In her Instagram message, Blaquier was adamant that they would have more "chill time" together and go on hikes. She shared the loving nickname that Meghan created in honor of their friendship. Referring to Meghan as her "pwife (polo wife)," Blaquier encouraged her to stay strong in an apparent nod to the coordinated hate campaign against her. "You also have my respect," Blaquier's message continued. "Keep walking, steady and strong. Listen to your heart, that will guide you well, bc you have a big one and it's a beautiful one. I love you my darling."