Here's What Really Inspired Joanna Gaines' Trademark Farmhouse Style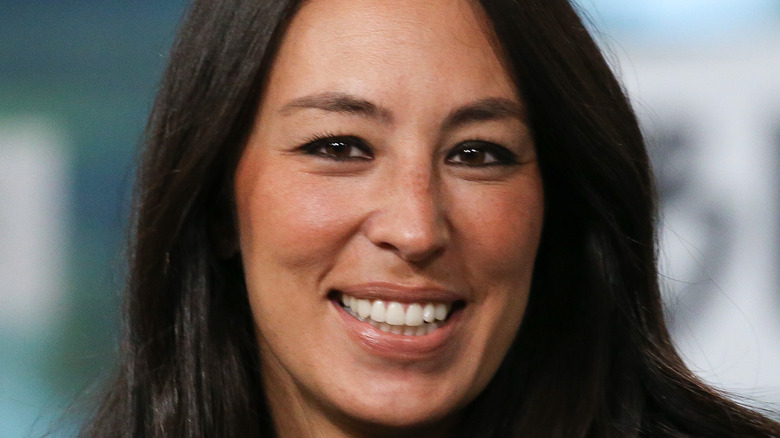 Rob Kim/Getty Images
If you're anything like us, you take the long way around the store while running errands to admire the newest kitchen gadgets, test out the comfort level on the display furniture, and smell every fragrance in the candle aisle. You might consider yourself an amateur interior designer — after all, you've seen enough home renovation shows to practically flip a house yourself. But with the housing market still in flux since the pandemic, becoming a new homeowner might not be on your mind at the moment. Thankfully, it's never too early to start planning your dream home's perfect aesthetic that will have your guests admiring every last light fixture and throw pillow. Whether you spend your free time creating the perfect mood boards on Pinterest or searching for hidden gems at your local thrift store, inspiration for your perfect style can be found anywhere — just ask Joanna Gaines. 
From her hit TV show "Fixer Upper" on HGTV to her line of Target home decor, Gaines has become a household name. The shiplap loving designer is celebrated for her keen eye in interior design, bringing the farmhouse aesthetic into the 21st century. Gaines and her husband have found huge success curating their brand, but her signature style comes from humble roots.
Joanna Gaines' signature style is unique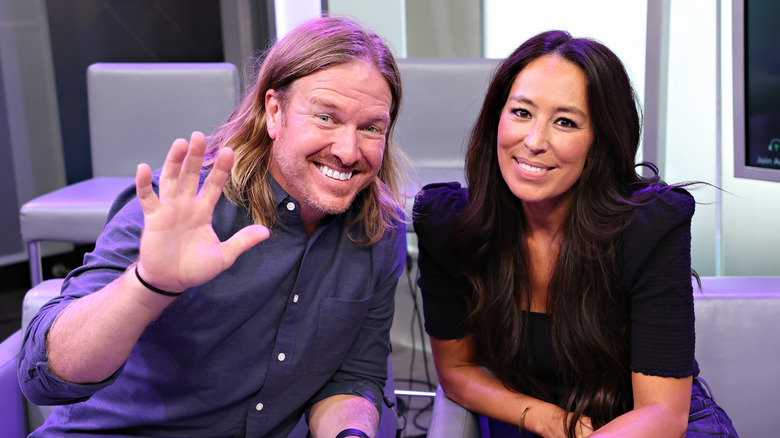 Cindy Ord/Getty Images
Joanna Gaines found national fame hosting the HGTV show "Fixer Upper" with her husband, Chip Gaines. Together in Waco, Texas, the couple flips and remodels homes, "transforming the worst house in the best neighborhood" each week (via Cheat Sheet). According to HGTV, "They have worked on more than 100 homes together, combining Chip's great instinct on real estate and Joanna's unique eye for design." But Joanna's career did not begin with her hit TV series. According to the Magnolia website, Joanna opened a humble home accessory store in 2003, shortly after her and Chip's wedding. Since then, the Gaines family has expanded their empire to include "a real estate company, construction company, design firm and residential subdivision, Magnolia Villas," all while raising four kids (via HGTV).
According to Decorilla, Gaines' style can best be described as updated rustic, combining traditional rustic or farmhouse styles with industrial and vintage pieces. Gaines' signature magnolia palette is contrasted with monochromatic wrought-iron light fixtures and hardware features that create a chic take on the farmhouse style often seen in traditional rustic homes (via Homes & Gardens). But the question remains: what inspired the design expert's signature style?
Gaines found inspiration in the Land of Enchantment
Like many artists, Joanna Gaines found inspiration in the world around her. According to Homes & Gardens, the designer's trademark style was discovered while traveling with her husband to the "Land of Enchantment." 
"Ten years ago, Chip and I were taking a road trip to New Mexico. My Magnolia Boutique was up and running, and I distinctly remember trying to figure out what my specific design style was," Gaines wrote in her blog. She recalls finally finding her inspiration in a small town they stopped at along their way. "I saw farmland and silos — the lush green fields combined with the industrial galvanized cylinders, and chippy white paint spoke to me. From that point forward, everything I did from a design aspect was inspired from that picture in my mind." The sharp contrast of industrial remnants among the natural world inspired Gaines to create her curated aesthetic that can be seen in every home she designs. 
Whether we are watching reruns of "Fixer Upper," enjoying their newly launched Magnolia Network, or scrolling through Pinterest looking for our own farmhouse inspiration, we are grateful for Gaines' sharp eye for design.