A Duggar Family Member Is Getting Slammed For Her Parenting Once Again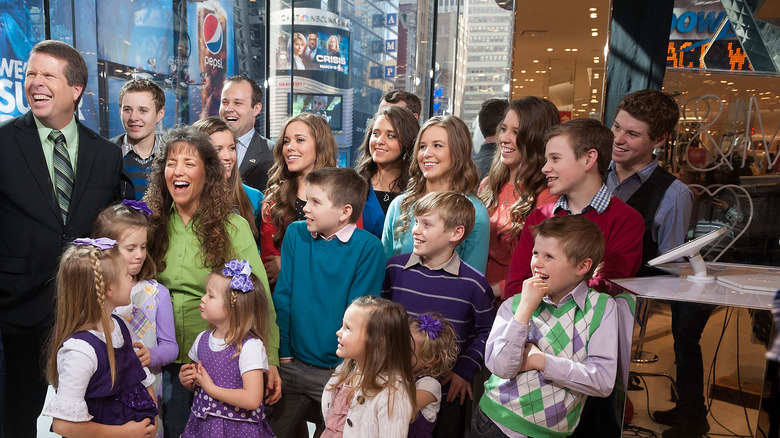 D Dipasupil/Getty Images
Growing up with a camera crew in your home can't be an easy reality to navigate. Fans of TLC's hit show "19 Kids and Counting" and its spin-off, "Counting On" have watched firsthand as the Duggar family has fallen out of favor in the public eye.
Viewers were introduced to the Duggar family in 2004 when they were given a TV special showing off their 14 children (via Buzzfeed). Their large family captivated audiences and they were given their own show. Over the years, as their family changed, so did the show's name. Jim Bob and Michelle Duggar eventually settled on 19 kids, and the title wrapped up at "19 Kids and Counting."
However, the Duggar family would face its first run-in with public criticism when word came out about their eldest son, Josh Duggar's, teenage trouble (via Study Breaks). Accused of molesting his sisters, Josh was axed from the show and the rest of the family was given the spin-off, "Counting On."
The drama surrounding the Duggar brood hasn't stopped there. Though Josh's behavior got worse with time, and he is now behind bars serving 12.5 years for possessing child sexual abuse content, other family members have received public backlash. One of the Duggar daughters is often at the center of these controversies.
If you or anyone you know has been a victim of sexual assault, help is available. Visit the Rape, Abuse & Incest National Network website or contact RAINN's National Helpline at 1-800-656-HOPE (4673).
Jessa Duggar Seewald is often facing public backlash
Jessa Duggar Seewald, one of the family's eldest daughters, is constantly facing criticism online (per Diply). Though "Counting On" is no longer on TV, Seewald still keeps her family in the public eye through her Instagram and YouTube accounts.
Many of Seewald's posts have sparked a backlash from her followers. In one Instagram video, the Seewald kids can be seen playing with a toy gun, while in another, her toddler daughter is inside the fridge chugging a bottle of milk. Fans are often commenting on their concerns for the children, but it seems the controversies just keep pouring in for the former reality TV star.
Other controversies surrounding Seewald's parenting skills include footage of her three eldest children eating pizza on an asphalt driveway (via The U.S. Sun). The kids weren't eating on plates and fans were concerned that their makeshift dinner spot was too dirty. Seewald shared they were simply having a picnic, but fans were thinking she could have at least put down a blanket for the kids to sit on.
Recently, fans found yet another thing to be concerned about when it comes to Seewald's parenting and living conditions.
Fans have found something odd in footage of Seewald from 2017
Most of us will never have to worry about having intimate moments of our lives captured on camera and broadcast for the world to see. However, for the Duggar family, sharing every moment of their lives with a camera crew is second nature.
Moments like Jill Duggar Dillard panicking over a dentist appointment, to various Duggar kids taking serious falls and injuring themselves with the camera crew on hand to get content for the show, many of these moments seem strange to show off to the world (via Showbiz Cheat Sheet).
Childbirth, which many would not be comfortable having filmed and shown on TV, was just part of the job for the Duggar family. Recently, Jessa Duggar Seewald has faced even more public backlash during an episode of "Counting On" that profiled her homebirth in 2017 (via The U.S. Sun).
The clip that has fans talking shows Seewald giving birth on her couch, with just a puppy pad and a towel for coverage. One commenter stated, "This is just so gross to me. That couch has to be disgusting, especially considering how she hemorrhages. That little pad, no way it soaked up everything. This is why I go to a hospital where they change out all that nastiness every chance they get."
Another added, "I'd swap it with a waterproof sheet and more than one of the puppy pads."
It doesn't seem that Seewald commented on the controversy that has resurfaced years later.