Queen Elizabeth's Famous Monochromatic Outfits Have A Deep Meaning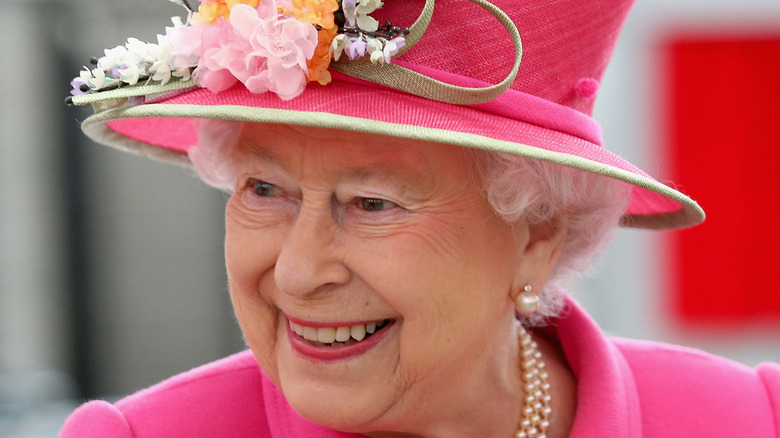 Chris Jackson/Getty Images
Queen Elizabeth may have taken a step back from attending public engagements due to mobility problems. But the times she has appeared at important events like the recent Platinum Jubilee, the queen has continued to embrace her very monochromatic wardrobe. Her Majesty's love of bright colors has certainly garnered plenty of attention throughout her reign, which began in the early 1980s when her eldest son Prince Charles married Diana Spencer (via Insider).
On that special occasion, the queen wore a monochromatic light blue dress made by her dressmaker Ian Thomas. As Royal Central notes, the monarch would continue to wear varying shades of blue and purple to her children's weddings. But it was the 1990s that truly heralded her penchant for a monochromatic outfit, according to Insider, and the queen hasn't looked back since.
While she's worn patterned and floral prints on occasion during the past three decades, you're almost guaranteed to see the queen in varying shades of bright colors. But what made Queen Elizabeth decide to settle with this style?
Queen Elizabeth utilizes bright colors to stand out from the crowd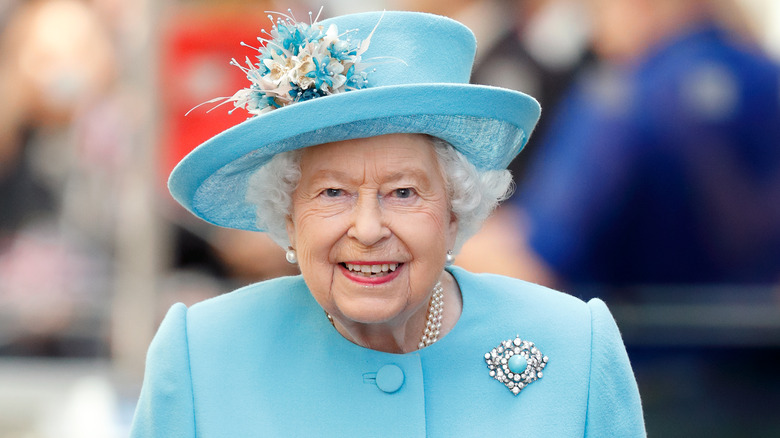 Max Mumby/indigo/Getty Images
Even though Queen Elizabeth is one of the most recognizable people in the world, she's relatively short. Standing at only 5 foot 3 inches tall (via Metro), it can be hard to spot her in a crowd let alone when she's surrounded by her entourage of up to 34 people, per the Express. So by wearing bright, monochromatic colors, the queen can stand out and be recognized relatively quickly by the people wanting to catch a glimpse of her.
"She needs to stand out for people to be able to say 'I saw the Queen,'" her daughter-in-law Sophie, Countess of Sussex, said in the documentary "The Queen at 90" (via Town & Country). "Don't forget that when she turns up somewhere, the crowds are [...] deep, and someone wants to be able to say they saw a bit of the Queen's hat as she went past," she added. And as you may have already noticed, her hats tend to be the same striking color as her outfits.
The British monarch alters some of her outfits to wear again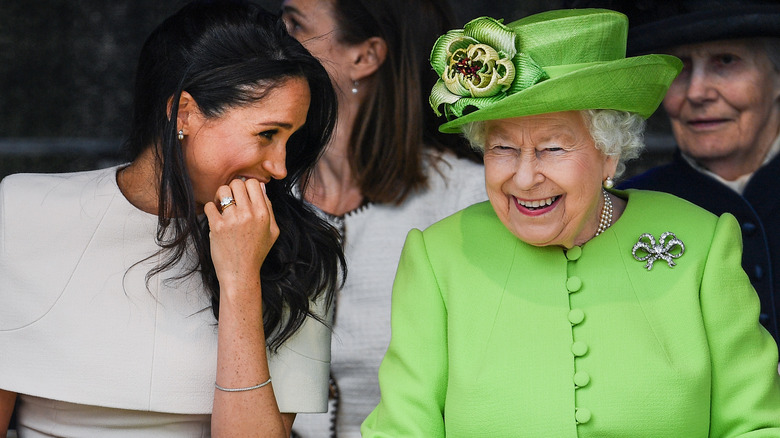 Jeff J Mitchell/Getty Images
It's not all about standing out, though. As was the case with Queen Elizabeth's recent visit to Scotland (via People), the monarch will often match the color of her outfit to the area she's visiting. Whether that be a nation's flag or a state flower (via Wharfedale Observer).
And having been to thousands of public engagements during her reign, it's difficult to believe that the queen wears a new outfit every single time. As a matter of fact, the monarch is actually quite thrifty when it comes to her wardrobe. According to the queen's personal dresser Angela Kelly, Queen Elizabeth has a pretty solid routine when it comes to circulating what she wears. "After two or three outings, a piece will have become familiar to the media and the public, so we will either look for ways to modify it or it will become something that is worn on private holidays at Balmoral or Sandringham," Kelly wrote in her 2019 memoir (via People).