Jessica Chastain And Ralph Fiennes On The Forgiven And More - Exclusive Interview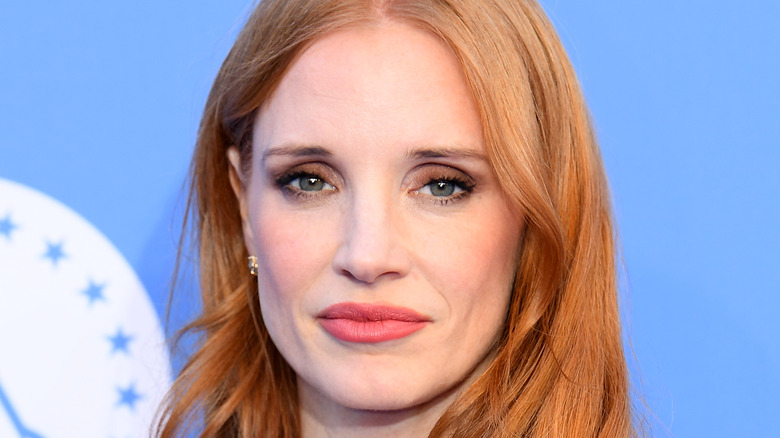 Joe Maher/Getty Images
Jessica Chastain has been having quite the year following her best actress win at the Academy Awards for her jaw-dropping performance in "The Eyes of Tammy Faye." Chastain's latest film, "The Forgiven," hits theaters on July 1, and there's perhaps no one better matched to star opposite her than Ralph Fiennes. In the new movie, the pair play an ill-fated couple who are unexpectedly involved in a car accident while traveling to their friend's debaucherous party in the Moroccan desert. Raising questions about white privilege, colonialism, and excessive wealth, what follows is a twisty morality play of self-discovery in which both leads grapple with their relationship, their surroundings, and their place in the world.
Having previously starred together in 2011's "Coriolanus," which Fiennes also directed, the pair's chemistry sits at the core of "The Forgiven," conjuring a complicated and exceedingly tense marriage. Written and directed by John Michael McDonagh, the movie is based on Lawrence Osborne's novel of the same name. Matt Smith, Mourad Zaoui, Christopher Abbott, Saïd Taghmaoui, and Ismael Kanater co-star.
The List sat down with Jessica Chastain and Ralph Fiennes to find out what it was like reuniting after a decade to film "The Forgiven" in Morocco just before the pandemic hit. We also had to ask whether Fiennes would ever consider a return to the "Harry Potter" franchise in his iconic role as Voldemort, and his answer might surprise you.
Jessica Chastain and Ralph Fiennes' bloody first meeting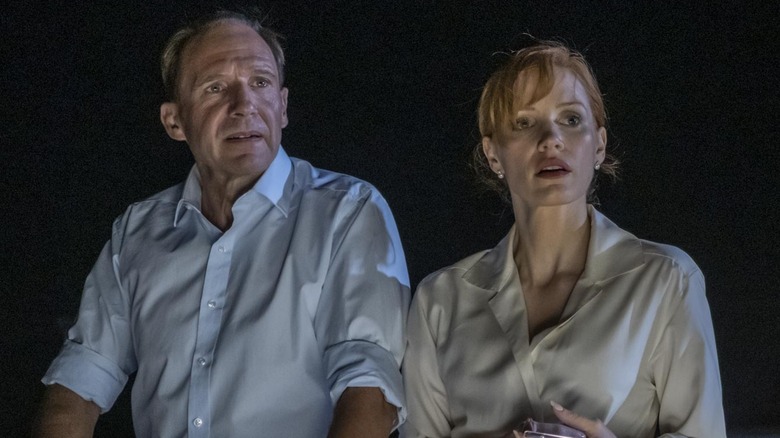 Nick Wall/PR Provided
What was it like reuniting a decade after you worked on "Coriolanus" together?
Ralph Fiennes: It was inflammatory.
Jessica Chastain: I loved it. Ralph is the kind of actor who ... my favorite kind, where you do all the work before you show up on set, and then it feels effortless to be in the scenes because he's so open. If you show up with that kind of presence, with the presence that he inspires around him, it makes everything so easy, and then there's a flow to it. Yes, I love working with Ralph. I hope, in the future, we end up playing characters who really like each other because we've had two very difficult marriages on our hands. But it's good fun.
Fiennes: It was a great reunion. Jessica was incredibly loyal to a film I made earlier, Shakespeare's "Coriolanus" [in 2011] where she had a much, much smaller part playing the important but small part of Coriolanus' wife. One thing that I do remember was that you came to the set of "Coriolanus" and ... I was covered in blood. I was covered in fake blood, but I looked pretty horrific. Gabby — the producer [Gabrielle Tana], brilliant woman — said, "I should warn her that you are looking like this because you know she's vegan."
Chastain: I remember. We had lunch. When I first arrived, I came to set to say hi, and of course, Ralph is directing and starring in the film. We met in the trailer, and he's completely head to toe covered in blood. Were you eating a steak? You might have also been eating a steak.
Fiennes: I was eating a steak.
Chastain: I have my salad and I'm like, "Where am I?"
Hopefully we'll have another collaboration in another 10 years, then?
Chastain: There you go. Hopefully, it won't be that long.
Jessica Chastain and Ralph Fiennes on a potential third collaboration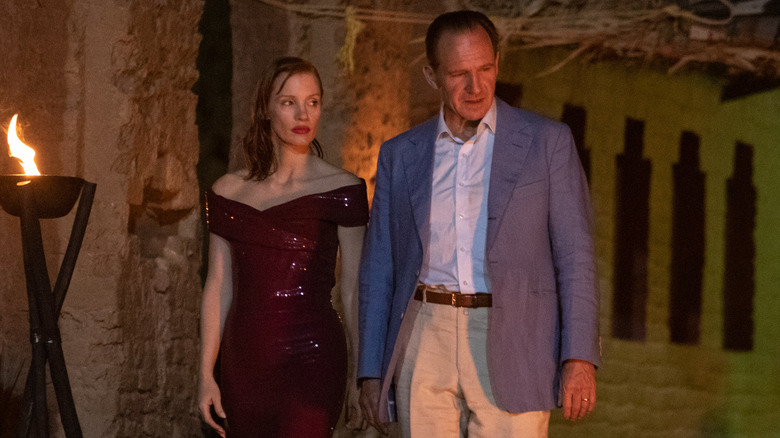 Sife Elamine/PR Provided
"The Forgiven" is incredibly tense, and it must have been quite grueling to film. Were there any difficult moments on set, and how did you prepare for that?
Chastain: Ralph had the most difficult moments on set being in the desert.
You got to drink cocktails.
Chastain: Exactly — I got to drink cocktails and dance. But I finished [filming] on March 10, 2020, flew to the United States, and the lockdown started in the United States [on] March 12. Ralph still had to do all the stuff in the desert.
Fiennes: Our scenes are what you see. I don't think there was anything [grueling]. The scenes had tension in them because of the relationship. I don't think there was anything that felt momentously awkward or dangerous. It was a great cast — wonderful cast of people around us, really fantastic actors. Wonderful.
Ralph, would you ever play Voldemort [in the "Harry Potter" franchise] again?
Fiennes: I think Voldemort should reappear and there should be Voldemort's Bride, played by Jessica.
Chastain: Fine. But then would it be a loving marriage?
Fiennes: I think it would be. It would be very complicated. It would be obsession. They would hate each other. Then they would come together with incredible spells. They would have amazing sex, and then they would have their traumatic separations. They'd use their magic to manipulate each other and fall in love with each other.
Chastain: It sounds very exciting. Probably not appropriate for children, but who cares?
Fiennes: Who cares? Right.
"The Forgiven" hits theaters on July 1. Book tickets now.
This interview was edited for clarity.