Here's How Kamala Harris Got A Flower Named After Her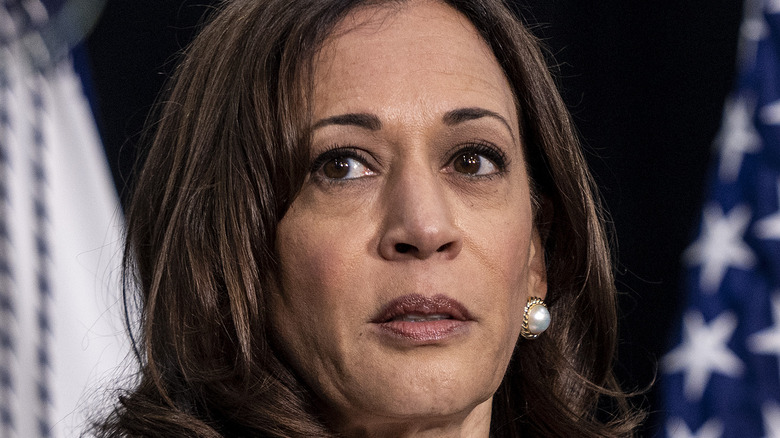 Bloomberg/Getty Images
As the first female vice president of the United States, Kamala Harris has been honored with all manner of things, including being given a variety of gifts. Arguably one of the most important ones came from Indian prime minister Narendra Modi, who gave the vice president a copy of documents from her late grandfather PV Gopalan, who "was a senior and respected government official" in India, according to the India Times. Harris was also given a chess set made in the craft of Gulabi Meenakari, which "is closely associated with Kashi, one of the oldest cities in the world," according to the news site.
But sometimes, a gift can be as simple as having something named after you. For example, the city of Berkley, California, petitioned to rename Thousand Oaks Elementary in honor of the vice president, who attended the school as a child (via the San Francisco Chronicle). While this may never actually happen as the process of renaming a school can be pretty complicated, there is something that is easy to name after someone: a flower.
Kamala Harris isn't the only person to have an orchid named after her in Singapore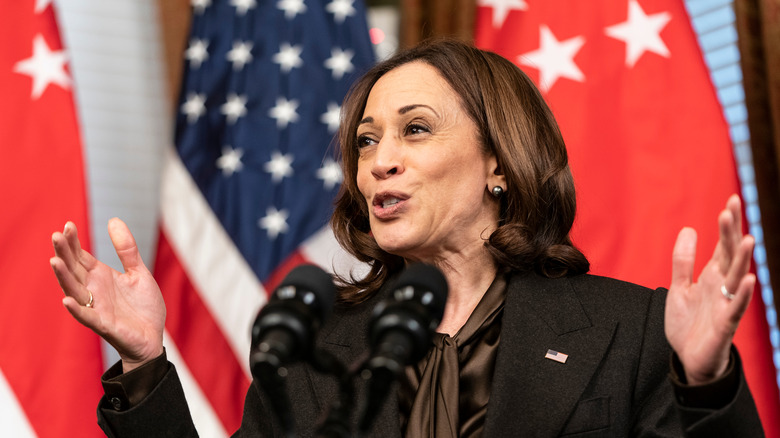 Bloomberg/Getty Images
During her first official visit to Singapore in August 2021, Kamala Harris was given the honor of having an orchid named after her (via Mothership). The orchid hybrid presented to Harris by Singapore's prime minister Lee Hsien Loong is called the "Papilionanda Kamala Harris." As noted by The Straits Times, the flower bears a "light purplish pink" color with "prominent pink spots and tessellations and a magenta lip."
As the country's national flower, it's long been a tradition for the government to name orchid hybrids after world leaders that take the time to visit. According to Biblio Asia, the practice dates back to 1956 and has become known as "orchid diplomacy." It's a "gesture of friendship to promote goodwill" between Singapore and the country it's hosting, which "plays an important role in building bilateral ties." 
These ties were definitely strengthened for Harris, who looked absolutely delighted after receiving a special certificate of her orchid (via Twitter).
The vice president's name also has a floral meaning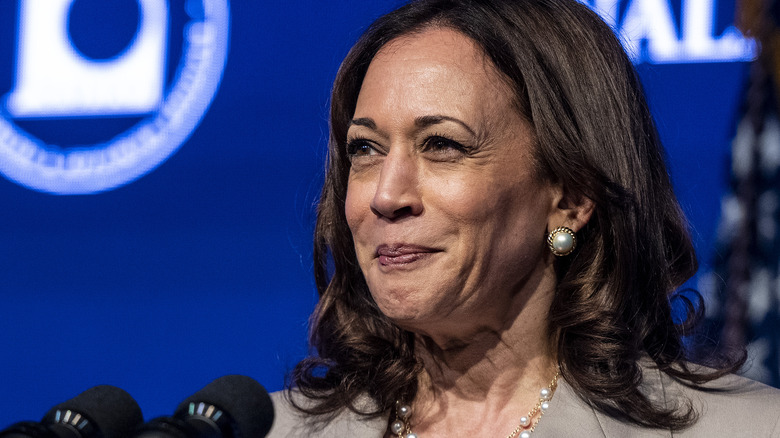 Bloomberg/Getty Images
The Papilionanda Kamala Harris can be found in a special section of Singapore Botanic Gardens dedicated to VIP orchids, alongside other varieties named after Joe Biden, Nelson Mandela, Princess Diana, and Margaret Thatcher (via Biblio Asia). It's very fitting that Harris has a flower named after her, as her name literally translates to "lotus flower" in Sanskrit (via Flower Power Daily). 
Harris explained the meaning further during a promotional event for her book in 2019 (via The Washington Post). "The symbolism is that the lotus flower sits on water, but never really gets wet," she said. "Its roots are in the mud meaning it's grounded. One must always know where they come from." 
Harris' name comes from her late mother's Indian heritage (via Town & Country). "I think that the name your parents give you, whoever you are, meaning whatever your gender or race or background or language your grandmother speaks, is a very special thing," Harris told People of the name's importance to her. "It is a gift that is an incredible, familial gift," she added.