Meghan Markle Could Unexpectedly Be In Hot Water With Spotify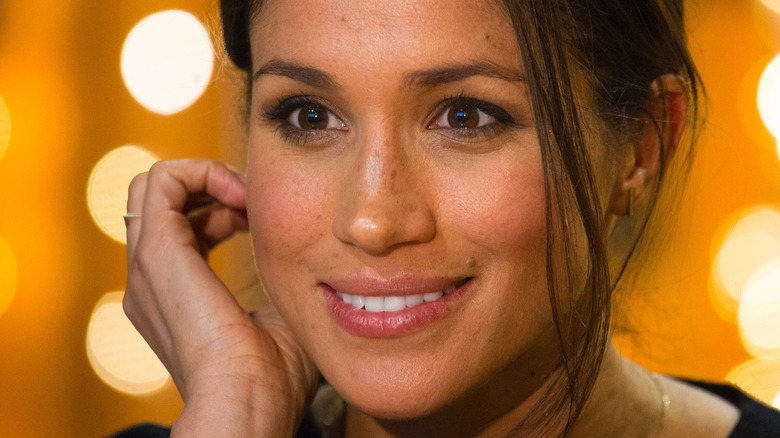 Wpa Pool/Getty Images
Back in 2020, Prince Harry and Meghan Markle signed a multimillion-dollar deal with Spotify to host and produce a variety of podcasts, as Page Six reported, but as of yet the celebrity couple hasn't followed through on their agreement — they've only released one episode that aired nearly two years ago (via Newsweek). The Daily Mail confirmed in January that Spotify was putting the call out for producers to help the Sussexes finally get something across the line, especially since their first series was slated to drop a year prior.
The reason nothing has come of it might be that Meghan and Harry aren't willing to give Spotify what they want. Per Express, The Daily Mail's royal editor Rebecca English claimed the couple could've been asked to discuss their lives as working royals, but Harry assured his grandmother he would never do that. Speaking on podcast "Palace Confidential," English pointed out that, despite inking lucrative deals with both Spotify and Netflix, they've "precious little to show for it."
English noted, "We keep on hearing things are coming but they don't seem to have materialized yet," adding, "I think it's fair to assume that there will be a lot of pressure on them to produce." Markle's female-fronted series "Pearl" was dropped by Netflix amid cutbacks at the streaming giant (via Express), putting the Sussexes' deal with them in serious danger. And now, the duchess' latest move has fans waiting on her podcast debut scratching their heads.
Meghan Markle's podcast was the last thing on her mind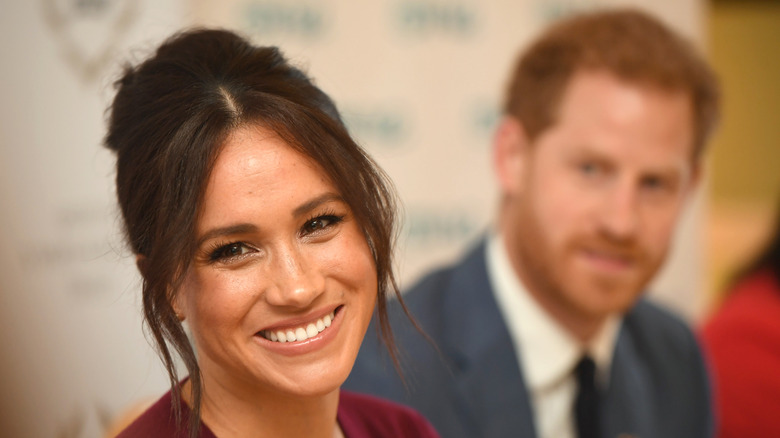 Wpa Pool/Getty Images
Meghan Markle's dwindling image could be about to take another hit as her latest publicity stunt is being questioned by social media users and royal experts alike. The duchess sat down with feminist icon Gloria Steinem for a conversation about Roe v. Wade, for Vogue, during which she asserted, "This is having a very real impact on women's bodies and lives starting now." She went on to ask, "What does this tell women? It tells us that our physical safety doesn't matter, and as a result that we don't matter" before reaffirming, "But we do. Women matter."
There are certain commentators who believe the former actor should've saved her strong words for her upcoming Spotify podcast "Archetypes," even claiming the platform won't be impressed she chose to use a different venue. As royal author Kinsey Schofield argued on Twitter, "The entire world has been waiting for this woman to drop a podcast that promises to 'dissect, explore and subvert the labels that try to hold women back' and she took THIS conversation to Vogue? If I were Spotify or Netflix, I would be pulling my hair out."
However, one user posted the conversation could be taken as a precursor to Steinem appearing on "Archetypes," or even the Sussexes' Netflix project, a recently-announced reality show. As for when we can expect the first episode to drop, Spotify responded to a curious fan by reassuring them, "Good things come to those who wait."
The Sussexes had similar issues with their Netflix deal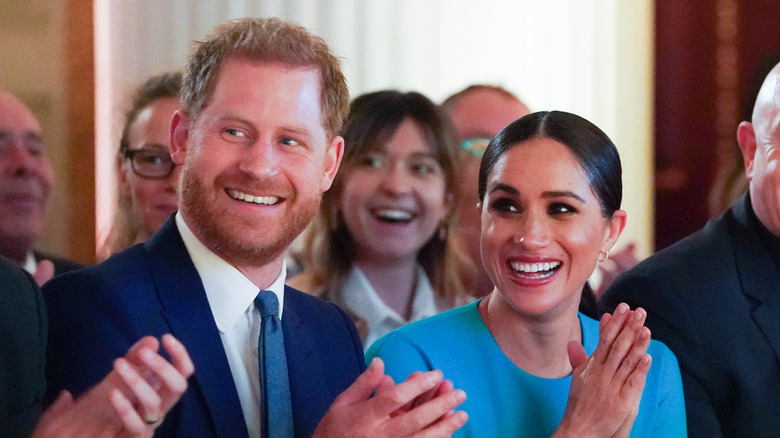 Wpa Pool/Getty Images
This isn't the first time the Sussexes have seemingly forgotten about one of their lucrative production deals. Per The Daily Mail, Netflix higher-ups were enraged when Prince Harry sat down for an interview with "Today," on rival network NBC, about his recent reunion with the queen. There was "a real sense of annoyance" about the move, according to sources, since the couple has a multimillion-dollar agreement with the streaming giant. "Netflix would have loved the first comments about the visit to the queen for the documentary," an insider explained, referring to "Heart of Invictus," which was actually being shot at the time. 
Harry caused major controversy by admitting, during his chat with Hoda Kotb, to being concerned about whether his grandmother had "the right people around her," and wanting to ensure she was "protected" as much as possible. His comments, naturally, were headline news. As an industry expert opined, "Netflix is paying them millions and they're giving all their best interviews to other networks. Do they expect Netflix to be happy about that?" Their deal could even be in jeopardy. 
Elsewhere, royal expert Neil Sean reckons the couple might be reconsidering working with Spotify, particularly since close friends Barack and Michelle Obama moved their podcast to Audible instead, according to Express. Spotify still hosts controversial pundit Joe Rogan's show, too. At the same time, Sean acknowledged, "It will be difficult to leave Spotify right now because they haven't really delivered anything."