Ketanji Brown Jackson Officially Makes History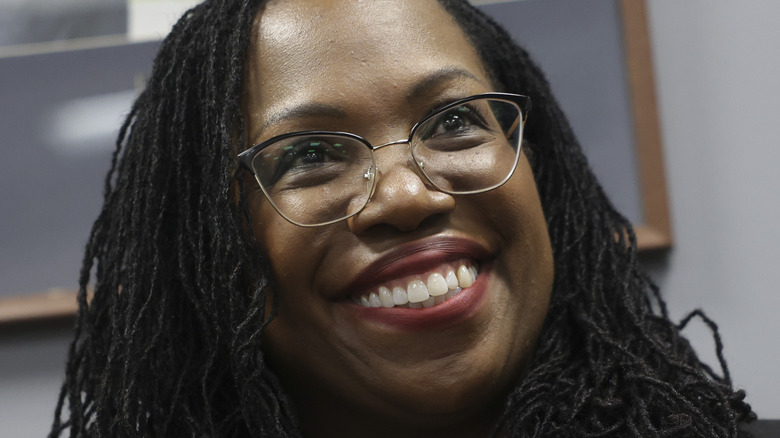 Kevin Dietsch/Getty Images
The Supreme Court has been in the spotlight recently thanks to a series of rulings. Friday (June 24), the highest court in the country reversed nearly 50 years of precedent by overturning Roe v. Wade, which protected the federal right to obtaining an abortion (via NPR). In the aftermath, abortion rights will now be decided on a state-by-state basis. The ruling came less than two months after a leaked memo hinted that the court was planning on moving in this direction (via Politico). 
While abortion rights have arguably attracted the most attention on the national stage, this was not the only contentious ruling to come out of the court in recent weeks. Six justices came together in a ruling that protected the opportunity for public school coaches and teachers to pray openly on the job (via The New York Times). The New York Times also noted that the court ruled on gun restrictions and called some state-mandated laws into question. 
 In a jam-packed month of major rulings, the Supreme Court has returned to the news yet again for another historic moment. This time it all revolves around Ketanji Brown Jackson.
Justice Ketanji Brown Jackson officially joined the United States Supreme Court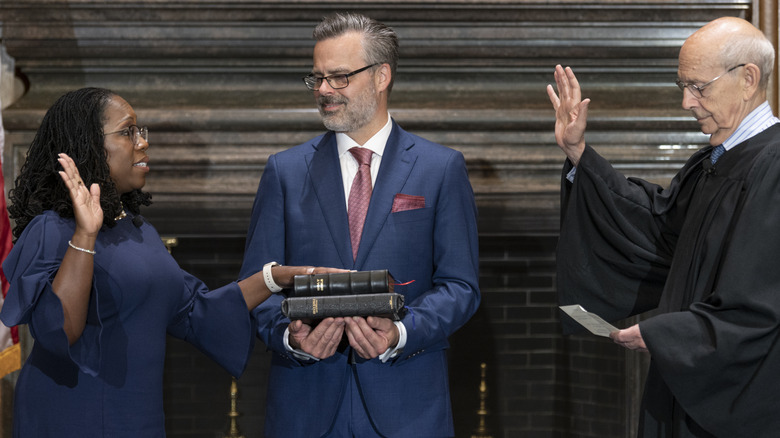 Handout/Getty Images
Justice Ketanji Brown Jackson was officially sworn in to the United States Supreme Court Thursday morning (June 30). Jackson makes history as the first Black woman to ever serve on the United States Supreme Court (via CNN). She has a history as a reputable judge: Law professor Steve Vladeck told the Washington Post that she "brings more experience as a judge than four of the current justices did combined at the time they joined the court." 
Jackson was nominated by President Joe Biden and confirmed in April with a 53-47 vote by the U.S. Senate (via SHRM). Her confirmation hearings were long and contentious, with many republican members of the Senate pressing her with inquiries that seemed motivated by agendas not pertaining to her abilities as a judge. She faced questions about her faith (via the Washington Post), and Ted Cruz asked her if she thought babies were racist (via CNN). 
Through it all, she maintained her professionalism. "I have been a judge for nearly a decade now, and I take that responsibility and my duty to be independent very seriously," she said in her opening statement (via CNN). "I decide cases from a neutral posture. I evaluate the facts, and I interpret and apply the law to the facts of the case before me, without fear or favor, consistent with my judicial oath."
Justice Jackson replaced her former mentor Justice Stephen Breyer on the court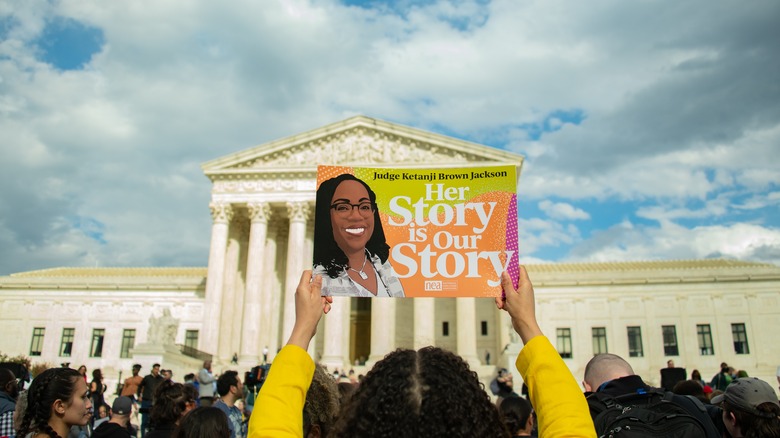 Rena Schild/Shutterstock
As the newest member of Supreme Court, Justice Ketanji Brown Jackson will replace Justice Stephen Breyer, who is retiring, per Politico. Breyer's exit comes at a dramatic time, less than a week after the decision to overturn Roe v. Wade. He was only one of three justices who voted to uphold protections for abortion rights (via 5 Chicago). The dissenting voices wrote that the ruling was "catastrophic" and warned that the majority ruling threatened other rights. In a startling response to the ruling, Justice Clarence Thomas seemingly proposed reevaluating protections on same-sex marriage and relationships and access to contraception.
The swearing in of Justice Jackson is a full circle moment for both Jackson and Breyer; Jackson clerked for Breyer from 1999 to 2000, per American Progress. Jackson holds Breyer in high regard. "Justice Breyer not only gave me the greatest job that any young lawyer could ever hope to have, but he also exemplifies what it means to be a Supreme Court Justice of the highest level of skill and integrity, civility, and grace," she said during her opening statement for her confirmation hearing (via CNN).
After 232 years, a Black woman finally presides over the Supreme Court. Justice Jackson is slated to begin when the Supreme Court reconvenes after summer recess, according to TMZ.