Royal Author Explains The Queen's Infamous Meghan And Harry Photo Snub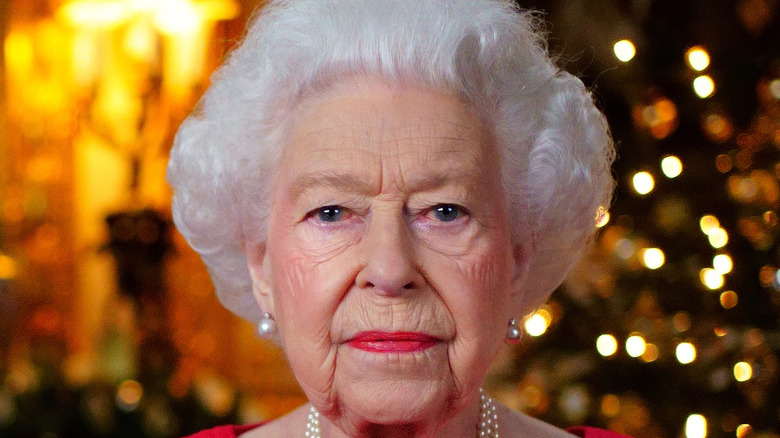 Pool/Getty Images
Prince Harry and Meghan Markle's wedding in May 2018 was a star-studded affair with guests including Oprah, Serena Williams, Elton John, and George and Amal Clooney, via Harper's Bazaar. Millions watched the wedding from home around the world, per Hello! Less than two years later, the world was taken by surprise when Harry and Meghan announced they wanted to step back from working as senior royals and become financially independent. 
Shortly after the public announcement, Buckingham Palace released their own statement. "We understand their desire to take a different approach, but these are complicated issues that will take time to work through," it read in part, via USA Today. Shortly thereafter, the two had their last royal engagement, per BBC.
In retrospect, there might have been hints that the Duke and Duchess of Sussex were on their way out. They didn't give their son Archie the courtesy title Earl of Dumbarton when he was born in May 2019, Meghan talked about the challenges of facing intense media scrutiny, and the couple took a temporary break from royal duties in October 2019 and through the holidays, per Insider. 
There also may have been a hint from Queen Elizabeth herself that we now know more about.
Queen Elizabeth allegedly opted out of displaying a photo of Prince Harry and Meghan Markle
During the 2019 Christmas broadcast, people noticed Queen Elizabeth displayed photos of Prince William and his family, Prince Charles and Camilla Parker Bowles, Prince Philip, and her father, via Us Weekly. The pre-recorded speech is definitely planned out down to the smallest detail, and not including a photo of Prince Harry and Meghan Markle was seen by some as a slight, via Cosmopolitan. Others pointed out that the photos on display were just of those in direct succession to the throne.
But it turns out that there reportedly had been a photo of Harry and Meghan, and the queen decided against leaving it out. Christopher Anderson authored "Brothers and Wives: Inside the Private Lives of William, Kate, Harry, and Meghan," and a source told him that the queen said of a photo of Harry, Meghan, and Archie, "That one, I suppose we don't need that one." That wasn't the case in 2018 when photos with Prince Harry and Meghan were on display during the Christmas broadcast, and Prince Harry allegedly felt the 2019 omission was a slight, via Glamour.
The first Christmas broadcast was by George V in 1932, according to the Royal Household website, and it became an annual tradition. In 2021, more than 9 million people watched the queen's emotional Christmas speech, per Vanity Fair.