Here's What Drew Barrymore Looks Like Going Makeup-Free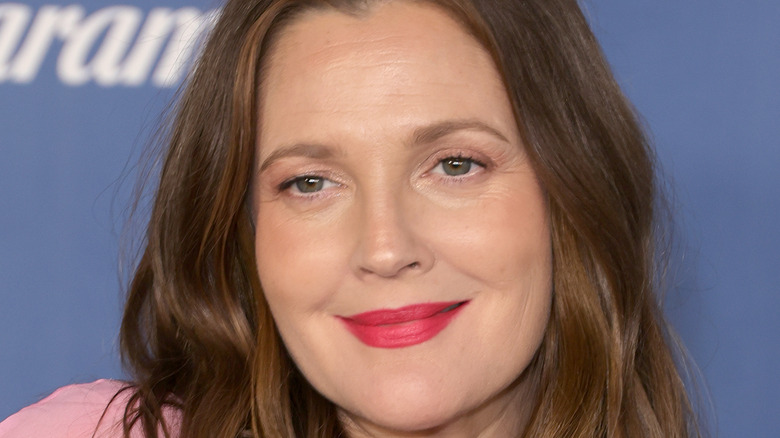 Michael Loccisano/Getty Images
Drew Barrymore was the epitome of alternative '90s fashion. While she had a variety of different looks throughout the decade, you could always count on the actress to rock a dark lip and leather jacket mixed with floral prints and daisies in her hair, per Vogue.
Now in her late 40s, Barrymore continues to shine with her effortless style and makeup. She's a self-confessed beauty lover, having launched her own brand Flower Beauty in 2013, per Insider. Having "had the fortune of working with the icons of the beauty industry" as an actress, Barrymore quickly fell in love "with products, pigments, brands, companies, and just being a constant student of makeup." So launching a brand was the obvious next step.
The most important message Barrymore wanted to send with Flower Beauty was empowerment. "I think there's such a crucial necessity for positive messaging so that women feel empowered and are not making themselves up to be something else," she told the Insider. This is something she's strived by on and off social media.
Drew Barrymore loves a good skincare routine
Drew Barrymore regularly posts makeup-free selfies on Instagram, sharing her confidence in balancing between extenuating her natural beauty and letting it shine by itself. In August 2021, she captured "a raw and calm thoughtful moment" leaning out her car window on Instagram, showcasing her beautiful complexion sans makeup.
The actress strongly advocates a good skincare routine, which is evident in her no-makeup selfies. She also makes a point of sharing affordable products that her followers can buy to achieve similar results. "I do think that you can make the most amazing skincare out of really mild, grocery store products," she told Insider. "Like, Regenerist from Olay is as good as any expensive night cream you will ever buy."
Barrymore sticks to a simple 3-step routine that includes a cleanser, toner, and serum. The star isn't exactly set on certain brands –- instead, she uses what she feels her skin will benefit from at that moment. Sometimes she treats herself to more high-end products, but it's her way of avoiding more invasive treatments. "I don't buy bags, I don't buy shoes -– skincare is my thing," she said. "I don't want to turn to the needle or the doctors, so I love investing in it. Because then, I can bring it to people."
The actress is a fan of minimal makeup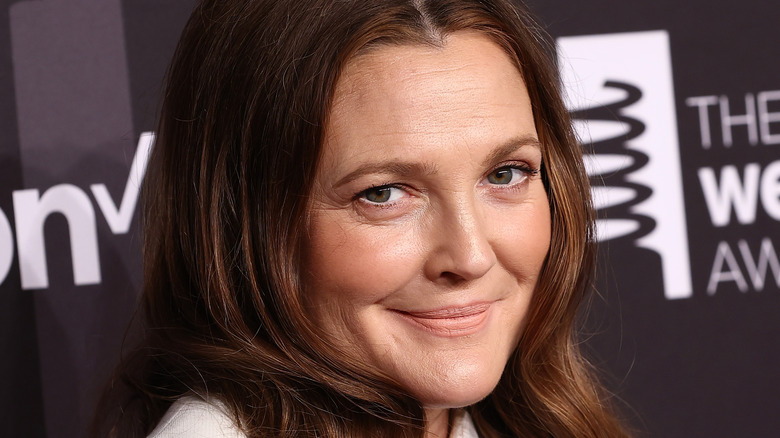 Arturo Holmes/Getty Images
While Drew Barrymore describes herself as "the biggest lover of makeup on the planet," she relishes in taking it off and "letting [her] skin breathe" — hence her focus on maintaining a balanced skincare routine, per Into The Gloss. And when she does have makeup on, she likes to keep it minimal. "I love letting my skin breathe — you have to. But I love going out," Barrymore explained, "and doing a little dot of concealer, and a kiss of something on my lip, and using the lip [product] on my cheek — just having those two items and running out the door."
In May 2022, Barrymore shared her "five-minute mom makeup" routine on Instagram, focusing on products from her beauty brand. As a result, her products have gone from just two to six, including a contour stick, liquid highlight, and color corrector instead of concealer. Describing Flower Beauty's color corrector as a "gamechanger" to Prevention, it canceled the star's need for a concealer to deal with her "crypt keeper dark circles."