Where To Buy The Exact Self Tanner Hailey Bieber Uses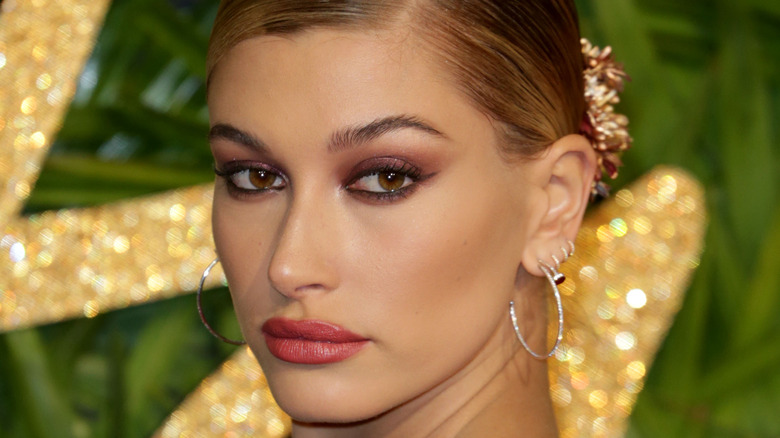 Cubankite/Shutterstock
If you're a fan of Hailey Bieber, you've likely noticed that her skin is always flawless. So, we are all ears whenever the supermodel shares her beauty secrets. Luckily, Bieber happens to love doling out her skincare and makeup routines pretty frequently on TikTok. She recently uploaded a two-part video that's equal parts simple summer beauty and glowy skincare recommendations.
Bieber strongly believes in the importance of skincare when it comes to her beauty regimen. She prioritizes hydration and uses multiple products to create the perfect dewy base. The star is so committed to her wet-looking, hydrated skin that she told Jimmy Fallon on "The Tonight Show Starring Jimmy Fallon" that she wants her skin to look like "a glazed donut" before going to bed at night.
Bieber just launched a new skincare line called Rhode, so we'd say the celeb is a trusted source. The new brand debuted with essentials like serums, creams, and lip treatments to help you replicate the star's signature dewy skin. You'd think her beauty lineup would only include products from her new line. But no, she revealed that a spritz or two of her favorite self tanner is the secret to her natural-looking bronze.
We agree that adequate moisture is one of the keys to healthy skin, but you can't deny the appeal of a little bronzing action. Take it from Bieber and try her favorite self tanner in your summer routine.
Hailey Bieber hyped up Tan-Luxe The Water Hydrating Self-Tan Water
Hailey Bieber recently revealed on TikTok that her favorite bronzer for "a nice little glow" is The Water Hydrating Self-Tan Water by Tan-Luxe, which can be found at Sephora. "Yesterday, I used this Tan-Luxe water spray on my face because my body gets really tan, and I keep my face out of the sun," she explained. "So, to try and give my face that little bit of glow, I use that water, and I really love it. I spray it, I rub it in, I wait for it to dry, and then I put my skincare on top and go to sleep and wake up with a nice little glow." 
The water-based tanner contains skin-enhancing ingredients like vitamins B, C, E, and aloe vera. The translucent mist is also buildable, making it basically fool-proof. There's no doubt that we trust Bieber with our skincare, but the Tan-Luxe brand is a celeb and editor favorite all around. Kelly Ripa is obsessed with the Illuminating Drops. "This product is kind of remarkable. It stains nothing," she said (via Us Weekly). "You put it in your moisturizer, and then you put it on, and your tan develops slowly." The same product was also named the "best self-tanner for the face" on The List's 'Top Self-Tanners for 2022.
It looks like Tan-Luxe is the brand of the summer for getting glowing skin without the sun.
Hailey Bieber keeps her makeup routine fairly simple
Gotham/Getty Images
Hailey Bieber is always spreading the love and educating her fans about her favorite beauty products, and we love to share her other top picks. Since we are in the heart of summer, we'll start with a sunscreen she's shared over and over on Instagram and TikTok as the foundation for her routine: ELTAMD UV Clear Broad-Spectrum SPF 46. She singled out the formula for how it felt on her skin (via Who What Wear).
Now that her skincare line Rhode has launched, you can shop (or join the waitlist) for the products she's been teasing in her videos for months now. She called Barrier Restore Cream "her favorite moisturizer," and we are intrigued.
Makeup-wise, Bieber tends to go pretty simple with her everyday routine. She's dedicated to the Kosas Revealer Concealer and applies it under her eyes and around her nose (via TikTok). Then, she'll typically use a cream blush, which helps maintain her dewiness. In the same video, she used the Olio-E-Osso Lip, Cheek and Lid Balm in Apricot.