Everything We Know About Hailey Bieber's Beauty Brand, Rhode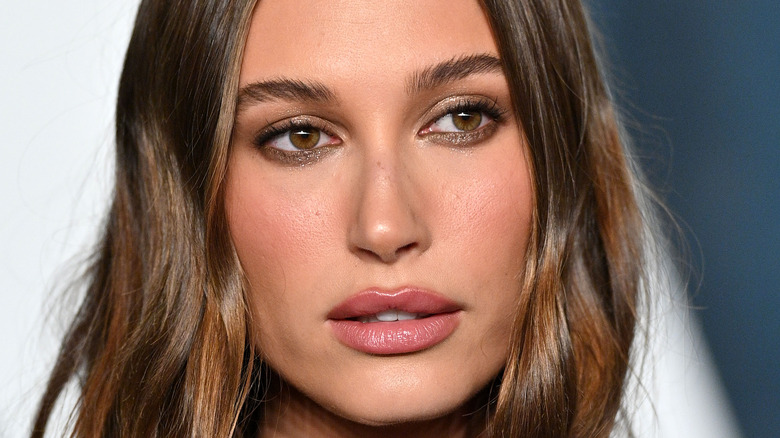 Lionel Hahn/Getty Images
The beauty world has come a long way from mocking celebrity attempts to create unique beauty brands. That scene was once an endless parade of fruity perfumes and chalky eyeshadows that eventually got discontinued, but not anymore (via TotalBeauty). Now, we live in the era of successful brands, like Fenty Beauty and Rare Beauty, which are leaders in the industry and have produced countless holy grail items (per Allure). 
While everyone has watched the reputation of celebrity beauty brands being restored, celebrities themselves have been working overtime to dip their toes in the pool of success. We're barely four months into 2022, and we've already seen the announcement of Winnie Harlow's new skincare line "CAY Skin," and Scarlett Johannson's new skincare brand "The Outset" (per Fashionista). Even John Legend is getting into the mix by teasing the launch of his very own skincare line, according to Fortune. 
There's no denying that the beauty scene is becoming saturated with celebrity brands. However, with so many success stories, fans are consistently excited about the prospect of new celebrity brands. So, when everyone's favorite fresh-faced It-girl Hailey Bieber announced that she'd be diving into the world of beauty, there was an instant feeling of this endeavor becoming a huge hit. 
Hailey Bieber has teased the skincare brand for months
Hailey Bieber has grown to become the blueprint It-girl of today. Outfits are inspired by her, hairstylists are shown photos of her to replicate, and she continues to break fashion barriers and set her own trends (via Harper's Bazaar). The 25-year-old model is undeniably stunning, and what fans love most about her beauty is how fresh-faced she keeps it. Bieber has become synonymous with the natural glow makeup look and is one of the few celebrities that fans are well acclimated to seeing makeup-free (per People). So, it only made sense for her to launch a skincare brand!
Recently, it was announced that Bieber would be creating her very own skincare brand named "Rhode," which is her middle name. The brand was first teased by TMZ in February, with the outlet revealing that Bieber had trademarked the brand name in 2021. Since then, fans have waited eagerly while Bieber continued to drop hints on social media, often tagging "Rhode" on her glowing close-up Instagram snaps (via Elle). 
After weeks of waiting, Bieber officially confirmed the endeavor in September 2021 while speaking on Demi Lovato's podcast "4D with Demi Lovato." The Arizona native revealed, "I'm going to step into the beauty world and I'm starting a company which has been really exciting. We've been working on it now since the very beginning of the pandemic so we're almost two years into it." 
Now, several months after the initial confirmation, Bieber has spoken with Allure to spill the tea about the future of "Rhode."
Rhode is all about affordable hydration
Posing as the April 2022 cover girl of Allure, Hailey Bieber dished all things "Rhode" during her interview. Bieber kicked things off by revealing that the brand would officially  launch in June 2022, though she was originally hesitant about entering such a densely populated market. However, she turned to her friends and beauty brand owners Jen Atkin and influencer Hyram Yarbro for advice. It was through their reassurances that Bieber gained the confidence needed to pursue the project.
As Bieber explained to the outlet, her priority with "Rhode" is hydration. The brand is all about restoring the skin's moisture barrier at affordable prices, with every product selling for $30 or less. She wants the products to feel "cool and attainable" (via Allure). The "Rhode" Instagram account hasn't posted details about the exact products included in the range, but Bieber mentioned that the makeup artists she's allowed to test the products have loved them all.
Speaking with Allure, the model shared, "I feel proud of the products that are going to come out. I feel excited for what is going to come even after that and what I can continue to develop." She added, "I'm hoping that people get their hands on it and they absolutely love it. But if they have feedback, I want to accept that as well."