What Types Of Jobs Do The Duggar Daughters Have?
D Dipasupil/Getty Images
During its lengthy run, the "19 Kids & Counting" reality series showed many aspects of the Duggar family's lives. Viewers saw how the large clan ate, slept, kept house, traveled, and worshipped. We saw plenty of marriages and births. Noticeably missing, however, was any footage of a family member heading to an office or announcing a job promotion. There's a reason for that; the Duggars have a work policy that differs from the norm. As Showbiz Cheat Sheet explains, the Duggars belong to the Institute for Basic Life Principles faith group that frowns on working for companies that might not align with their values.  
The reality family believes in entrepreneurship and learning skills that translate quickly into income. While some of the children have taken online college courses, none of them have an actual degree, according to In Touch. Still, that hasn't stopped them from earning a living. Several of the 10 Duggar sons have followed in their dad's footsteps; Jim Bob has made his money in real estate, and several of his sons work as independent contractors who flip homes. One son, Jedidiah, unsuccessfully ran for Arkansas state representative in 2020. Another son, John-David, is the director of business for MEDIC Corps, a Christian rescue organization that sends first responders to disaster sites worldwide.
But what about the nine Duggar daughters? While four of them are still school-age, the five older ones have all chosen a much different path than their brothers.
Only two Duggar daughters have trained for a job
The Duggars follow an evangelical faith group called the Institute in Basic Life Principles, which promotes traditional gender roles. Men are expected to be the primary breadwinners, and women are charged with raising children and keeping a happy household. A wife working outside the home is presented not as a personal choice, but as a cautionary tale; a "self-rejecting" husband may compensate by overspending on luxuries, and his wife may feel obligated to get a job to help pay the bills.
In keeping with their upbringing, most of the older Duggar daughters have chosen marriage and motherhood over full-time work. Jill Dillard and Jana Duggar are the only sisters who have any known type of career training. In 2015, Jill became a certified professional midwife, per People. Three years later, she put her skills to use helping sister Joy-Anna Forsyth when she was in labor with her first child (the delivery had to be completed in the hospital, however). But as she has written in the Dillard family blog, Jill is "enjoying being a wife and mother" for the moment. When her sons are older — she's expecting her third boy — Jill says she may try using her training in other ways, such as teaching. 
Jana, too, has trained as an assistant midwife and doula, per In Touch Weekly, but there have been no reports of her receiving a license or actively practicing.
The Duggar girls' TV work has boosted their savings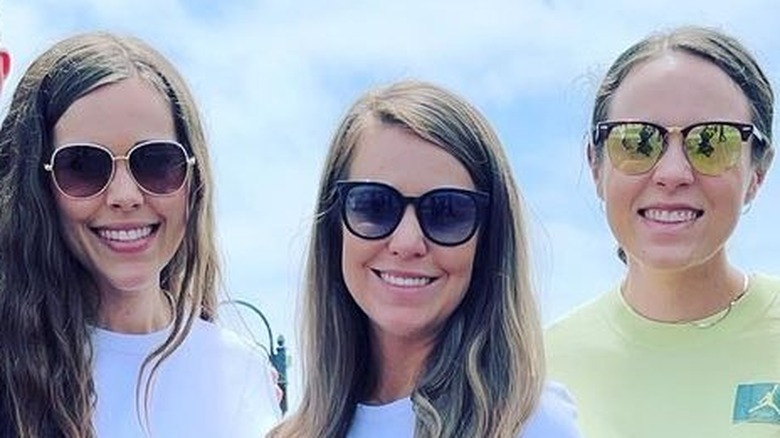 Even though the Duggar women don't work full-time, they're not hurting for money, either. Their years on "19 Kids" and "Counting On" have given them the best of both worlds as they can be at-home mothers while sitting on the nest egg of their TV earnings. Still, many of them do bring in extra money through social media sponsorships. In the past, Jill Dillard has partnered with a modest swimwear company, and Jessa Seewald has promoted a children's clothing line. They, along with sisters Jinger Vuolo and Jana Duggar, also wrote a book, "Growing Up Duggar."
Writing seems to be a new passion of Jinger's. The mom of two co-authored two books with her husband, Jeremy. One, "The Hope We Hold," is an inspirational memoir; the other, "You Can Shine So Bright!" is a newly released children's book. Between these projects and her TLC income, she's said to be worth $2 million, per Celebrity Net Worth.
Jana Duggar is the oldest Duggar child who still lives at home. She occasionally posts to social media about helping brothers Jason and James with their home renovation projects, but it's not known whether she gets paid for the work. Not that it matters much; according to Celebrity Net Worth, Jana is worth some $400,000 from her TV earnings and the book royalties.