How Many Duggar Children Still Live At Home?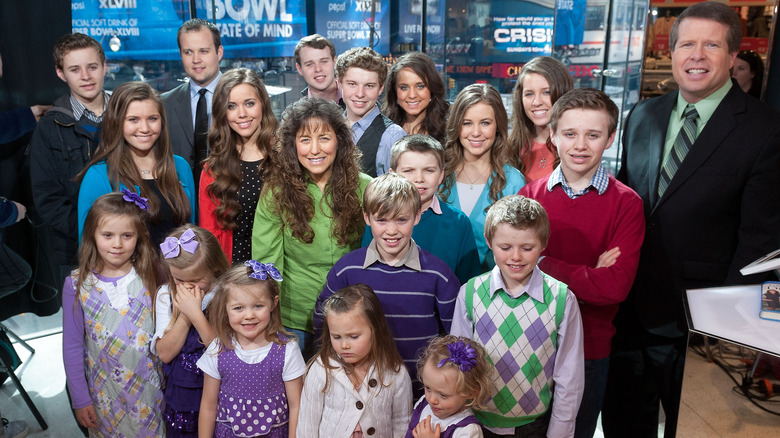 D Dipasupil/Getty Images
In 2002, the world was introduced to the Duggars, a family from Arkansas who not only had a jaw-dropping number of children, but who also weren't done yet. The TLC series "14 Kids & Pregnant Again," showed how the family managed to maintain order and sanity despite its size, according to Showbiz Cheat Sheet. The family's 15th child, son Jackson, was born during the show's run, and in the subsequent TLC shows, parents Jim Bob and Michelle welcomed four more children for a total of 19. (They also suffered one miscarriage early in their marriage, and then another of what would have been their 20th child, a girl they posthumously named Jubilee Shalom, via Us Weekly). 
Jim Bob and Michelle decided early in their marriage to stop using birth control, believing that only God should determine the size of their family. By the time the Almighty decided the Duggar family was complete, there was a 21-year age gap between oldest son Josh and youngest daughter Josie. Many of the older Duggars opted to follow in their parents' footsteps, marrying at relatively young ages and starting families of their own. The sequel series, "Counting On," showcased a number of those marriages and births, and there have been still others since the show was canceled in 2020.
It's hard to keep track of the Duggar doings without a scorecard — so exactly how many members of the mega-family are still living at home?
Many of the older Duggar kids are on their own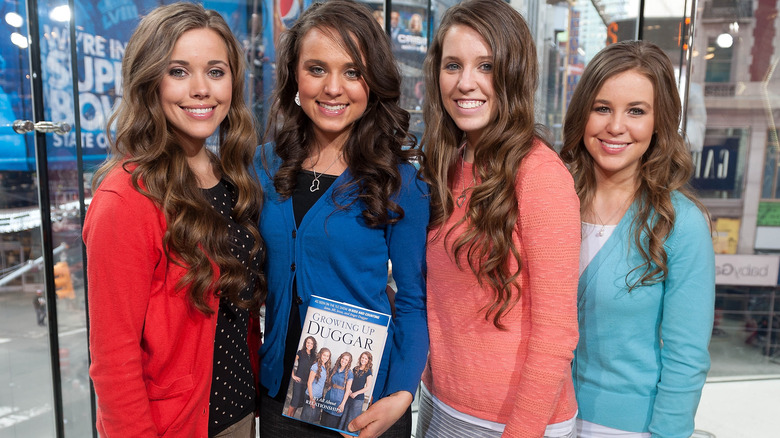 D Dipasupil/Getty Images
Of the 19 Duggar children, 11 are married (as of this writing!), per Distractify. Josh was the first, and seven of his siblings followed close behind, as chronicled in the sequel series "Counting On," per IMDb. Since the show's 2020 cancelation, three more Duggars have married: twin brothers Jedidiah and Jeremiah, and their younger bro Justin, who was married in 2021 at the tender age of 18. Almost all of the married Duggars are also parents. As of June 2022, there were 23 Duggar grandchildren, with two more to come: John-David Duggar and Jill Duggar Dillard are both expecting baby boys in the summer. 
Most of the married Duggars live close to their childhood home in Tontitown, Arkansas. Some, like Joseph and John-David, live on properties owned by dad Jim Bob, according to Showbiz Cheat Sheet. Two single Duggar sons also live on their own: James, almost 21, bought a two-bedroom ranch house in 2021 for the bargain price of $73,000, per the The U.S. Sun. In April 2022, 22-year-old Jason took to Instagram to show a tour of his cozy digs, complete with a wraparound porch, loft bedroom, and an office space (but apparently no bathroom). Some speculate this is a little bachelor pad connected to the main Duggar house.
Two Duggars have opted to move farther away: Jinger Duggar Vuolo and her husband, Jeremy, currently live in Los Angeles, and Justin lives in Texas with his wife, Claire.
Two Duggar children have unusual living arrangements
Six of the original 19 Duggar children are still at home: Johannah, Jennifer, Jordyn-Grace, and Josie are all teens or tweens, per In Touch Weekly. Then there's son Jackson, who just turned 18. He completed training at the ALERT Academy, a Christian boot camp that teaches first responder skills. "We hope and pray that the experiences and instruction Jackson received in Basic will be a valuable foundation for his life and whatever God calls him to do in the future!" mom Michelle wrote in her blog. 
Since 2016, Jim Bob and Michelle have also been the legal guardians of her great-nephew Tyler Hutchins. According to The U.S. Sun, Tyler's mother has a history of homelessness and criminal activity, and his biological father is out of the picture. Now 14, Tyler is "energetic, full of life, and loves being outdoors," according to the family website.
Surprisingly, the second-oldest Duggar child is still living in "the big house," as the family calls it. Jana, 32, is single, and the family's religious beliefs hold that women should live with their parents until they marry. As for the oldest child, his current address is a very different kind of "big house." Josh Duggar is serving time in prison for possessing child sexual abuse material.
If you or anyone you know has been a victim of sexual assault, help is available. Visit the Rape, Abuse & Incest National Network website or contact RAINN's National Helpline at 1-800-656-HOPE (4673).