HGTV's Flip To A Million Will Take House Flipping To A Whole New Level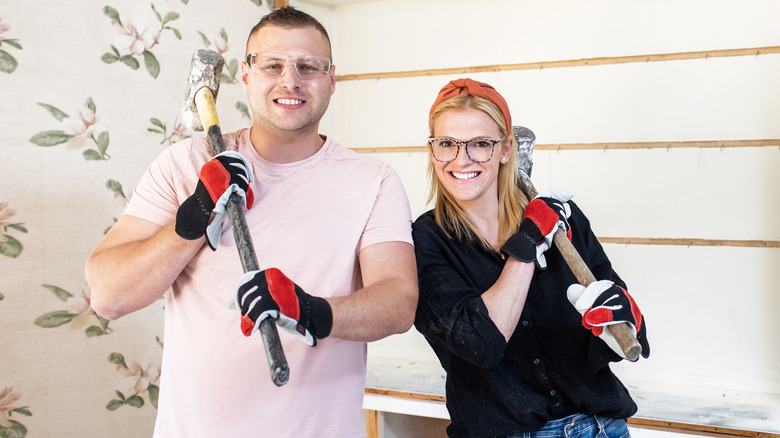 HGTV
HGTV is taking over with its numerous lovable stars fast becoming bona fide celebrities in their own right. As Architectural Digest argued, in a piece chronicling how the fledging network became the juggernaut it is today, their shows are the perfect mixture of low-stakes and eminently watchable. Country Living goes even further, describing HGTV as: "[L]ike the Lay's potato chips of television. You can't watch just one show."
The home of home renovation continues its domination of that sphere in 2022 with a plethora of new shows for fans to obsess over. Per Deadline, among the 70 new series, encompassing over 570 hours of original programming, are "Steal This House" with Cristy Lee, the latest "Rehab Addict" installment, "Rehab Addict Lake House Rescue" with Nicole Curtis, "First Home Fix," and "Flip to a Million." 
The home renovation network also joined forces with Food Network, following a lucrative merger at their shared home, Warner Bros. Discovery. As Jane Latman, President, Home & Food Content and Streaming, Warner Bros. Discovery, enthused, "[M]ore than 25 million viewers seek out and watch live weekly. We are the established leaders in the home and food genres, and our top priority remains developing, producing and promoting new series that fill our bench with even more talented experts with star power." 
Of the exciting new slate, "Flip to a Million" is easily one of the most interesting acquisitions.
'Flip to a Million' puts participants under intense time and financial constraints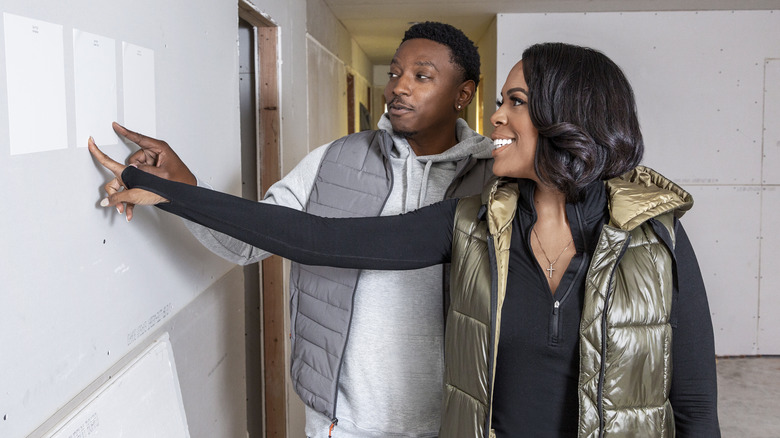 HGTV
As a press release from HGTV confirms, "Flip to a Million" debuts Monday, August 1, at 9 p.m. ET/PT. The show will also be available to stream on Discovery+. Season 1 contains six, one-hour episodes and is narrated by the network's own Alison Victoria, whom fans will already know from her hit show, "Windy City Rehab." In fact, fellow Chicagoans, Jason and EJ Williams, will feature on "Flip to a Million" alongside another couple successful house flippers, Jon and Dani Wrobel, of New York.
In this "edge-of-your-seat house-flipping experiment as never seen before," both couples will land in Dallas, Texas, where they'll be tasked with turning a budget of just $1,000 each into a $1 million house sale. The home reno experts will have just six months to utilize their extensive experience of the real estate and house flipping markets to buy, renovate, and eventually sell properties. Naturally, several risks will need to be taken along the way.
To kick things off, the Williams will focus on a bathroom renovation project to help with their initial purchase, while the Wrobels turn their attention to a lucrative finder's fee on a property sale that helps them fund their first flip-worthy place. Dani Wrobel shared a behind-the-scenes shot of she and Jon filming to Instagram, quipping, "It's all about the angle." The couple still appears to be in Texas, too, so clearly everything worked out for them.
HGTV is also banking on some well-known stars for another new series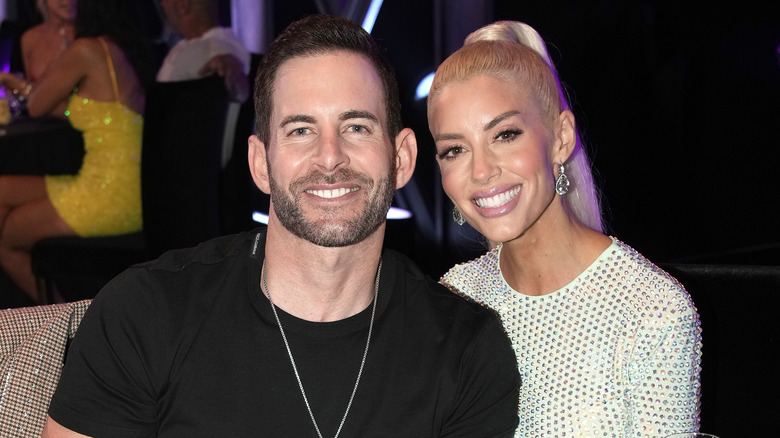 Jeff Kravitz/Getty Images
Alongside "Flip to a Million" and all the other upcoming HGTV shows, both spinoffs and brand-new, Heather Rae and Tarek El Moussa announced huge career news just a few weeks back. The celebrity couple revealed they too had secured a deal with HGTV to star in their own home renovation show.
Deadline confirmed the news, noting Tarek and Heather will appear in "The Flipping El Moussas," which has been ordered for eight episodes to start with. The series will follow the newlyweds as they go about their hectic daily lives, tackling home reno projects, co-parenting his kids with former "Flip or Flop" co-star Christina Haack, and how the "Selling Sunset" star gradually got more involved in Tarek's business. "The Flipping El Moussas" is slated to premiere sometime in 2023.
The reality stars shared, "As busy parents and successful real estate experts, fans can watch us as we go from making breakfast for the kids in the morning, to making business deals by the afternoon. The cameras are capturing our journey like never before and we can't wait to share it all." They also confirmed it with matching posts on Instagram, noting that they were "beyond thrilled" to finally announce the news. 
The El Moussas are also serving as executive producers on the show, enthusing, "Bringing our expertise together from each of our worlds has been so much fun."