How The Young And The Restless' Esther Valentine Got Her Name
DFree/Shutterstock
When actress Kate Linder stepped onto the set of "The Young and the Restless" in 1982 to play a bit part, she had no idea it would turn into a decades-long role. Linder played the part of a maid for the Chancellor family, in particular for matriarch Katherine "Kay" Chancellor (Jeanne Cooper). She was only meant to be there for one day but the producers asked her to come back the next day to play the character again (via Soaps in Depth). 
Her excellent acting and comedic timing helped her turn that one-day-only job into a decades-long role. Esther went from being a simple supporting character to eventually becoming an integral part of many storylines on "The Young and the Restless." Over the years, she's had some turbulent and heartbreaking experiences. Some of these include the supposed death of her daughter, the heartbreaking death of her granddaughter, and the death of Kay's husband, Rex Chancellor (Quinn Redeker), which Esther felt was partly her fault.
But where did this humble, initially unnamed maid get the name Esther Valentine?
She made a name for herself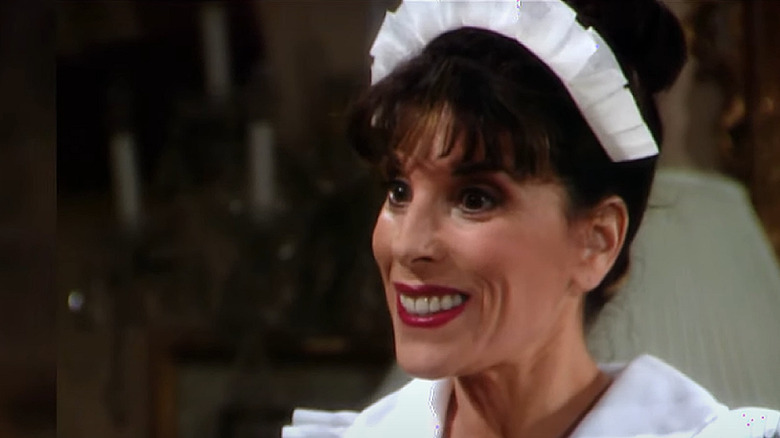 CBS/YouTube
In an interview with TV Insider, Kate Linder explained that she hit it off with co-star Jeanne Cooper on her first day on the set of "The Youn and the Restless," in spite of her only line being "Dinner is served." Apparently, it was such an inspired line delivery that she eventually became more than a side character. Over time, Cooper finally decided to address the unnamed maid, and randomly called her Esther. "I don't think it was that long before the scripts stopped saying 'MAID' on them and started saying 'ESTHER,'" she stated.
Linder also recounted in the interview that at some point a national magazine took a poll to determine what the character's last name should be. It came down to two choices, "Diamond" and "Valentine," and she was given permission by the producer to pick which name worked best for her. She chose Valentine because Valentine's Day was the wedding anniversary of her and her late husband, Ron.
It is truly ironic that Cooper off-handedly called her Esther because that's also the name of Linder's beloved grandmother. Once Cooper started calling her that, other actors joined in until the writers eventually started incorporating the name Esther Valentine into the scripts. The fact that her character now had a name was thrilling for Linder. "I was just blown away," she told Soap Hub. "I was so excited."
A trusted confidante, a lifelong friend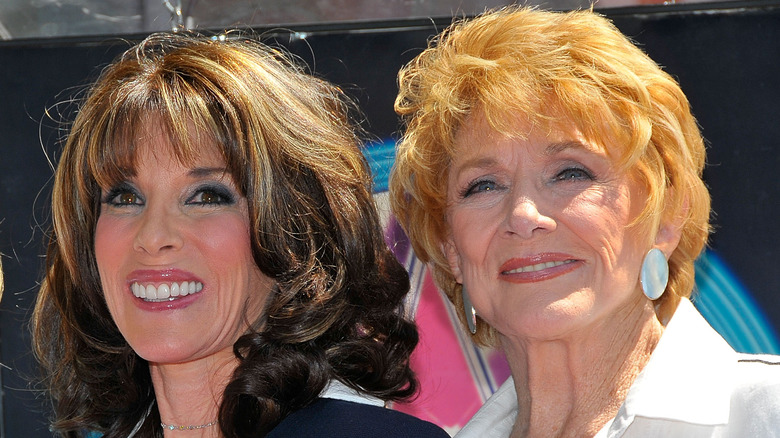 Charley Gallay/Getty Images
Over the years, Kate Linder's character on "The Young and the Restless" has grown considerably. Esther Valentine and Kay Chancellor were often embroiled in thrilling scenarios such as being kidnapped by con artists, one of which was Kay's doppelganger, Marge, also played by Jeanne Cooper in a dual role. Esther remained loyal to Kay throughout the years and even helped her to become sober by becoming a counselor for alcohol abuse. She was not only a confidante and protector of Kay, but she also became part of the Chancellor family. Upon Kay's death, Esther reflected that when her baby was born, Kay had been there for her. Esther and Kay were lifelong friends and Linder once recalled a scene in which Kay referred to Esther as her friend, not her maid, and it still brings a tear to her eyes (via Soaps She Knows).
Esther has also worked as a maid for Jill Abbott (Jess Walton); a barista at Genoa City's most popular coffee shop, Crimson Lights; and is now the estate manager for the Chancellor estate (via Soap Central). According to Michael Fairman TV, in honor of Linder's 40-year anniversary on "The Young and the Restless," the Hollywood Museum displayed Esther's maid's uniform, the first script Linder got from the show, and even Esther's feather duster. That's quite an accomplishment for a character that started with no name and was only supposed to be on the show for one episode.