How Hollywood Honored Kate Linder's Milestone Anniversary On The Young And The Restless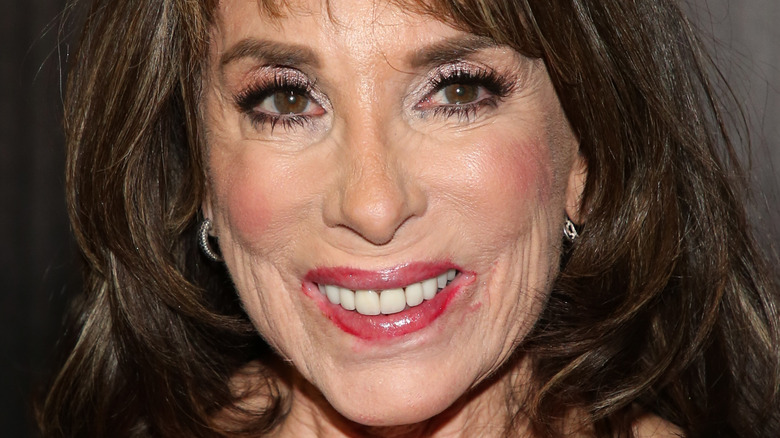 Paul Archuleta/Getty Images
Actress Kate Linder made her acting debut in 1982 when she joined the cast of "The Young and the Restless" as the Chancellor family housekeeper, Esther Valentine. She was originally cast for one-day appearance, but Linder fit in so well on set and within the canvas of characters that was asked to remain. Linder recently celebrated her 40-year anniversary on "Y&R" which is a significant milestone that even some of the most famous soap stars don't reach.
Throughout her career, Linder made several life-long friends, including the late Jeanne Cooper, who played the infamous Kay Chancellor — Esther's employer, friend, and confidant. Linder also devotes much of her time to charities that she cares about, including TV Cares, ATAS's AIDS fundraising organization, and the Make-a-Wish Foundation, in addition to being a national spokesperson for the ALS Association and March of Dimes Canada. Over the years Linder has also provided support to the Hollywood Museum, who are now showing their appreciation by creating a special limited-time display to honor her time on "Y&R" (via SoapHub).
The Hollywood Museum debuts a special tribute to Kate Linder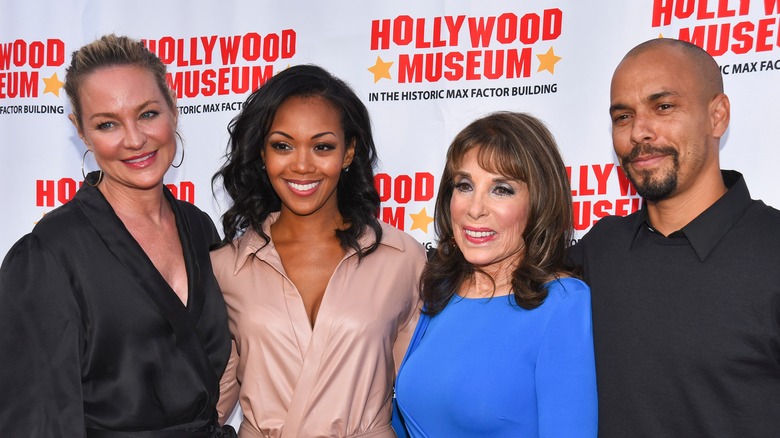 Michael Mattes/Shutterstock
On April 21 of this year, the Hollywood Museum unveiled a display in honor of Linder's time as Esther Valentine on "The Young and the Restless." The display features Esther's infamous maid's outfit and feather duster, along with her first script, and will remain up for public viewing through July 2022.
Donelle Dadigan, the President and Founder of the Hollywood Museum, commented on their decision to celebrate Kate Linder. He told SoapHub, "Kate is a longtime supporter of the Hollywood Museum and considered part of the museum family. We are overjoyed to pay homage to her outstanding legacy and longevity in this industry of entertainment." Linder herself spoke to Century City News, saying, "I'm so grateful to portray Esther Valentine on 'The Young and the Restless' for 40 years and counting and incredibly honored to mark the occasion with an exhibit at The Hollywood Museum. I will never forget the experience, the amazing speeches, and having my family there to share it with me." She later called the evening of the unveiling "the night of a lifetime."
Several of Linder's "Y&R" co-stars came to the event to show their support, including Sean Kanan (Deacon Sharpe), Sharon Case (Sharon Newman), and Bryton James (Devon Hamilton), among many others. Los Angeles councilmember Mitch O'Farrell was also present to give Linder a special proclamation from the city.
The Young and the Restless celebrates a legacy character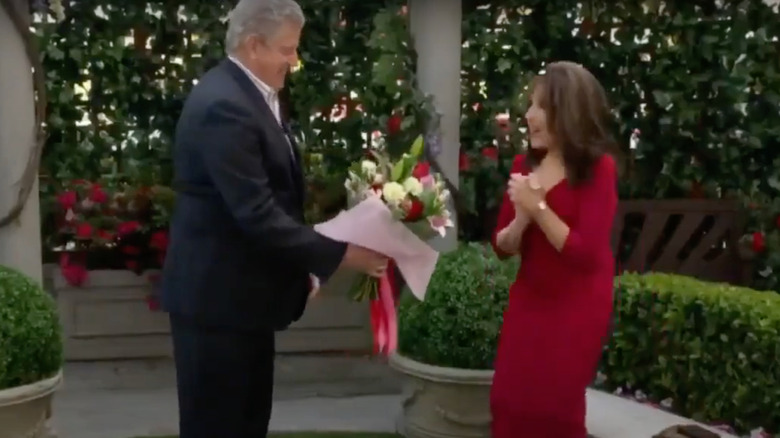 CBS
In May 2022, "The Young and the Restless" featured two episodes that celebrated Kate Linder's time on the soap. In the first, her daughter Chloe Fisher (Elizabeth Hendrickson) encourages Esther to think about expanding her life to include more than just being a grandmother, according to SoapHub. Esther decides she's ready to start dating again, prompting a series of flashbacks of her character failing in the love department.
In the next episode, Esther had a date with a man named Dwight that she met on a dating app. Despite concerns from her daughter, Esther decided to meet Dwight in Chancellor Park (via Soap Central). He brought her flowers, she introduced him to her daughter, and they bonded over their mutual love of Countess Green's cleaning products. It was a nice treat for long-time viewers to see Esther (and Linder) getting some much deserved screen-time and special attention. When Chloe cautioned her mother about moving too quickly, Esther quoted from her dear friend Katherine's book, saying, "Men aren't necessary, but it's nice to have them around in case you need something heavy lifted."
When asked what she hopes the future of Esther holds, Linder told Soap Central that she'd be intrigued to explore a darker side of the character. She said, "It would be interesting to play the bad guy," adding, "Esther is a very loyal and kind and wonderful character, but there might be another side to her that people haven't seen. Everyone has a dark side, and we're all good at not showing it, because that's not what you're supposed to do." Viewers will have to keep tuning in to "Y&R" to see if Linder's wishes come true and we get to see a whole new evolution of Esther Valentine.