How HGTV's Good Bones Got Its Start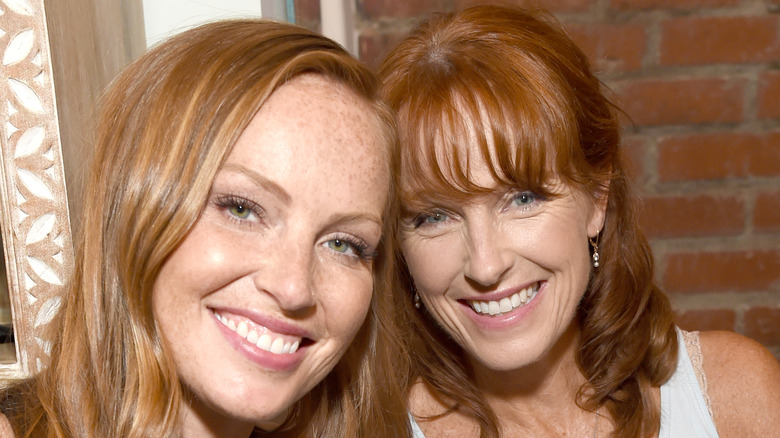 Michael Kovac/Getty Images
HGTV's "Good Bones" is unlike any other show on the home renovation network chiefly because, as Country Living points out, it's fronted by mother-daughter duo and long-term business partners Karen Laine and Mina Starsiak-Hawk. 
Likewise, as its sweet title suggests, "Good Bones" is all about finding neglected homes with hidden potential and restoring them to their former glory. Laine and Starsiak-Hawk work their magic throughout their hometown of Indianapolis, particularly in more historic areas. 
And, although the big reveals are always jaw-droppingly stunning, there's plenty of nitty-gritty business involved in the process of getting there. The Two Chicks and a Hammer founders aren't afraid to get their hands dirty or show what it really takes to get these properties up to scratch, either. 
For Starsiak-Hawk and Laine, it's all about sharing their love of Indianapolis with the world, rather than fame or money. As the younger woman told the Indy Star, "We live in the neighborhoods, and we care about the neighborhoods."
As a result, the way the show initially got its start makes complete sense. 
Mina Starsiawk-Hawk thought she was being scammed when HGTV got in touch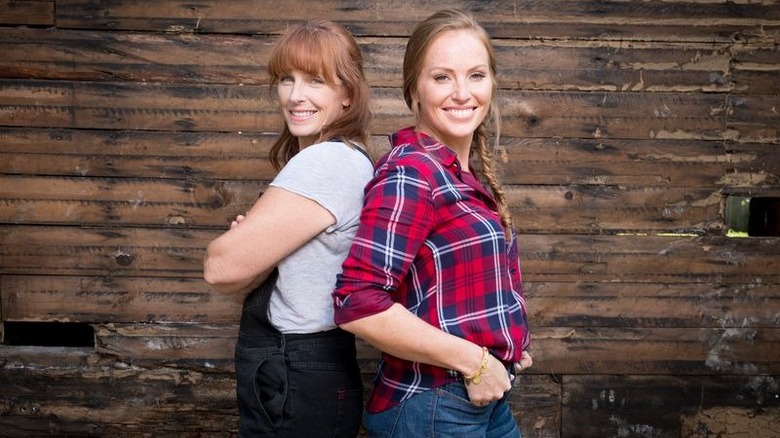 HGTV
Two Chicks and a Hammer was launched back in 2007, per House Beautiful. Prior to that, Mina Starsiak-Hawk completed a degree in general studies at Indiana University while her mother, Karen Laine, worked as a lawyer. 
She co-signed the loan on Starsiawk-Hawk's first property, which became their first renovation project, launching the duo's newfound career. Naturally, they continued working elsewhere until the business took off. 
Starsiak-Hawk and Laine had been renovating extensively throughout Indianapolis for around seven years when HGTV came calling. In an interview with Indianapolis Monthly, Starsiak-Hawk described landing "Good Bones" as a total "accident." As Laine explained, when producers originally contacted them, her daughter assumed it was a "scam."
She recalled, "We did a Skype interview, had to get background checks, and went through social-media checks. We filmed a couple of weeks with a Flip-cam. They have a first-look agreement, and HGTV said to make a pilot." As Starsiak-Hawk admitted to House Beautiful, she didn't think she and Laine were "cool" enough to be on TV (fans would totally disagree).
The pilot aired in May 2015 under the original name "Two Chicks and a Hammer." HGTV ordered more episodes immediately but changed the title to "Good Bones" with filming kicking off just a couple months after the pilot dropped. The rest is HGTV history. 
Karen Laine took a step back from Good Bones in 2019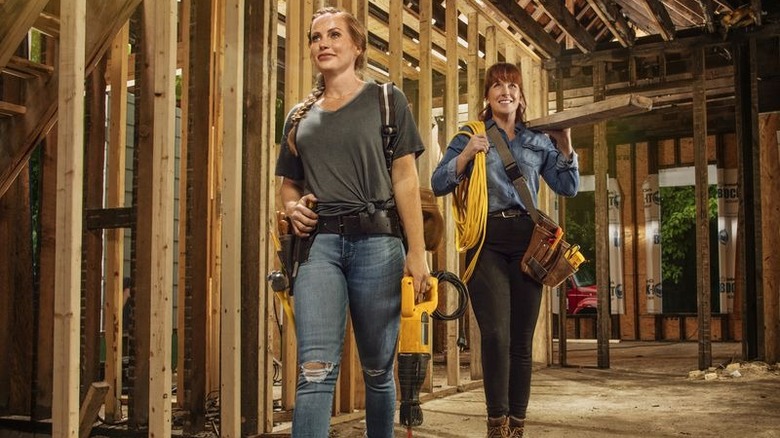 HGTV
Fans were devastated when Karen Laine retired from Two Chicks and a Hammer in 2019, reasoning she wanted to spend more time at home. In a statement obtained by local news outlet WRTV, Laine reassured "Good Bones" viewers she'd still be part of the show, just in a reduced capacity. 
In an exclusive interview with The List, Mina Starsiak-Hawk explained, "It got a little stressful at the end, because we're in such different places in our lives, and I'm like, 'All right. Let's go. I'm building an empire.' And she's like, 'Well, yeah, let's slow down, girl. You're going too fast. You're doing too much.'" 
However, although the HGTV star acknowledged it was a difficult readjustment, she felt safe in the knowledge that both women were more comfortable with the new setup. In a previous interview with The List, Starsiak-Hawk admitted there were times her mom got on her nerves — and vice versa — while shooting the show. 
The reality star also shared how, early on, the duo received some great advice from a network executive: "She said, 'As long as you'll remember none of this has anything to do with you, you'll stay humble and you'll be fine. ... If you just remember none of this is about you, then you can keep your head on straight because TV does weird stuff to people.'"
Naturally, they've taken that on board as the show has gone from strength to strength.