Brittney Griner Has Something To Say To Joe Biden Amid Russian Prison Stay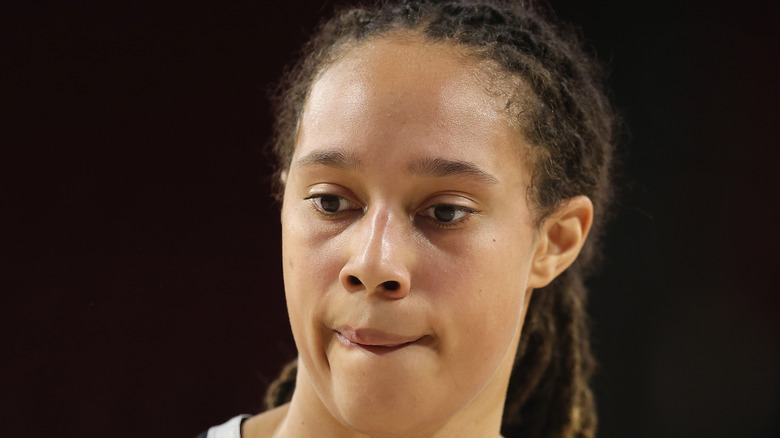 Christian Petersen/Getty Images
WNBA star Brittney Griner has played basketball in Russia during the WNBA off-season since 2015; it's a way big name players can make money, with paychecks reportedly four to five times higher than what they make playing for the WNBA where the top base rate is $228,000, per NBC News. But this year, things didn't go smoothly when Griner arrived in Russia. She landed on February 17, and was taken into custody over allegedly having vape cartridges with hash oil in them, which is illegal in Russia, per Time. Footage of Griner at the customs search at the Sheremetyevo International Airport near Moscow was released on March 5, and the U.S. State Department said Griner was "wrongfully detained." This all comes amidst the invasion of Ukraine by Russia, and the State Department has warned that with the invasion and U.S. sanctions against Russia that there is "potential for harassment against U.S. citizens by Russian government security officials," via NPR.
Griner's trial began on July 1, having spent over four months in detention, and the Biden administration feels that Griner was arrested to be used as leverage by Vladimir Putin, via NPR. U.S. Deputy Chief of Mission Elizabeth Rood spoke with Griner at the July 1 hearing, and she said that Griner is "keeping up the faith." Griner herself revealed more details on how she was doing on the Fourth of July via handwritten letter to President Joe Biden.
Brittney Griner is scared she might be in Russian detention forever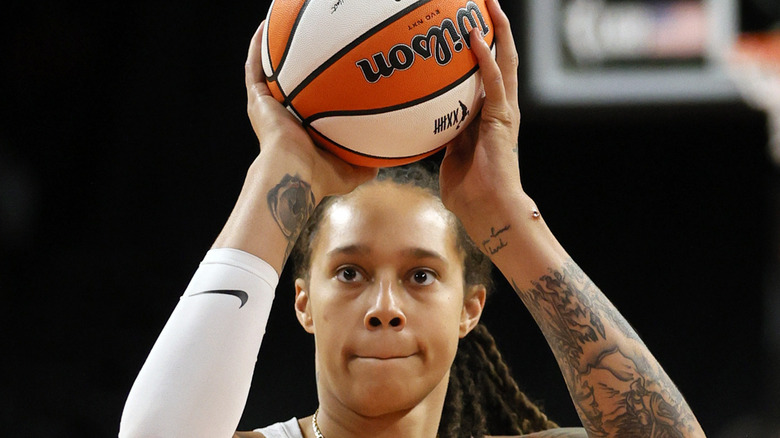 Ethan Miller/Getty Images
Brittney Griner, two-time Olympic gold medalist and center for the Phoenix Mercury, has been detained in Russia and she had a handwritten letter delivered to President Joe Biden with a plea to help her get out. The Griner family gave parts of the letter to the press; the basketball star wrote, "I'm terrified I might be here forever," per CBS News. She acknowledged that Biden was dealing with a lot, but said, "Please don't forget about me and the other American detainees. Please do all you can to bring us home." It was no accident that the letter was delivered to the president on Independence Day. Griner continued, "It hurts thinking about how I usually celebrate this day because freedom means something completely different to me this year."
Others have called upon Biden to do more in regards to Griner's detention. Executive director of the WNBA player's union Terri Jackson told NPR on July 1 that Biden should "have a meeting — a sit-down, a face-to-face — with Cherelle Griner, BG's wife, because you know what? She deserves that."
Cherelle has spoken out about Brittney's detention; she's posted about the situation on Instagram, and in one recent post, she wrote, "THANK YOU to each person who has stepped up to advocate for [Brittney's] return home." Griner, who is a beloved basketball player in Russia, could face up to 10 years in prison if convicted, via NPR.