The Truth About Michelle Obama's Healthy Eating Habits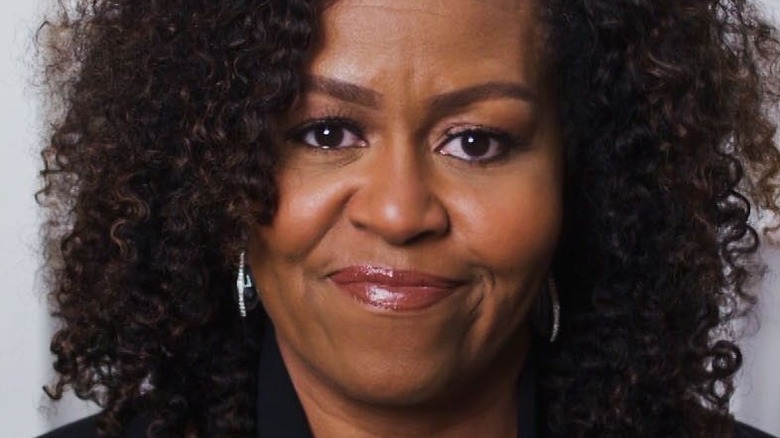 Bet Awards 2020/Getty Images
Michelle Obama has earned many prestigious titles in her lifetime including lawyer, author, and executive, according to Brittanica. But she surely didn't let her former position as the first lady go to waste.
During Barack Obama's presidency, Michelle advocated for healthy eating habits, with the primary goal of ending juvenile obesity. She created the Let's Move! initiative and, often while working quietly behind the scenes, overhauled the country's school lunches, updated nutrition labels on packaged foods, and pushed for the banning of trans fats (per Vox). These were all major wins for a healthier American diet.
More recently, the former FLOTUS and foodie starred in the Netflix series "Waffles + Mochi" in 2021, where she taught children about cooking with fresh ingredients from around the world. But when it comes to her own diet, what kinds of foods does Michelle eat and are her eating habits as healthy as her White House initiatives would suggest?
Michelle Obama indulges in French fries, pizza, and waffles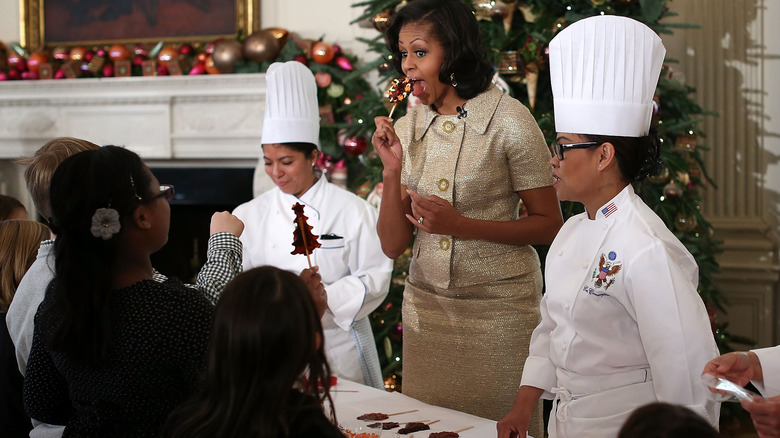 Alex Wong/Getty Images
In 2011, Michelle Obama launched the U.S. Department of Agriculture's new MyPlate project, encouraging Americans to fill their plates with fruits, veggies, whole grains, and lean protein. But the former first lady makes room for junk food in her own diet.
Obama made waves on numerous occasions for dining at fast food spots like Shake Shack and Five Guys, making sure to order her favorite food, french fries (via Washington Post). Another junk food favorite is pizza, although the former FLOTUS has said she enjoys a healthier version. In a Q&A session with children at the White House, Obama said, "Pizza is the ultimate food, because ... it can be healthy. Like, almost every Friday I'll eat, like, a veggie pizza on wheat [bread]."
Given the name of her Netflix series, it's also no surprise that the former first lady once said she indulges in waffles and grits for breakfast on occasion (per The New York Times). But whether it's fast food fries or waffles drenched in maple syrup, Obama's approach to junk food is to enjoy it in moderation. She once explained her and her family's food choices to Prevention (via Parade), saying, "I love French fries, I like a good burger, and I like pie. And that's okay. I would be depressed if I felt I could never eat the things that I love." Her philosophy is that these foods become unhealthy when they're treated as daily dietary staples.
Michelle Obama's healthy eating habits focus on veggies, protein, and time with family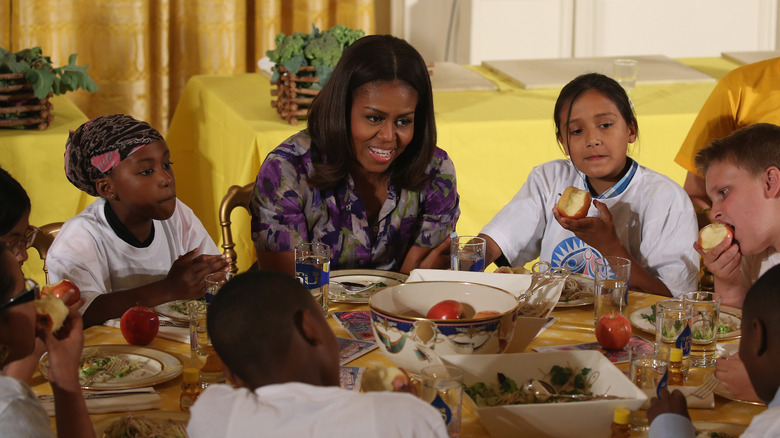 Mark Wilson/Getty Images
Michelle Obama munches on junk food, just like the rest of us, but she's no hypocrite when it comes to healthy eating. She eats five meals a day, each loaded with nourishing foods like fresh fruits, green veggies, fish, and brown rice. In 2012, she told HuffPost that she tries to make lunch the biggest meal of the day, packing in veggies, protein, and a carb before having a lighter dinner (usually with a meat, grain, and salad) later in the day.
During her days at the White House, professional chefs may have helped keep her diet in check, but these days, the former first lady told People that she packs her own lunch. A packed lunch go-to is homemade turkey chili, which generally contains less saturated fat than traditional beef chili.
The former FLOTUS also focused on healthy dinner rituals during the COVID-19 pandemic, telling Entertainment Tonight that the Obama family gathered every night at 6:30 to share "a delicious protein and a vegetable," as well as a carb for her husband. She noted, though, that less important than the menu items was the fact that the family enjoyed dinner together: "We've had that ritual for our entire lives. Even in the White House."