Beauty Influencer's Easy Concealer Hack Brightens Dark Circles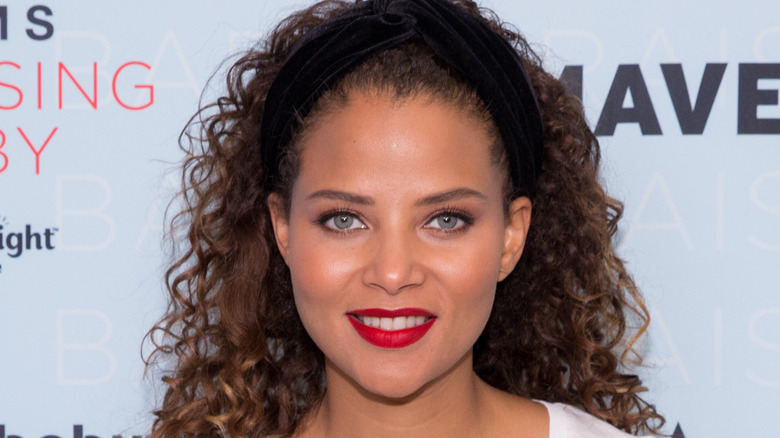 Alison Buck/Getty Images
Makeup is more than just a talent or part of a morning routine — it's an art form. And like many other art forms, it takes time to build your makeup skills and learn to create your perfect look. Whether you go for the glam or keep things more natural, learning which products work best for you, and how to apply them, is the best way to go. This is especially true when it comes to using products like concealer, which, according to Neutrogena, is used for the purpose of blurring the pigment of imperfections (like blemishes or dark circles) and blending them into the skin.
Using concealer is a great way to brighten under the eyes, cover up skin blemishes, or smooth out fine lines on the face. Depending on which concealer you use and how you use it, you may be able to achieve all of those goals in one application. Aside from considering the shade and coverage of a concealer, which Good Housekeeping recommends, learning the best (and easiest) way to apply it is an important step. For this task, read on for actress and model Denise Vasi's best tips for applying concealer.
This concealer hack is a triple hitter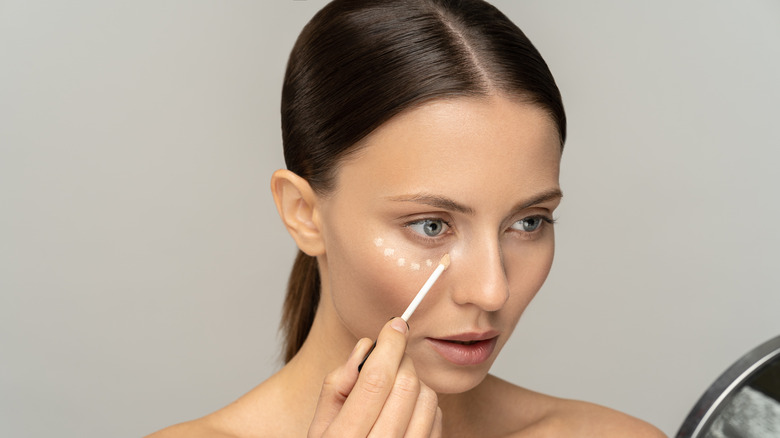 DimaBerlin/Shutterstock
For most concealer users, the goal in applying the product is to cover up dark circles, blemishes, or visually lift the face. What if, however, there was a way to hit all three of those goals in one attempt? According to Denise Vasi, her method can help you do just that. According to her podcast interview with mindbodygreen, Vasi's makeup routine takes just five minutes, so rest assured that this concealer hack is incredibly easy to replicate.
As she told the outlet, Vasi's go-to concealer is the Kosas Revealer Concealer — she even referred to it as her "savior product." Per POPSUGAR, this concealer's formula includes ingredients like caffeine, hyaluronic acid, and peptides, so it has countless benefits for your skin in addition to the coverage. In terms of Vasi's step-by-step guide, she uses a mix of three different shades to tackle dark circles, skin imperfections, and to shape the face.
The influencer and beauty entrepreneur first starts with shade number six to lighten up the dark circles under her eyes. Then, she uses shade number seven to cover any imperfections around her face. Finally, Vasi shared that she uses shade number eight as a form of contour, to lift and shape her face.
When it comes to concealer, less is more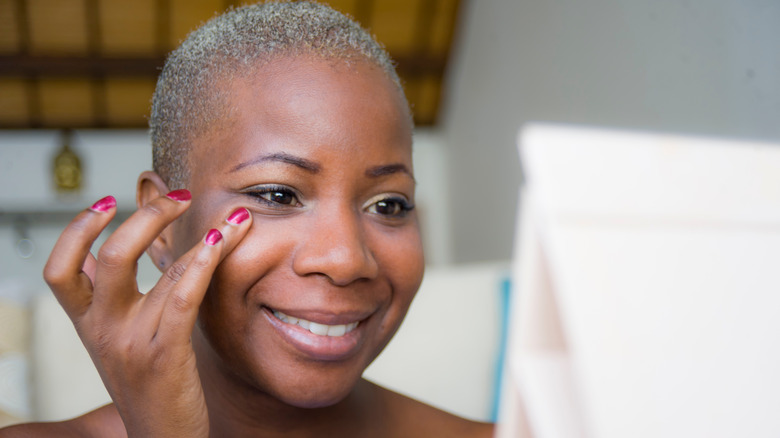 TheVisualsYouNeed/Shutterstock
As evidenced by the brevity of her makeup routine, Denise Vasi's beauty goal is to keep things simple and coverage light. Using a concealer method based on precision, like Vasi's, helps to maintain lightweight coverage without sacrificing efficiency. As she told mindbodygreen, "You can literally do a few dots and it gives you the perfect amount of coverage where you don't feel like you're wearing any makeup, but you have some coverage."
Per Claire Talks Beauty, concealer is intentionally offered in much smaller packaging than traditional foundation because they are not meant to be used in the same way; concealer is typically a thicker formula, as it is purposed for covering dark circles and skin imperfections. Foundation, on the other hand, is for use all over the face to smooth skin and even out skin tone. Learning the best ways to use foundation and concealer together can help you create a light, breathable base of coverage for that sought-after "natural" look.