The Unexpected Fashion Trend Margot Robbie Just Sent Soaring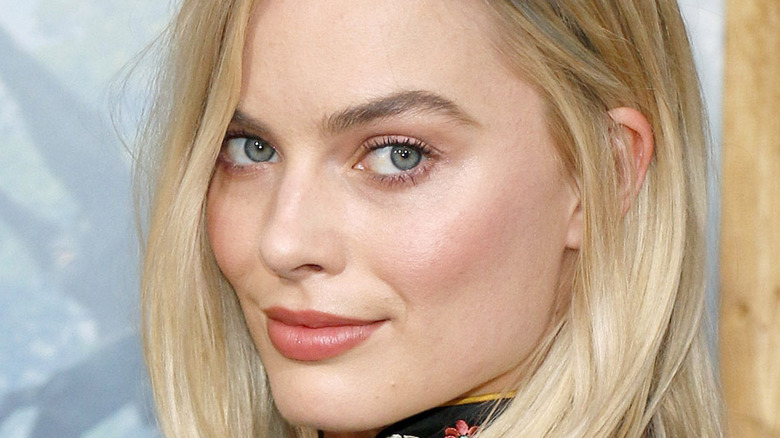 Tinseltown/Shutterstock
Greta Gerwig is only working on her third movie as director, but already her filmography is wonderfully eccentric. Previously known as an indie darling, thanks to roles in "Frances Ha" and "Mistress America," Gerwig made her directorial debut with the instant teen classic "Lady Bird." Featuring Saoirse Ronan in the lead role, the sweet, sensitive ode to Gerwig's hometown of Sacramento was nominated for five Oscars, including Best Original Screenplay for the director. 
She followed it up with her take on "Little Women," also featuring Ronan in the lead role, which again earned several Academy Award nods, winning one for its impressive costume design. However, the filmmaker changed tacks significantly with Gerwig's utterly out-of-left-field third offering, "Barbie." Starring Margot Robbie as the iconic doll, with Ryan Gosling playing opposite her as Ken, the movie represents a major departure for Gerwig — or so it seemed on the surface. 
Per Vogue, "Barbie" sees the titular doll being cast out of Barbieland due to her perceived imperfections. After setting off on the adventure of a lifetime, in the real world, Barbie learns that true happiness comes from within. Gerwig's star, meanwhile, told Variety that the movie serves as "a great opportunity to put some positivity out in the world and a chance to be aspirational for younger kids."
The first look at Margot Robbie as Barbie turned heads, and now, one of the actor's key in-character looks has everybody swooning in a major way. 
Everybody suddenly wants to dress like Cowgirl Barbie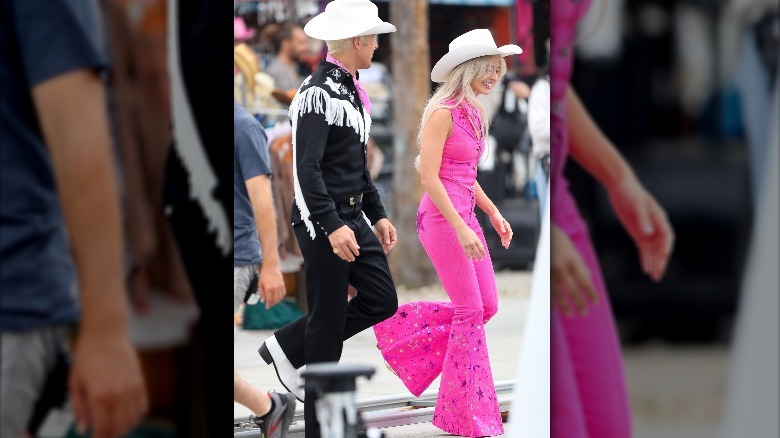 BACKGRID
As Hollywood Life reported, photos of Margot Robbie and Ryan Gosling on the "Barbie" set, in matching his-and-hers cowboy outfits, caused a major stir online. The Aussie actor was snapped wearing a hot-pink, sleeveless vest top with matching flared bottoms adorned with tons of stars and rhinestones, accessorized with a pink bandana tied around her neck, a white cowboy hat, and matching boots. Robbie's co-star wore a similar outfit in a more manly black, though he also rocked a pink bandana, naturally.
Fashion PRs confirm Barbie's look sent searches for similar outfits soaring, "setting fire to the Barbie hot pink trend." Fashion retailer Nasty Gal, for instance, "revealed that searches for pink cowboy boots have increased by 9400%, with interest in pink cowboy hats jumping by 83%." Thanks to Robbie's killer look, the hot pink style is dominating social media, particularly with festivalgoers. In fact, "the hashtag #barbiepink has raked in over 31.6 million views on TikTok."
Equally, Twitter users loved the look, with one writing, "Margot Robbie is LITERALLY Barbie I don't get how people say she isn't the right pick... I mean look at the material" alongside pics of her cowgirl look." Likewise, another compared a shot of Barbie and Ken rollerblading to a real-life doll, enthusing, "I'm so grateful to the Barbie movie costume department." 
Veteran costume designer Jacqueline Durran, who also worked on "Little Women," is dressing Barbie, Ken, and all their plastic fantastic friends for the upcoming movie.