How General Hospital's Maurice Benard And Jophielle Love Became Great Friends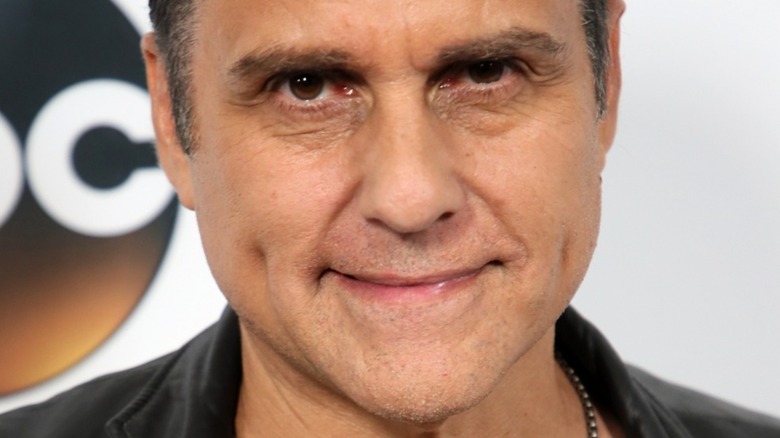 David Livingston/Getty Images
As one of General Hospital's youngest cast members, Jophielle Love has steadily won over the hearts of viewers everywhere. In her turn as Violet Finn, the daughter of soap star Michael Easton's character Dr. Hamilton Finn, Love has shown off her incredible acting skills at such a young age. Through her storylines, Love has worked alongside some of General Hospital's greats, including Finola Hughes, who is one of the Daytime Emmy-award-winning soap opera's longest-running stars, per Parade.
As Violet, Love played a big part in bringing fan-favorite "almost couple" Harrison Chase and Brook Lynn Quartermaine (Josh Swickard and Amanda Setton) closer together. The up and coming actress has made a lasting impact on her costars, and has formed strong relationships with them, reports Soaps in Depth. Love told Star Kidz that the timing of her "GH" role was almost fate (via Soap Opera News). "Now, that, was really cool because it happened right after I worked on Grey's Anatomy which shoots next door to General Hospital, so I was happy that I could visit my Grey's friends more often," she explained. 
In her interview, she named Easton, Hughes, and Rebecca Budig (who played her onscreen mother Hayden Barnes) as some of her favorites to work with and shared her gratitude at how they welcomed her into the soap family (via Soap Opera News). Soap opera legend Maurice Benard has also taken Love under his wing.
Maurice Benard was impressed by Jophielle Love's talent and overall demeanor
Per Urban Woman Magazine, Jophielle Love was perfectly cast as Violet Finn at just five years old, and has blown away fans and her castmates ever since. During a June 2022 appearance on "General Hospital" co-star Maurice Benard's mental health podcast "State of Mind," Love opened up about her experience working with one of the soap's mainstays. Love praised his role as mob boss Sonny Corinthos. "I think you're really good as playing Sonny because you act like him and you are — like, you're not acting, but you're in him," she earnestly complimented. Love shared that it was easy for her to see "how good of a person" Benard was.
Her words of praise prompted Benard to recall their first meeting on his podcast. Benard and Love hugged after their first scene finished, then he told Love that he hoped they would work together again. Later on, Love gifted him with a lovely drawing of him, which she slipped under his dressing room door and signed it as "[from] JoJo to Sonny." 
Benard then described the picture in detail. "And it has me there with the black hair, and then you're right here," he explained. "And then I opened the door and you're right out there, and I said, 'That's an incredible picture.'" Love impressively held her own and struck up a conversation with the soap veteran, who remembered her being polite and sweet. Thus, a new friendship/mentorship was formed.
What Jophielle has learned from working with soap legends
Though she has only been on "General Hospital" since 2017, Jophielle Love has learned a lot from her co-stars. She told DirectSubmit that most of what she picked up came from watching them. "They didn't give me a lot of acting advice until I started having longer scenes, but they sure made me feel at home right away." Love also expressed that Rebecca Budig's departure had an impact on her and that she was hopeful she'd return in the future based on how her storyline ended — with her going on the run, per Soaps in Depth.
During the February 2022 interview, Love sang high praises for Finola Hughes' decades-long tenure on the soap opera, and also shared that her filming experience made it easy to. "It is also the perfect way to start your acting career when you are a five-year-old little girl: short days on set, the studios are near me, the scenes are short and easy and the genre is not one that will traumatize me," she explained. "We rarely do more than three takes when we shoot (most of the time it is just one, so you have to nail it right away), and when I work a lot, it is no more than two or three days a week, but not every week."
Love described this as the perfect setup for her to grow as an actress.