How Many Children Does Chelsea Clinton Have?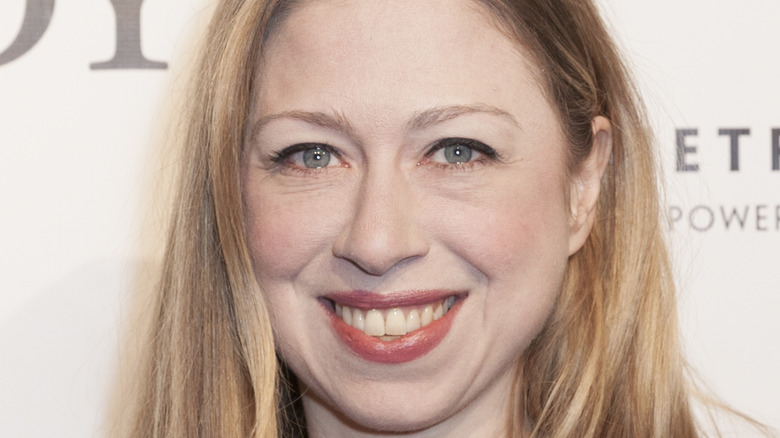 lev radin/Shutterstock
Chelsea Clinton is no stranger to the spotlight. As a pre-teen, Clinton was thrust into the political arena when her dad, Bill Clinton, became president of the United States (per Biography). While she experienced a lot of hardships, mainly due to media scrutiny, she still found success. She went on to study at Stanford University, became a correspondent for NBC News, and has written a number of books. She also works with nonprofits and speaks at events to raise money for the foundations she supports, per Yahoo!.
And while her success in business is impressive, as a woman constantly in the news, her romantic life has always been a topic of discussion. Clinton met her now-husband, Marc Mezvinsky, back in 1993 when they were both university students. They connected due to their similar backgrounds as Mezvinsky's parents were both involved in politics, per Oprah Daily. In 2010, the pair said "I do" during an interfaith ceremony and reception that had big names like Barack Obama and Madeline Albright on the guest list. 
Over a decade later, their marriage is still going strong and they have become parents. But just how many children do they have?
Chelsea Clinton has three children with husband Marc Mezvinsky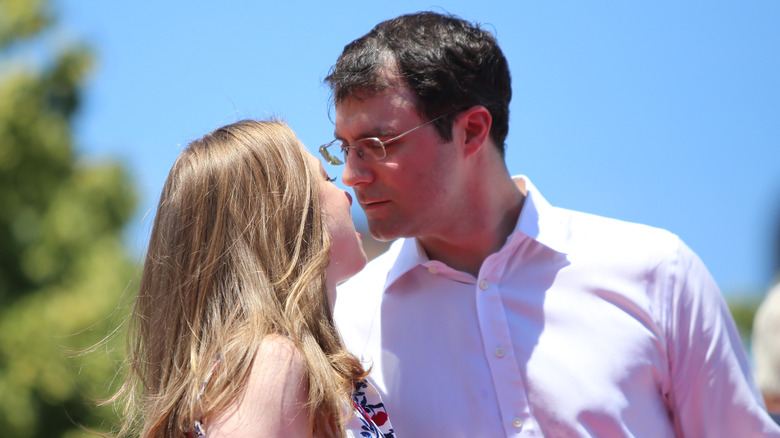 a katz/Shutterstock
Despite their political fame and high profile status, Chelsea Clinton and her husband, investment banker Marc Mezvinsky, have kept their lives quite private. The pair married in 2010 and welcomed their first child, Charlotte Clinton Mezvinsky, in 2014 (via PopSugar). Charlotte was extra special to the Clinton family as she was the very first grandchild of Hillary and Bill Clinton. Two years later, the couple welcomed another child, a boy named Aiden Clinton Mezvinsky, who was born the day before Father's Day in 2016.
In January 2019, Chelsea took to Twitter to announce she was pregnant again with her third child, writing, "Marc and I have loved watching Charlotte be such a wonderful big sister and we're excited to watch Aidan become a big brother. We cannot wait to meet our newest addition later this summer. That July, they welcomed another boy named Jasper Clinton Mezvinsky, making them a family of five (via USA Today). 
Chelsea Clinton writes books for children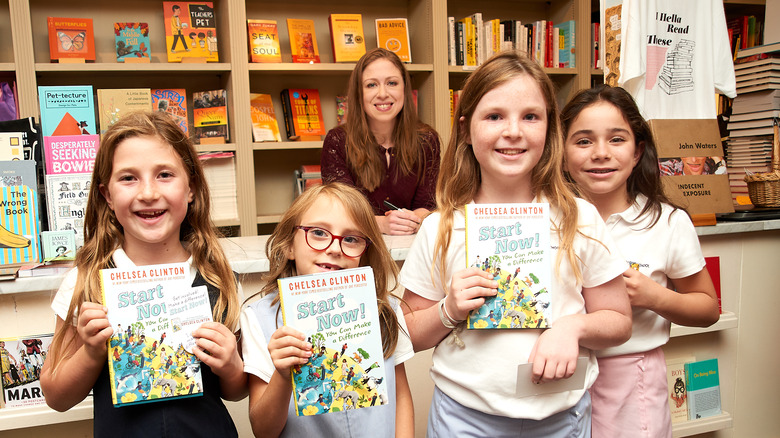 Unique Nicole/Getty Images
Chelsea Clinton may best be known as the daughter of Bill and Hillary Clinton, but the mother of three is also an uber-successful children's book author. She is known for her "She Persisted" series, which is about American women who have changed the world, written for kids. Since she released the first book in 2017, she has written others, including "She Persisted Around the World: 13 Women Who Changed History" and "She Persisted in Sports: American Olympians Who Changed the Game," per Penguin Random House.
Clinton's also has plans for a series that will help teach kids how they can do their part to save the planet, via the Daily News. Written for kids aged 6-9, each book in the series will focus on one specific animal and give kids tips for helping save that animal. She is also releasing a book tailored for new siblings titled "Welcome to the Big Kids Club: What Every Older Sibling Needs to Know," geared towards kids 4-8.