Here's What Courteney Cox Looks Like Going Makeup Free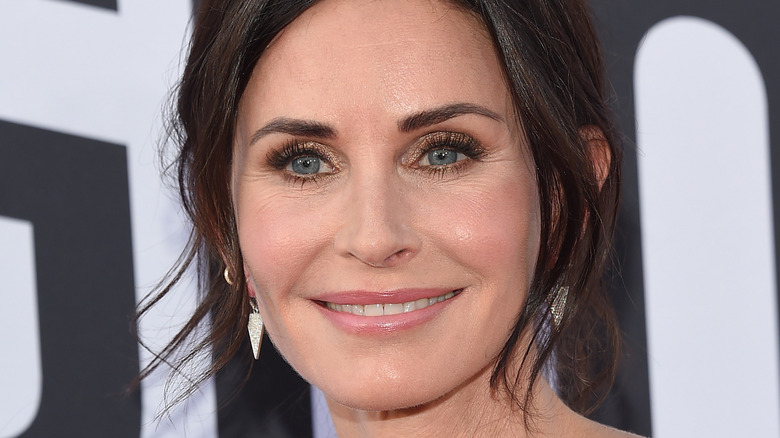 DFree/Shutterstock
When "Friends" hit its peak popularity in the late 90s, its three female leads became a source of major inspiration to women across the world. None more so than Courteney Cox, especially regarding her style when the cameras weren't rolling. The actress would regularly rock an iconic slip dress on the red carpet (via Harper's Bazaar) and would always find the perfect shirt or jumper to combine with a solid pair of jeans.
Cox also mastered a dark neutral lip that perfectly contrasted her fair skin, dark hair, and piercing blue eyes — coupled with defined brows and a stylish pair of shades on occasion. However, the 90s were a long time ago, and Cox's look has understandably evolved since then. Now in her late 50s, she sticks to a more muted makeup palette with a somewhat less is more approach, as shown on her Instagram.
The actress also opts to have blissful makeup-free days on occasion, which she shares on social media.
Courteney Cox has a pretty simple skincare routine
Courteney Cox has become somewhat of a master with her no-makeup makeup looks, so it's sometimes difficult to tell whether or not she's wearing any at all. But she often posts makeup photos with her boyfriend, Johnny McDaid, and daughter Coco (via Life & Style), whom she shares with ex-husband David Arquette.
One thing you'll immediately notice in these photos is how glowing Cox's skin is, which she maintains through a pretty simple routine after years of trying to maintain the Hollywood beauty standard. "I was trying so hard to keep up, and that actually made things worse," the actress told New Beauty. "Now, I'm as natural as can be."
Aside from a weekly facial from skincare expert Mila Moursi, Cox washes her face with the Clarisonic skincare device before applying a hot towel. "I don't know if that's good for my skin, but it's what the professionals do," she explained to New Beauty. Cox also uses Moursi's products like her Rejuvenating serum, firming cream, and antiwrinkle cream to round out her routine. "I alternate those, or sometimes use all of them, depending on how dry I am," Cox said. All in all, it takes her about three minutes to get ready for the day.
Courteney Cox is embracing her natural features
Courteney Cox has been in the spotlight from such a young age and has spoken about the pressures of looking a certain away in Hollywood — especially as you get older. "I grew up thinking that appearance was the most important thing. That's kind of sad because it got me in trouble," the actress told New Beauty. 
For Cox, the main issue was receiving cosmetic treatments and not knowing when to stop. "The next thing you know, you're layered and layered and layered," she said. "You have no idea because it's gradual . . . and it's worse in pictures than in real life." The actress has since had her fillers dissolved and is "as natural as can be", which she feels all the better for. "I think that I now look more like the person that I was," Cox explained to New Beauty, adding that she sees her wrinkles as "smile lines" instead of something to fix. "I've had to learn to embrace movement and realize that fillers are not my friend."