How Kate Middleton And Camilla Parker Bowles Reportedly Formed A Tight-Knit Bond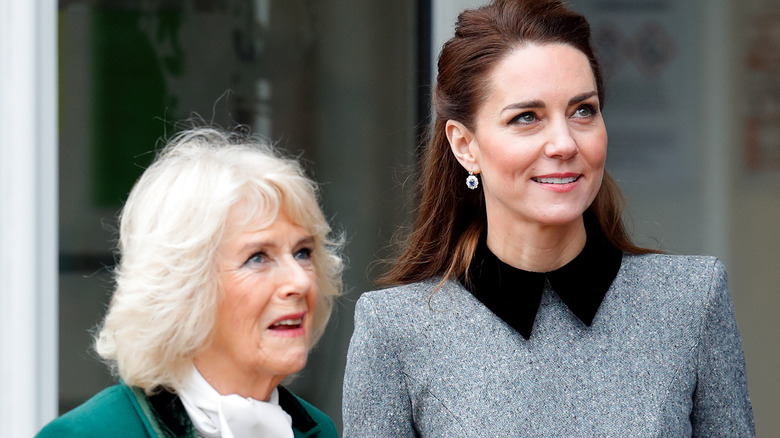 Max Mumby/indigo/Getty Images
A friendship between the woman who had an affair with Prince William's father during his marriage to Princess Diana and her son's wife may have seemed impossible at one point. But a lot has changed since Prince Charles and Diana divorced in 1996. Of course, the heir to the British throne went on to marry his mistress, Camilla Parker Bowles, in 2005. Six years later, William and Kate Middleton said "I do" with the world watching (via Westminster Abbey).
Today, Kate and Camilla are so close that when the soon-to-be 75-year-old was asked to guest edit Country Life magazine in honor of her birthday, she asked the Duchess of Cambridge to photograph her for the cover. When discussing the cover image with the publication's editor-in-chief, according to him the Duchess of Cornwall immediately said, "Oh I'd quite like Catherine to do it" (via People).
That the mom of three has become an accomplished photographer makes her a natural choice for the honor. Despite this fact, the two senior royals are also reportedly very close.
Camilla Parker Bowles and Prince Charles have replaced Prince Harry and Meghan Markle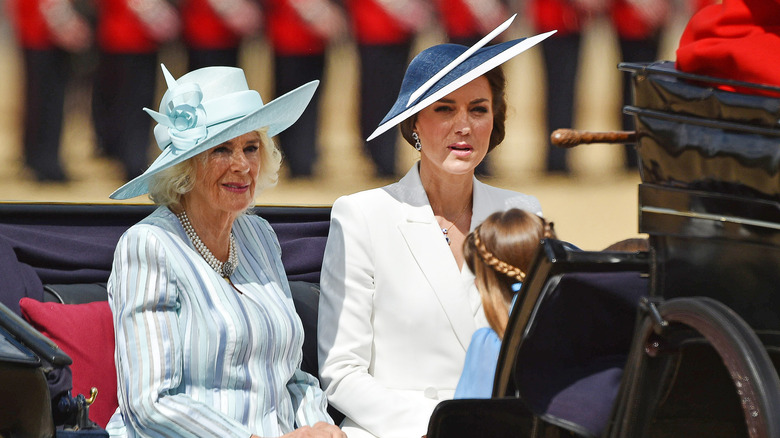 Wpa Pool/Getty Images
The carriage ride down the Mall for the Trooping the Colour was an intimate one for Kate Middleton and her three children. In addition to the Cambridge kids and their mom sat one other royal family member: Camilla Parker Bowles (via Marie Claire).
The Duchess of Cornwall is said to enjoy being a grandmother to Prince George, Princess Charlotte and Prince Louis, as well as her other grandchildren, and "spoils" them whenever she can (via Express).
But it's the sweet relationship between Kate and Camilla that is perhaps the most surprising. As Vanity Fair's Katie Nicholl said about the two royals during an appearance on a British morning show, "They're very very close, they really are" (via Daily Mail). She even went so far as to characterize the two women and their husbands, Prince William and Prince Charles, as "the fab four."
Of course, it wasn't so long ago that Kate and William made up another "fab four" with Prince Harry and Meghan Markle (via Hello!). But now that the Duke and Duchess of Sussex are no longer working royals, it seems their absence has paved the way for Kate to grow close to her step mother-in-law.
Camilla Parker Bowles may not always have supported Kate Middleton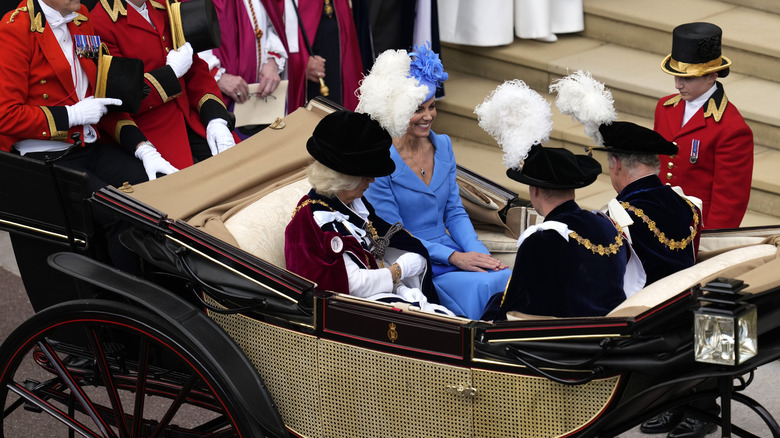 Wpa Pool/Getty Images
As royal expert Katie Nicholl intimated, now that Meghan Markle and Prince Harry live in California — and they didn't even seem to interact with Kate Middleton or Prince William during their recent visit for the Queen's Platinum Jubilee — the Duke and Duchess of Cambridge are closer than ever with Prince Charles and Camilla Parker Bowles.
Not that there was a straight line from the time the two senior royals met to their closeness today, with Christopher Andersen writing in his book "Game of Crowns: Elizabeth, Camilla, Kate, and the Throne" that Camilla wasn't exactly a fan of Kate at first, thinking her too common to one day be queen (via Cheat Sheet).
Anderson even claimed that the reason William and Kate once broke up was due to Camilla's disapproval of her. While we don't know if this was the case or not, clearly a lot has changed since then if the author's account is to be believed. By all accounts, Camilla and Kate have one another's backs today, with the Duchess and her husband even showing their support (via social media) of the announcement that Charles' wife will one day be known as queen consort (via Cosmopolitan).