Fans Have A Lot Of Thoughts About Boris Johnson's Resignation In Relation To The Queen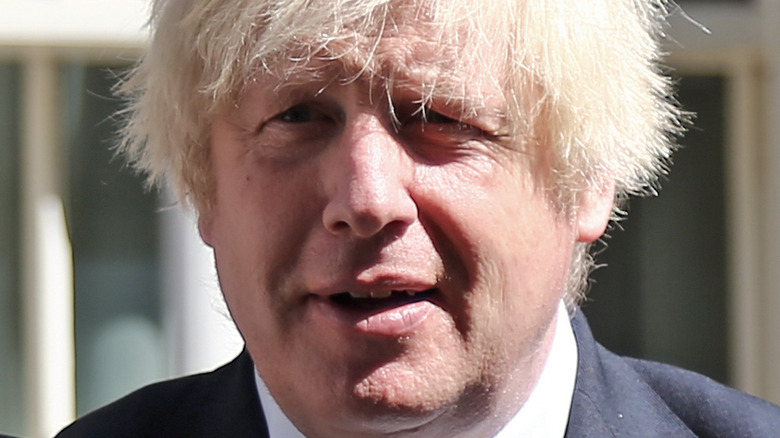 I T S/Shutterstock
After three tumultuous years in office, British Prime Minister Boris Johnson announced that he was resigning (via CNN). The announcement likely came as welcome news to many who had criticized the PM from the beginning. During his time at No. 10 Downing Street, the former mayor of London came under fire for misusing donor funds and holding office parties in the midst of the COVID lockdown. Most recently, Johnson admitted to ignoring accusations of sexual misconduct on the part of his deputy chief whip. 
This June, Johnson's future as prime minister was seemingly hanging by a thread. He managed to win a vote of no-confidence in Parliament (via The Guardian); however, many members of his own party voted against him, and later leading members of his cabinet left office. 
"It is clearly now the will of the parliamentary Conservative Party that there should be a new leader of that party and, therefore, a new Prime Minister," Johnson said (via People). His address concluded, "I know that there will be many people who are relieved and perhaps quite a few who will also be disappointed. And I want you to know how sad I am to be giving up the best job in the world. But them's the breaks."
Despite their relief, some Twitter users were disappointed that they wouldn't get to see a possible juicy scenario involving Queen Elizabeth. A newly minted phrase about the monarch is making the outlet explode.
'Activate the Queen' trended on Twitter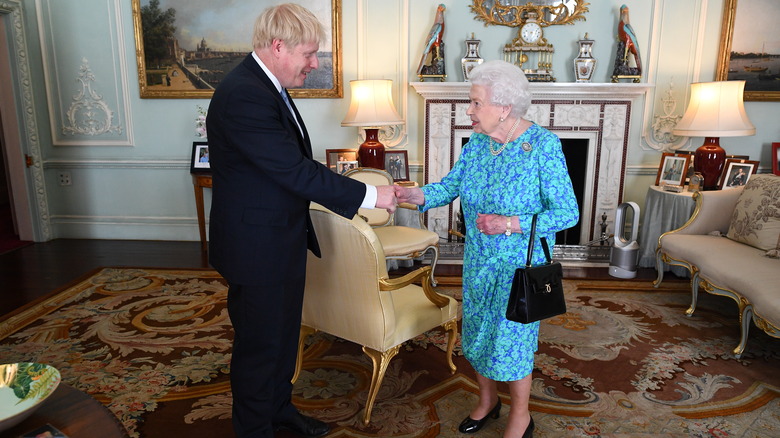 Wpa Pool/Getty Images
Instead of stepping down, rumors circulated that Boris Johnson might have opted to dissolve Parliament and call for another general government election in the hopes that Britons would keep him in office. "This would activate the Queen," Jack Blackburn of The Times of London explained on Twitter. In other words, the queen would have to decide whether to refuse the dissolution and possibly dismiss Johnson herself. 
It would have been an uncomfortable situation for the monarch, who is expected to stay neutral in political affairs. She had already been persuaded by Johnson to suspend Parliament in 2019 during the controversial "Brexit" from the European Union — a move that was later found to be illegal (per Newsweek).
But it was Blackburn's phrasing that really caught the attention of the Twitterverse. "'This would activate the Queen' is my new choice for best sentence ever seen on Twitter," one user raved. Another quoted a teenager's reaction: "I feel like 'Activate the Queen' is something bees would chant in their own language." 
In addition to plenty of chess references, there were jokes about the nature of Her Majesty herself. One gasped, "D***, y'all gotta activate the Queen? Is she in sleep mode or something?" Then there was this: "Can we activate the Queen yet? Is she fully charged? Who has the remote??" And a fan worried, "'Activate the Queen' is really gonna do numbers among the conspiracy theorists who think she's been replaced by a robot."