Joe Biden Leaves Out One Key Detail When Addressing Boris Johnson's Resignation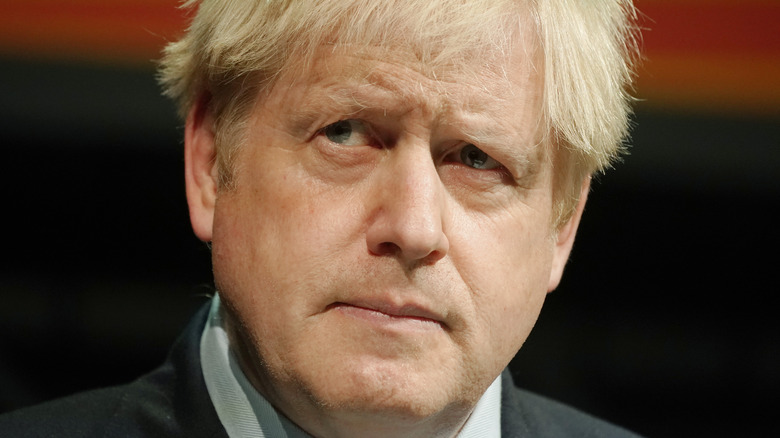 Christopher Furlong/Getty Images
Earlier this week, Boris Johnson resigned as the Prime Minister of the United Kingdom after numerous ministers upped and quit on him. Per CNN, a series of highly-publicized ethics scandals ultimately brought the controversial politician's tenure to a spectacular end. However, Johnson dug his heels in until almost half the government walked out. Regardless, he insisted on remaining on as a "caretaker" until a successor can be sourced. Considering how few people are left, though, this doesn't seem tenable.
Johnson's resignation speech was conducted from outside 10 Downing Street, his home while Prime Minister. Although he didn't admit fault for anything, Johnson did acknowledge, "It is clearly now the will of the parliamentary Conservative Party that there should be a new leader of that party and therefore, a new prime minister." Reiterating his intention to stick around as long as possible, the disgraced politician also confirmed a new cabinet had been appointed "to serve, as I will, until a new leader is in place." 
As The Mirror reports, one of the biggest talking points from Johnson's speech was when he shrugged, "Them's the breaks," in response to essentially being forced to step down. The former leader was addressing the British public at the time and suffice to say they weren't too impressed with his nonchalant choice of wording. Another person who seemingly won't miss Johnson in office is the United States President, Joe Biden.
The two leaders weren't exactly the best of friends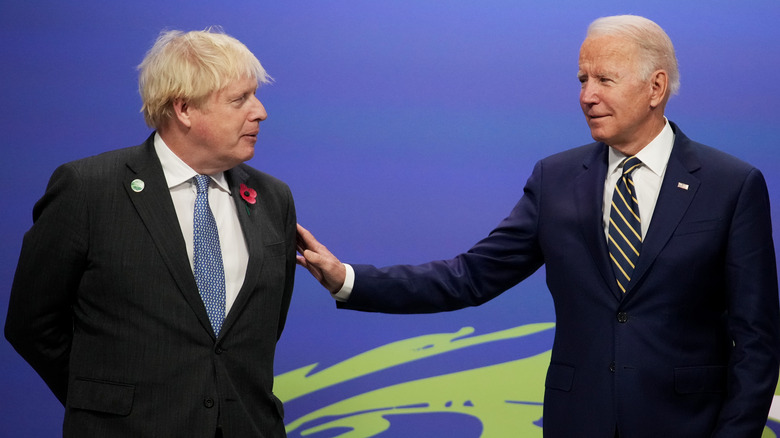 Christopher Furlong/Getty Images
President Joe Biden reacted to British Prime Minister Boris Johnson's resignation by notably neglecting to acknowledge him by name, as a statement obtained by CBS News (via Twitter) exemplifies. "The United Kingdom and the United States are the closest of friends and Allies, and the special relationship between our people remains strong and enduring," Biden confirmed simply, adding that he intended to keep that relationship strong going forward. The president went on to explicitly refer to the ongoing war in Ukraine, pledging to support citizens as they fought back against their oppressors.
The Guardian points out that Biden and Johnson haven't had the best relationship over the years, particularly in relation to Brexit, which the US president didn't agree with, even describing Johnson as a "clone" of Donald Trump as a result. As Charles Kupchan, who served as President Barack Obama's Europe adviser in the White House, opined, "When the dust settles in London, Johnson's resignation will do more good than harm to the US-UK relationship." This is likely because Johnson's leadership was considered quite disorderly by his American counterpart.
The former PM consistently rubbed Democrats the wrong way too, so there will likely be relief that he's gone, especially if it means welcoming someone more reliable into office next. Elsewhere, fans have a lot of thoughts about Johnson's resignation in relation to the queen since, if he hadn't stepped down, the monarch may have forced Johnson's hand.