This President's Son Had A Regular Role On The Young And The Restless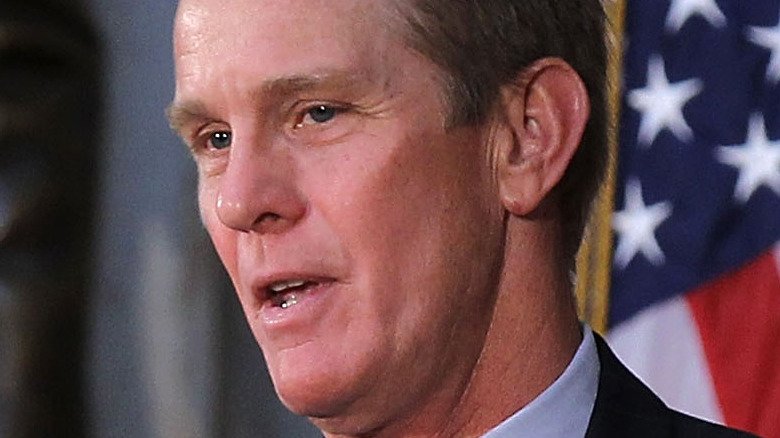 Alex Wong/Getty Images
The role of Andy Richards was first introduced on "The Young and the Restless" in 1981. He was soon hired as a police officer and made quick friends with fellow cop Paul Williams (Doug Davidson) — one of the soap's longest-running characters — when the two worked undercover in the mob, according to Soap Central. Eventually, both men left the force and started their own private investigation firm called Williams & Richards. Andy was instrumental in several storylines over the course of the seven years he was on the show, including rescuing Nikki Reed after she was kidnapped by Rick Daros. He also had romances with several of the soap's leading ladies — Nikki Reed, Jill Foster, and an ill-fated marriage to Diane Jenkins.
By 1987, Andy had fallen for a singer named Farren Connor (Colleen Casey) and the two had wed. Andy made the decision to leave his life as P.I. and relocate to Pittsburgh with his new wife and her daughter Betsy. It wasn't until 15 years later that Andy returned to Genoa City, revealing to his friend Paul that he and Farren had divorced, per SoapHub. Andy reconnected with his old flame Diane Jenkins, who had been rejected by Jack Abbott (again), and the two dated for a few months. Not long after, Andy left town for a second time, presumably to return to Pittsburgh, and hasn't been seen in Genoa City since.
Andy Richards was played by President Gerald Ford's son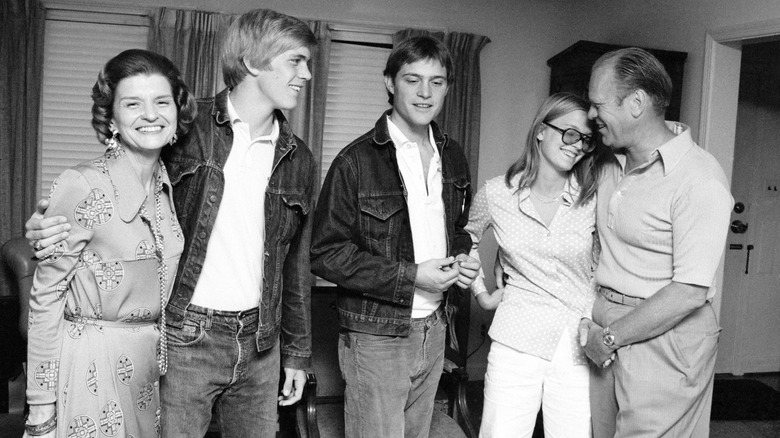 David Hume Kennerly/Getty Images
The role of Andy Richards originated with Steven Ford, the third child born to President Gerald Ford and First Lady Betty. Steven was just 18 in 1974 when his father became the first person to become President of the United States without being elected — stepping into the role after the Watergate scandal.
The younger Ford originally had plans of becoming a cowboy before landing in Los Angeles and pursuing acting, according to the Los Angeles Times. His role on "The Young and the Restless" was one of the young actor's first big breaks and following that, he appeared on several popular shows such as "Columbo," "JAG," "Walker, Texas Ranger," "Baywatch." Ford also had a small role in the classic romantic comedy "When Harry Met Sally." He has been quoted as saying that growing up in the public eye of politics helped prepare him for acting and that he found the profession therapeutic, per Soaps.com. However, despite famous name, Ford did not find instant success in Hollywood and even lived in his car, per an interview with CNN.
He left acting in the '90s and now spends his time giving motivational speeches to young people about alcoholism — a disease he has been very public about having. Ford also owns a ranch in California, is the vice president of a horse racing track in Kentucky, and according to the Gerald R. Ford Presidential Foundation, he also sits on their Board of Trustees.
Steven Ford is still good friends with his The Young and the Restless co-star Doug Davidson
Steven Ford and Doug Davidson's characters were such good friends on "The Young and the Restless" that it was almost inevitable that the two men would become buddies in real life. In fact, longtime fans were given a treat when Davidson posted a picture of himself and Ford on Instagram in May 2021 after they bumped into each other. His caption read in part, "it's like we never stopped working together! Great times!"
In an interview with SoapHub, Davidson described his longtime friendship with Ford. He said, "It doesn't just go away. [Steven] was one of the best men in my wedding. We worked every day together for years. We shared dressing rooms, went on vacation, and we went to his parents' [President and First Lady Ford] home in Palm Springs. We were pretty tight. Whenever life doesn't get in the way and we have time to get back together, it's amazing how we just click again so easily." Though Ford doesn't spend much time on a set anymore, and Davidson recently left the soap, it's heartwarming for fans to see that he still has a connection to his old days as Andy Richards on "Y&R." Who knows, since he returned briefly to the show in 2002, there's always a chance he'll do it again!