Here's The Museum You Should Visit If You Want To See Michelangelo's David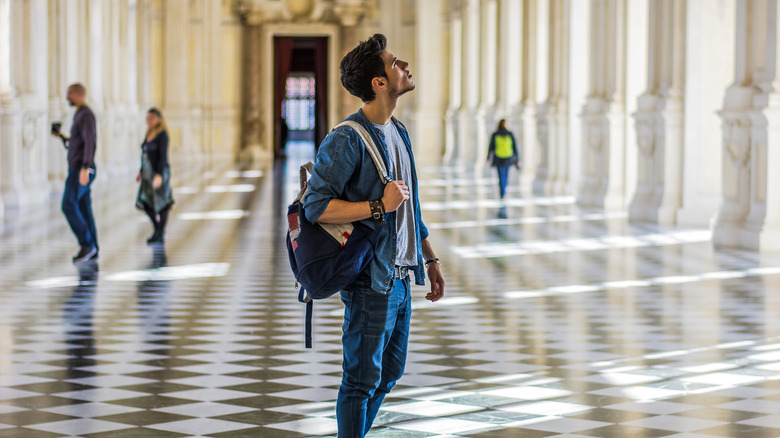 ArtOfPhotos/Shutterstock
You've probably heard of Michelangelo, the Italian artist born in 1475, as noted by Brittanica. However, you might not know that Michelangelo was already relatively well known in the art world when he was commissioned for the statue that would become one of his most famous works (via My Modern Met). After David, he would go on to paint the Sistine Chapel, the artwork of which, according to The National Gallery, perfectly encapsulates the Mannerist artwork style. The building itself attracts a crazy 6 million visitors per year, Taylor & Francis Online reported, proving Michelangelo's popularity is still prominent. 
Michelangelo began to make his masterpiece David in 1501, starting the process when he was just 26 years old and finishing in 1504 (per My Modern Met). The statue was initially commissioned to stand on the roof of the Cattedrale di Santa Maria del Fiore, though this proved impossible once the true scale of David was revealed. 
Nevertheless, the statue's representation of fighting for your rights and its depiction of strength has stood the test of time. It has inspired many copies throughout the world, including a plaster cast reproduction that first arrived in London in 1857 and still stands in the Victoria and Albert Museum today (via V&A). 
David is one of the most popular statues in the world and draws huge crowds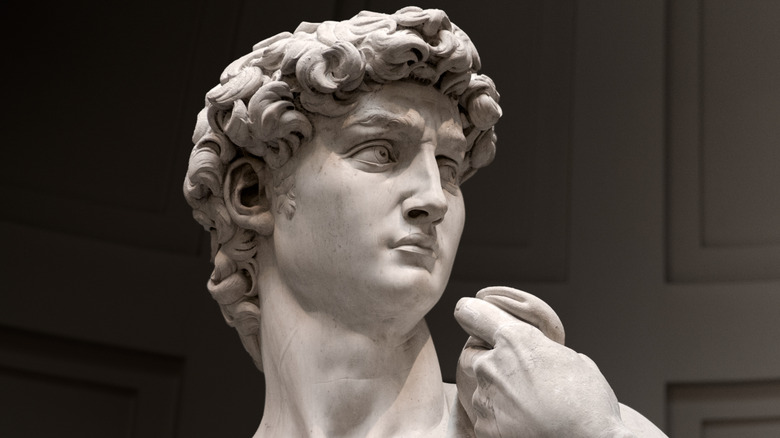 Federico Magonio/Shutterstock
Michelangelo's David is one of the most well-known statues in the world, with over one million people flocking to see it each year, City Wonders noted. If you wish to see it yourself, My Modern Met states you can cast your eyes on the famous statue at the Galleria dell'Accademia, where it has been housed since 1872. 
The Galleria is located in Florence, Italy, a city renowned for its Renaissance artwork and streets lined with history (via PENTA). Florence is also the ideal city for romantic types like Enneagram 6's due to its stunning scenery and laidback lifestyle. 
Though the statue was originally intended to be displayed outside, officials made the decision to move it indoors to prevent any damage from weather conditions (via Michelangelo). Over the years stress fractures have started showing up on David due to the footstep vibrations of tourists passing through. 
The statue of David has become renowned for its scale and lifelike features (per My Modern Met). At 17 feet tall, you'll be able to see the statue even from far away, as it towers over the other exhibits with ease. 
David is a popular figure in culture even today, 500 years after its creation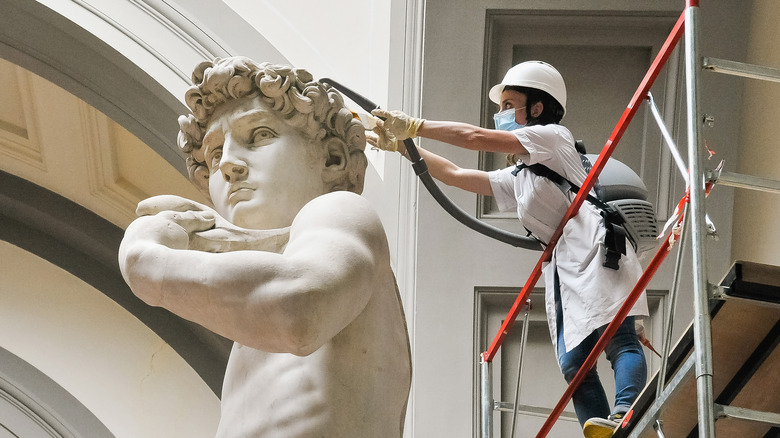 Laura Lezza/Getty Images
The statue itself tells the story of David, a biblical hero. David is the hero of the tale David and Goliath, in which a young shepherd boy named David takes on an unjust Philistine giant named Goliath (via World History). The phrase "David and Goliath" is now more commonly used to represent someone smaller or weaker taking on a grander and larger opponent, such as workers against a company. 
Michelangelo's statue depicts David before his battle against Goliath, which was unusual for the time. Previous iterations of David, such as Caravaggio's two paintings, show him triumphantly holding Goliath's head after winning the fight (via Art & Object). Michelangelo's decision to show David before the battle gives the public a fresh perspective on what he may have been feeling in the face of such a massive moment. 
If you wish to see the statue up close this summer, make sure to plan in advance before you head to the Galleria dell'Accademia to avoid major crowds and get the most rewarding experience. And while you're in Florence, don't forget to enjoy some of the best wine and cheese after you take in the art.