Inside Madonna's Most Significant Magazine Cover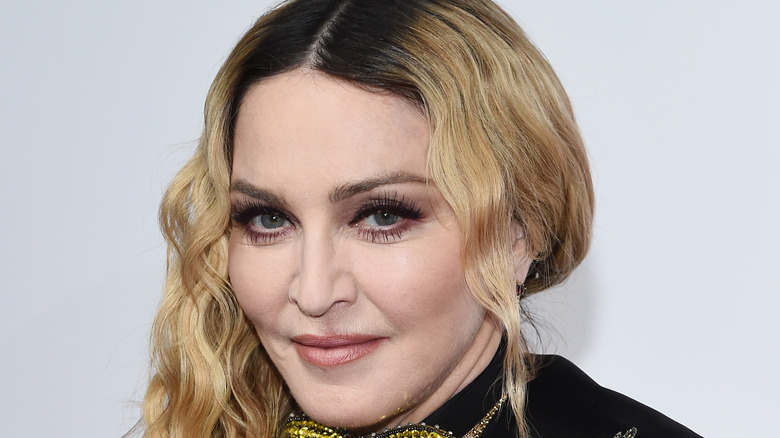 Ilya S. Savenok/Getty Images
Madonna has undergone a stunning transformation throughout her career. The singer, actress, and activist first burst onto the music scene back in the 1980s, when her hit single "Holiday" overtook the airwaves in 1983 (per Britannica). Her initial single was followed by a slew of pop-infused, eccentric hits, including "Lucky Star," "Like A Virgin," "Material Girl," and later "Like A Prayer," and "Vogue" (via Rolling Stone). Madonna secured her position as the "Queen of Pop," according to the New York Times, before setting her sights on the silver screen.
As an actress, Madonna dazzled in the popular film "Desperately Seeking Susan" alongside co-star Rosanna Arquette (via IMDb). From there, the Michigan native appeared in an array of features, including "Body of Evidence" and "A League of Their Own," according to an IMDb ranking of her 10 best movies. She reportedly turned down a role in "Showgirls" in the 1990s, but the decision didn't prevent her from expanding her career. As she continued to build success for herself, she started gracing the covers of countless magazines. Her face adorned the front page of Rolling Stone, Time, Playboy, and Vanity Fair in the early '80s, per Logo TV. Even a quick search for "Madonna magazine covers" yields over 200 results on Pinterest, providing just a glimpse of how coveted this cover star really is.
However, Madonna received perhaps her most significant magazine shoutout in 1990, when she was named Woman of the Year by Glamour.
Madonna has been praised for her ambitious career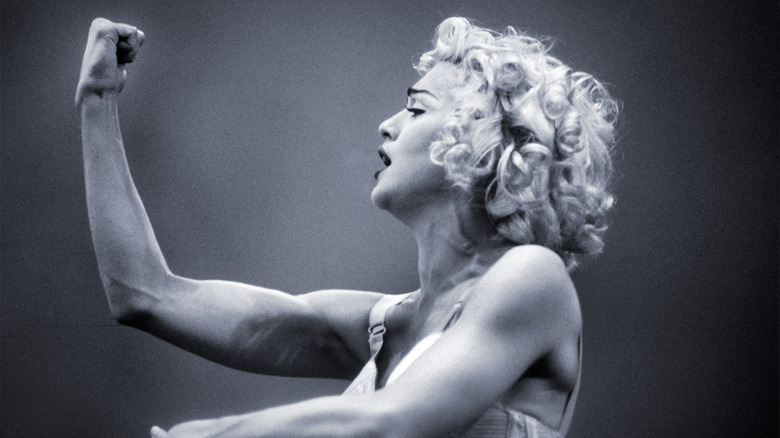 Gie Knaeps/Getty Images
The event that accompanied the very first Glamour Woman of the Year award was held at the Rainbow Room in New York City (via Glamour), a space that Rockefeller Center calls "the original home of New York glamour and entertainment." This was a fitting choice for 1990's cover star Madonna, who was the first person to receive the desired spot. Editor-in-chief Ruth Whitney praised Madonna's longevity as a star, stating at the time, "Madonna is still getting what she wanted, still top banana, still commander in chief of her own wildly successful enterprise," (per Glamour). 
Madonna's successful enterprise continues to thrive, some 30 years after Whitney's words were spoken at the Rainbow Room. Throughout the 1990s and early 2000s, the "Vogue" singer continued to make headlines for her professional endeavors. According to Billboard, Madonna essentially "reinvented" pop music in 2000, when she released a cover of "American Pie," originally sung by Don McLean. The outlet notes that, instead of being frustrated by the cover, McLean regarded it as ""sensual and mystical ... a gift from a goddess." 
Her status as a "goddess" is presumably what led to her significant inclusion as the Woman of the Year cover star, especially when you consider her philanthropic history in addition to her artistic career.
Madonna has continued to remain a prominent public figure to this day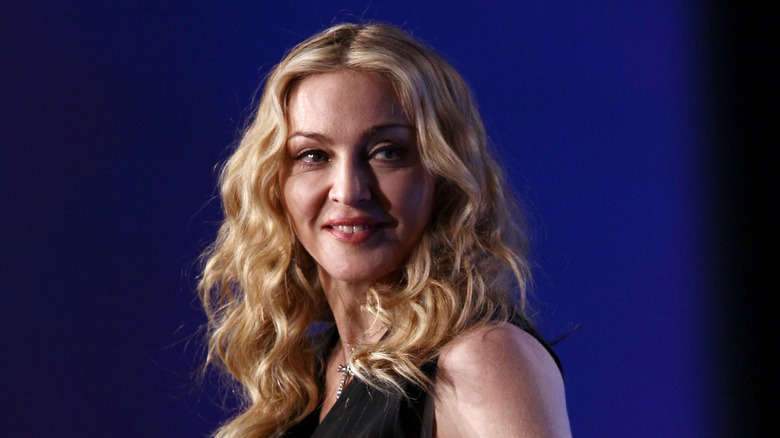 Win Mcnamee/Getty Images
Madonna started her career in the 1980s, but she's still making waves in the pop culture scene now. Her reach was legendary — Billboard states that her iconic 1984 hit "Like a Virgin" was the first of seven Hot 100 No.1's during the 1980s, an achievement only matched by Whitney Houston. In fact, according to Guinness World Records, Madonna has surpassed a number of surprising records that she still holds to this day. Her year-long 2008 "Sticky & Sweet' tour made a staggering $408 million dollars, which is the highest-grossing amount for a tour by a female artist. Madonna's impressive record still has not been broken over a decade later. 
In addition to her music, Madonna is known for being a strong LGBTQ+ ally, speaking out for marginalized communities from the beginning of her career (via Parade). She advocated for AIDS sufferers back in the 1980s and continues to do so through her charity Raising Malawi. She has also supported the LGBTQ+ community through her songs and her words time and time again, making her much-deserved of all the praise she has received throughout her illustrious career.