Royal Expert Explains Why Catherine's Parenting Style Resembles Princess Diana's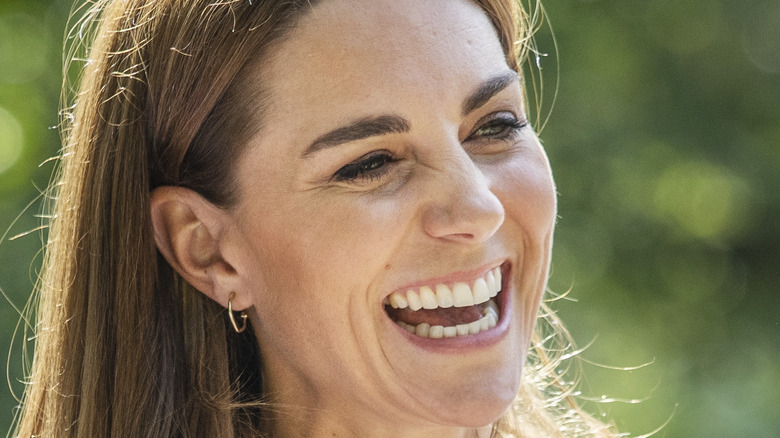 Wpa Pool/Getty Images
Prince Louis, the youngest child of Catherine Middleton and Prince William, made headlines all over the world with his attention-grabbing behavior at the queen's Platinum Jubilee celebrations. As Page Six reported, the youngster stole the show at a number of official appearances by acting up and making goofy faces while sitting in the royal box alongside the rest of his family. In fact, former athlete Mike Tindall, who's married to William's cousin, Zara Tindall, even leaned forward to let Louis know he was keeping a watchful eye on him.
The Duchess of Cambridge actually took her son out at one point and, when they returned, Louis notably sat on his grandfather, Prince Charles', lap instead. Speaking to the Daily Star, lip-reading expert Jeremy Freeman confirmed Catherine warned Louis to behave himself, with the prince cheekily firing back "I don't want to" before clapping a hand over her mouth. The duchess then attempted to redirect his attention to the festivities, but Louis refused to calm down, much to the delight of those watching the footage at home, of course.
William and Catherine later referenced how much of a hit their son had been in an Instagram post marking the event, acknowledging nobody had as much fun as Louis did. And, according to a royal expert, this is emblematic of how composed the Duchess of Cambridge is in her parenting style — much like the late Princess of Wales, in fact.
The Duchess of Cambridge is totally unflappable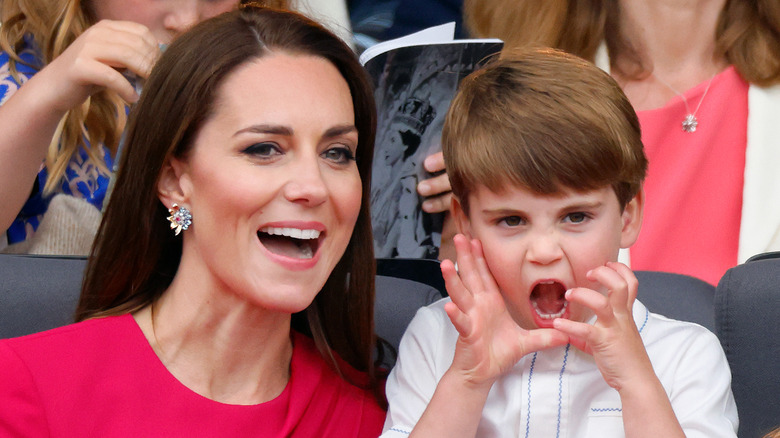 Max Mumby/indigo/Getty Images
Catherine Middleton might be taking a page out of her mother-in-law's book, consciously or otherwise, if royal etiquette expert Myka Meier is to be believed. As she explained to Us Weekly, "I think what [Kate] probably has learned in a sense is how to keep her calm. For instance, Princess Diana, there [was] so much stress and so much pressure all the time. And I think we're seeing the Duchess of Cambridge follow that same path of keeping her calm, even if maybe behind closed doors [she] doesn't feel like that."
The Duchess of Cambridge keeps calm under pressure, never letting on that she's stressed out, even when the kids test her patience — consider how she reacted to Prince Louis' wild Jubilee behavior, for instance. According to Meier, remaining gracious in the face of difficulty is something for which Diana was well-known. "It's actually been said and known that the children are not undergoing actual etiquette training. The Duchess of Cambridge is actually teaching them herself," she added. 
Moreover, Catherine is allowing the kids to find their own place in the royal family, rather than forcing them into a box. Meier's comments chime with what sources informed People about Catherine, and husband Prince William's, parenting style. An insider confirmed the couple strives to be present with their children, whether it's eating meals together or picking them up from school. More generally, the source explained, "Kate likes to keep an ordinary life."
Catherine frequently draws comparisons to Diana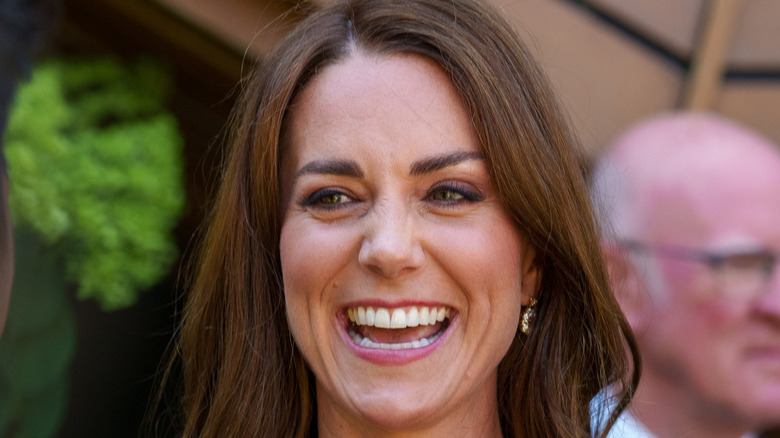 Pool/Getty Images
This isn't the first time Prince William's wife and mother have been favorably compared. Previously, a royal expert claimed the Duchess of Cambridge and the Princess of Wales had something else in common, too. While giving Catherine's mother credit for raising her right, Ingrid Seward told The Mirror, "She is patient, and has the ability to listen. And she has discovered she has this ability with people, she is very good with the very young and the very old. That is like Diana."
On behalf of Betfair Casino, body language expert Darren Stanton shared that, the more comfortable the duchess gets in her royal role, the closer she gets to Diana. "Kate has a very quiet confidence and elegance in the way she conducts herself straight from the outset. Her walk is confident and bold," he pointed out. Much like the People's Princess, Catherine also has a genuine desire to connect with everybody she meets, regardless of who they are. 
"She shows a genuine willingness to learn about others that cannot be faked, much like Diana did — what you see is very much what you get with Kate," Stanton said. The feeling is mutual too; people are instantly drawn to Catherine. In fact, the biggest similarity between the two is that the Duchess of Cambridge is the first royal to capture public love and admiration the same way Diana did, since the beloved princess passed away.