Here's What You Need To Know About Steve Burton's Beyond Salem Character Harris Michaels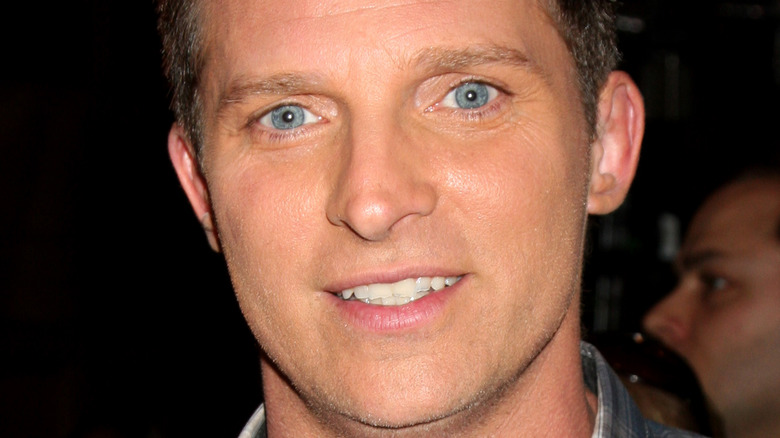 Kathy Hutchins/Shutterstock
Over the years, Steve Burton has made a name for himself by showcasing his acting talent in films such as "Cyber Tracker," "Red Sun Rising," "The Last Castle," and more. He's also appeared in TV shows like "Manimal," "Who's the Boss?," "Out of This World," and "Taken" (via IMDb). The actor has also lent his voice to video games like "Kingdom Hearts" and "Final Fantasy" over the years.
However, Burton is best known for his career acting in soap operas. The actor has appeared in three major sudsers, including his most well-known role as Jason Morgan on "General Hospital" (via Soaps). Burton also joined the cast of "The Young and the Restless" in 2013 to portray the character of Dylan McAvoy. He left that gig in 2017.
Meanwhile, the actor's first big soap job was actually on "Days of Our Lives." Burton played a character named Harris Michaels on the NBC soap opera in 1988, but only longtime fans may remember the small role.
In 2021, Burton made headlines when it was revealed that he had left his role at "General Hospital" because he refused to comply with the show's COVID-19 vaccination mandate, per Variety.
Steve Burton joined Days of Our Lives: Beyond Salem after exiting General Hospital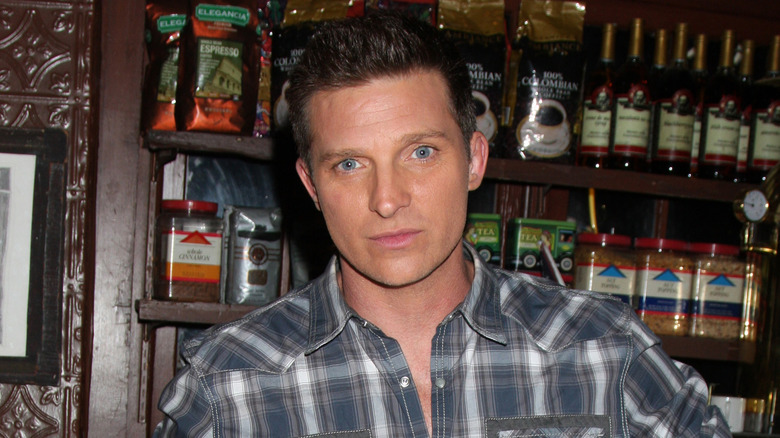 Kathy Hutchins/Shutterstock
Steve Burton portrayed the character of Jason Morgan for many years, and even starred in the "General Hospital" spin-off series "Night Shift." However, after not seeing eye to eye with the production about the COVID-19 vaccination mandate, the actor left the sudser, per USA Today. "I'll always be grateful for my time on 'General Hospital.' I love it there, I grew up there," Burton said on social media following the news. "Maybe one day if these mandates are lifted, I can return and finish my career as Jason Morgan. That would be an honor," he added.
While many "General Hospital" fans were sad to see Burton go, the exit did open the door for the actor to get another shot as his former "Days of Our Lives" character. Burton was just one of many past and present "Days of Our Lives" stars to be cast in Season 2 of the soap's spin-off series, "Beyond Salem" (via The Wrap). While The actor will reprise his role as Harris Michaels for the Peacock original series, some fans may not remember Harris' chaotic history on the show.
Steve Burton will reprise his former Days of Our Lives role for Beyond Salem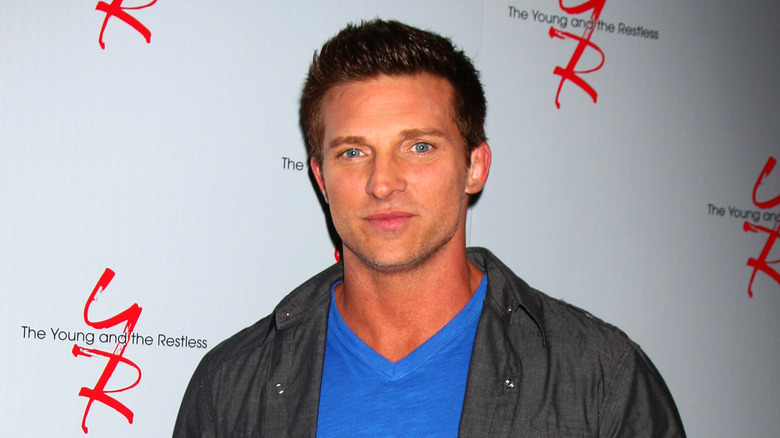 Kathy Hutchins/Shutterstock
After the news broke that Steve Burton had joined "Days of Our Lives: Beyond Salem" it was revealed that he would be reprising his former role as Harris Michaels. According to Celebrating the Soaps, Harris was introduced to fans as the boyfriend of Eve Donovan (then Charlotte Ross). Harris eventually found himself in a love triangle with Eve and another character named Jake Hogensen (Scott Reeves). Eventually, Jake bet Harris that he couldn't get intimate with Eve and he accepted the bet. When Eve found out about the wager she was heartbroken and the two ended their romance.
After being asked to reprise the role, Burton says he was thrilled to do so. "Ron [Carlivati] thought it'd be a great idea to bring back that character, so there was a little bit of history on the show and that's what they did," Burton told Soap Opera Digest (via Soaps). "When they got closer [to the start of production] and they got scripts, they were like, 'Hey, this is the character, it is Harris Michaels from when you were on the show, this is what you'd be doing.'"
While Burton is playing an already established character, he says he approached the role of Harris as a new character, adding that "Beyond Salem" will make some references to the character's former days in Salem. The actor even admitted that he'd be open to returning to "Days of Our Lives" in the future.